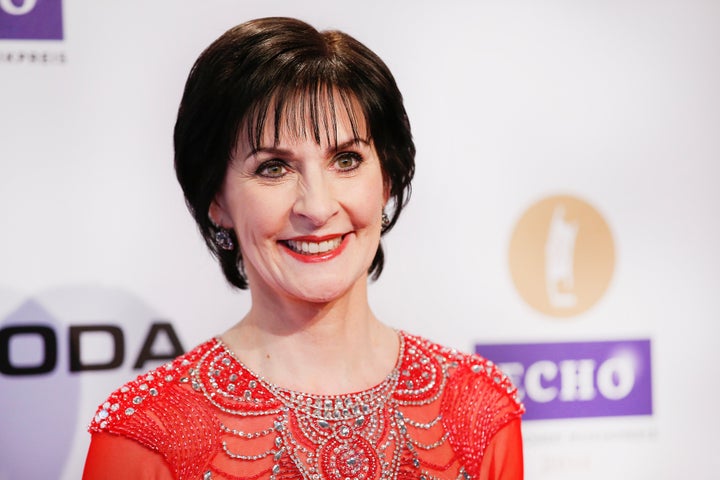 In the past three decades, the seemingly private Enya has sold 80 million records (and counting), putting her in the ranks of artists like Cher and Beyonce. Along with her musical and business partners Nicky and Roma Ryan, the Irish songstress has managed to carve a unique spot for herself in the industry. 
Since her first album, "Watermark," dropped back in 1988, Enya has steadily been in the studio working on her ambient, ethereal music. But after her 2008's "And Winter Came ..." was released, the artist decided to take a much-needed break from her work. 
On Nov. 20, she'll release "Dark Sky Island," her latest album in seven years, which was inspired by the U.K.'s Sark Island, also known as Dark Sky Island (hence the album's title), a place with some of the best stargazing in the world. 
During a recent visit to New York, The Huffington Post sat down with Enya to talk about the new album, her creative process, her secret to success and of course, what its like to live in a real-life castle. 
Tell me about the inspirations behind the album.
Once I finished "And Winter Came ...," I felt like that was a Christmas album I wanted to do, then I didn't know what to do next. I thought, "Maybe it's time to really take a step away from the music and studio and take a proper break," which I did. During the break, I traveled to the south of France, Dublin, Australia. I would still talk to Nicky and Roma [Ryan, producers], and we would still meet up. We would say, "When do you think we'll get back to the studio?" Roma spent a lot of her break writing poetry, and she said she had this lovely idea. She told me about Dark Sky Island. It refers to Sark Island in the Channel Islands, and it's designated a dark-sky area, where you can see the most spectacular views of the night sky and stars. They say it's unrecognizable because there are so many stars. But the people -- there's only about 600 people -- they decided, when they were told they were designated a dark-sky area, to embrace it. They decided they won't have cars on the island, [they] will use light at particular times. The only means to get to this island is by boat.
Now, I haven't been. So many people are asking me, but I will go! I've met a few people who have been and there's photographs that I've seen and it's stunning. So, when I went back to the studio, about Spring 2012, this was the first inspiration for me. And the first song I wrote was "Dark Sky Island."
I think that theme, and the magic of the stars, really fits well with your music.
I think so, because with "Shepherd Moons" and "Paint the Sky with Stars," there's a nature aspect that we have sort of drawn for a lot of the albums.
What goes into making the music?
I'm in the studio mostly in the beginning on my own, to write the songs. And it's quite disciplined for me, because I'm not a person who will write a song just when the inspiration is there. I feel like if the inspiration is strong enough, it will come with me. Once I go into the studio, the focus is on music. Everything else, whatever's happening in my life, is outside that door.
I'm a very slow writer, so I feel that it's important for the discipline to be there. I will do five days a week. I'm there at 10 in the morning and I finish at 5 or 6 o'clock. But I feel that if I haven't written anything for a week or two weeks, getting anxious here, three weeks, into a month, nothing, it's a day closer to writing and finding what I'm trying to say and express within the music. It's not like I will feel like, "Oh, I won't go into the studio until I feel I'm going to write a song." I feel it's necessary to actually spend time there to experience it. And that wonderful moment when I play the first note, it's like a little journey in itself, and the second note, I just know: This is the piece. Then I will play it to Nicky and Roma, and for me, it's really important, the rendering I do, the live performance I play to them to see [whether] they understand what I'm trying to say. At that stage, there are no lyrics, so it's really important to see, emotionally, that they sense what the song is about. And then we know we have a song for the album.
That's an interesting process. I think for a lot of people, like myself, when we face a moment that we feel stuck or like the words aren't coming out of our heads, we need to take a break. But for you, it helps to stay in the studio environment. 
It's important not to panic on the aspect of, "I haven't written in a while," but I'm always so slow at writing. Nicky is very encouraging because he always says, "You have a lot of melodies to write." I feel like if he says that, then that's what's going to happen. It fascinates me, because for this album, the 11 tracks and three bonus tracks, that's all I've written in three years. Someone asked me, "Have you got this vast library?" And I was going, "No." For each album, that is what I have written.
You've sold 80 million records with little promotion, at least compared to artists like Madonna or Cher. How do you do it? What is the secret to your success?
That's a good question. I feel the music has always been the success. With the success of "Orinoco Flow," a lot of people didn't know who I was. E-N-Y-A could be a band, could be a female singer. They didn't know who it was, but they enjoyed the music. Having worked on "Watermark," a very different album to what was happening, musically, hoping someone would enjoy it ... It's all very diverse, 11 or 12 little stories. But the success of the album was something of a surprise to everyone, including myself. I felt it was nice that the initial introduction was done musically rather than on who the person was. 
So, I felt like I could actually stand back behind the music. I didn't have to front the music. My image was my own image. I didn't have to change to sell the music, the music sold by itself and always has. I really didn't want fame to change the music. Therefore, I've worked the same way. I felt like I had a choice. And there is no rulebook to say how you should live your life when you're successful, but I felt it was a natural progression to do, to feel it's important to meet people. But then, when I'm in the studio, it's not so important that I'm out doing promotion. I just feel like I have to focus on the music. Thats whats important to me now. It's an understanding with the record company -- they know that's the way it is. I feel I can step back at a time and just begin to work on the music.
Why do you think the music resonates so much with fans? You have such a huge fanbase!
And a very patient fanbase! I have to say I am thanking them so much. It's an opportunity now to say such a big thank you to them, because they're there [for us]. Their comments are like, "We know you take time to put the music together, so don't be rushing," and "We look forward to it so much!" Their patience and understanding on the way we work is very much there. Their loyalty has been there. I remember when it came to "Shepherd Moons," three years after "Watermark," and it felt like a first album. I thought, it's very different, who's going to listen to it? Then when the fans were there for the music. That's, again, an element of surprise for me, and a beautiful surprise. It's just continued. I was told a lot of different generations have always listened to the music, and that still children are listening to the music, and people who would listen to classical music, and teenagers. It still crosses over. Why? I don't know. To be able to come in touch with their feelings or emotions, it's very difficult. Because if you knew how to do it, it would be easy. 
Do you take the fans into consideration when you're writing the music?
The way we think about the fans in the studio is not to let them down, and that we continue to be creative and experiment. It's something we've always done. So I think that that's important. Not to emulate an album that we've just done. We're always progressing, and I feel like they have an understanding of that. We're not trying to create the same song that we did on the last album. We're on a journey and we're taking them with us.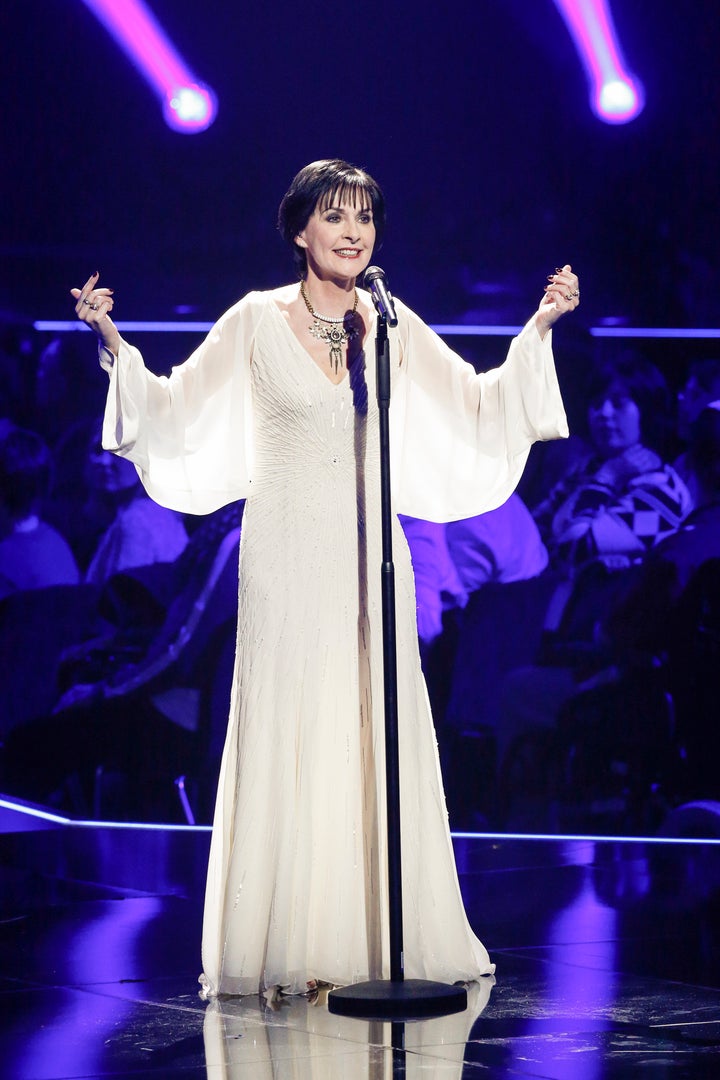 I think it has to do with the little bit of discipline towards the music. As I've said [before], I love the glitz and glamour of the big events that you go to. The Oscars, Golden Globes -- wonderful! [I] absolutely enjoyed it so much. But there's a stage where you have to stand back and, as I said, I have to gather my thoughts and focus on what people like to listen to. I feel like it's really important not to lose sight of that.
Do you keep up to date with popular music today?
To a certain extent. Not the last few months, because it got quite intense in the studio. But yeah, I mean, I've always listened to what is happening. What I'd be drawn to is a good melody. I'm very envious that someone has written a good melody and it's not mine. Whatever genre it's in, if it's a good melody, I will listen to that.
Any particulars that come to mind?
At the moment, I'm so removed from what's happening. But there's some great singers. A lot of British singers, like Sam Smith and Adele. Very emotional songs, great performers.
And I have to ask: What is it like living in a real castle?
It's wonderful! It is wonderful. It's a castle that was built to lure Queen Victoria. It was a wealthy landowner, Lord Warren, who lived right near the castle. He had a big manor, and he got this architect to build it on a hill and it has the perfect views over the Irish Sea, starting with Dalkey Island, [then] looking to the right, you're looking over Wicklow, which is the gardens of Ireland. When I open the shutters in the morning, you just look out and the horizon can be totally different. It's blue, it's bleak, but it's just so different. It's very inspiring to live there. [It's] a very homely castle. I have a lot of family friends there continually, so it's very much a home. But the exterior is very much a castle -- a big, old granite-walled castle. But it's Victorian so it's a little bit more romantic. 
"Dark Sky Island" will be released on Nov. 20. This interview has been edited and condensed.  
PHOTO GALLERY
Celebrity News & Photos
Calling all HuffPost superfans!
Sign up for membership to become a founding member and help shape HuffPost's next chapter