The Environmental Protection Agency has banned scientists who receive funding from the agency from serving on its scientific advisory boards, in an unprecedented move that critics say gives favor to industry-friendly advisers.
At a Tuesday afternoon event rolling out the new policy, Administrator Scott Pruitt invoked a biblical tale from the book of Joshua, in which the pagans are instructed to "choose this day whom you will serve," either God or the "gods of your fathers."
"As it relates to grants from this agency, you're going to have to choose," said Pruitt, who described the new rule as a way of ensuring "there's integrity in the process and that the scientists that are advising us are doing so without any kind of appearance of conflict."
Pruitt described scientists who received as much as $77 million in grants from the agency while also serving on advisory boards as damaging the perception of independent rule-making. Pruitt signed an order cementing the new rules into policy during the 28-minute event, with Sen. Jim Inhofe (R-Okla.) and Rep. Lamar Smith (R-Texas), two of the most ardent climate change deniers in Congress, at his side.
Democratic lawmakers denounced the announcement as "unprecedented."
"Administrator Pruitt is purging expert scientists from his science boards ― and replacing them with mouthpieces for big polluters," Sen. Tom Udall (D-N.M.) said in a statement. "Now, instead of independent science guiding the way, hired guns for industry will be steering EPA policy on central issues affecting clean air, clean water, and public health."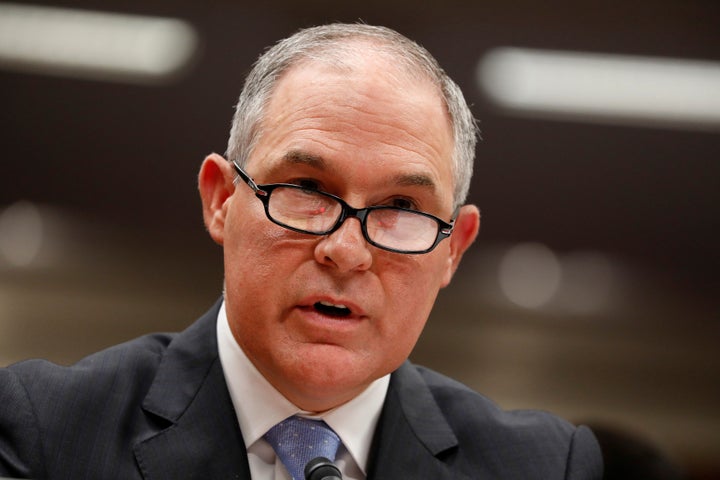 Pruitt said nothing of industry-funded science, which has long been used to kneecap regulations. For many scientists working in a time of limited research budgets, funding from the EPA or other government agencies is one of the few sources available, other than industry money.
"Wholly unaddressed by the directive is any counterpart prohibition on scientists funded by industries with conflicts of interest from serving as EPA advisors," Richard Denison, a lead senior scientist at the Environmental Defense Fund, wrote in a blog post. "When it comes to advice the agency receives, the core concern over the need to avoid conflicts of interest is this: Is advice tainted because the entity employing and paying the advisor stands to gain or lose financially from the agency decision that is under advisement?"
The advisory boards, which Congress created as a check on EPA policies and regulations, include the EPA Science Advisory Board, the Clean Air Scientific Advisory Committee (CASAC) and the Board of Scientific Counselors. Pruitt said he plans to announce new members of the boards next week, after scientists began quitting the councils in protest earlier this year.
"Administrator Pruitt is purging expert scientists from his science boards – and replacing them with mouthpieces for big polluters."
While Pruitt's new order rejects anyone who receives funding from the agency, he has named industry allies to those same boards. As part of the announcement, he tapped Michael Honeycutt, the head of the Texas Commission on Environmental Quality's toxicology division, to serve as the head of the Science Advisory Board. Honeycutt once suggested the health risks linked to smog were overstated, described ozone standards as "alarmism" that made "no biological sense" because "most people are indoors for 90 percent of the time," and blasted the EPA for relying on epidemiological studies that he considered "not scientifically rigorous."
In 2010, the Texas Observer called him a "crony" of then-Gov. Rick Perry (R) and accused him of "abusing science." Honeycutt relied heavily on research produced by Michael Dourson, whose consultancy, Toxicology Excellence for Risk Assessment, was described in 2014 by InsideClimate News as the "one-stop science shop" favored by the chemical and tobacco industries. (Pruitt picked Dourson to lead the agency's chemical safety division last month.)
Pruitt also tapped Tony Cox, who runs the private consultancy Cox Associates and produces research for major industry groups, to lead the CASAC. He has done research on lung disease issues for the American Chemistry Council, a trade group for the chemical industry, and research on health effects associated with fine particulate matter and ozone for the American Petroleum Institute, the oil industry's main lobbying group, according to The Intercept. In 2015, he railed against the EPA's plans to tighten rules on ozone emissions.
In a 2012 statement to a subcommittee of the House Committee on Energy and Commerce, Cox challenged scientists' analysis of the health benefits of cleaner air and, bizarrely, suggested that rising global temperatures would prevent the deaths of elderly people.
"These predictions ignore the known effects of temperature on elderly mortality rates (cooler winter temperatures increase, and warmer temperatures decrease, average elderly mortality rates), and instead focus on model-projected public health benefits from cleaner air," he said. "However, these claimed health benefits are illusory."
Pruitt appointed Paul Gilman as the head of the Board of Scientific Counselors. Gilman currently serves as the chief sustainability officer at the waste management and incinerator company Covanta. He has been a leading advocate for incinerating trash as a source of fuel for electricity. The trash incinerator industry provides only a tiny fraction of U.S. power, but wields outsize influence in some cities and has attempted to sabotage the U.S. Conference of Mayors' effort to push for 100 percent renewable energy.
"Scott Pruitt doesn't want to listen to a word from anyone who isn't in the pocket of corporate polluters," Sierra Club Executive Director Michael Brune said in a statement. "For Pruitt, anything that helps corporate polluters make money is good and science and facts are just roadblocks he wants to tear down."
Chris D'Angelo contributed reporting.
This story has been updated with more detail about Tony Cox.
Before You Go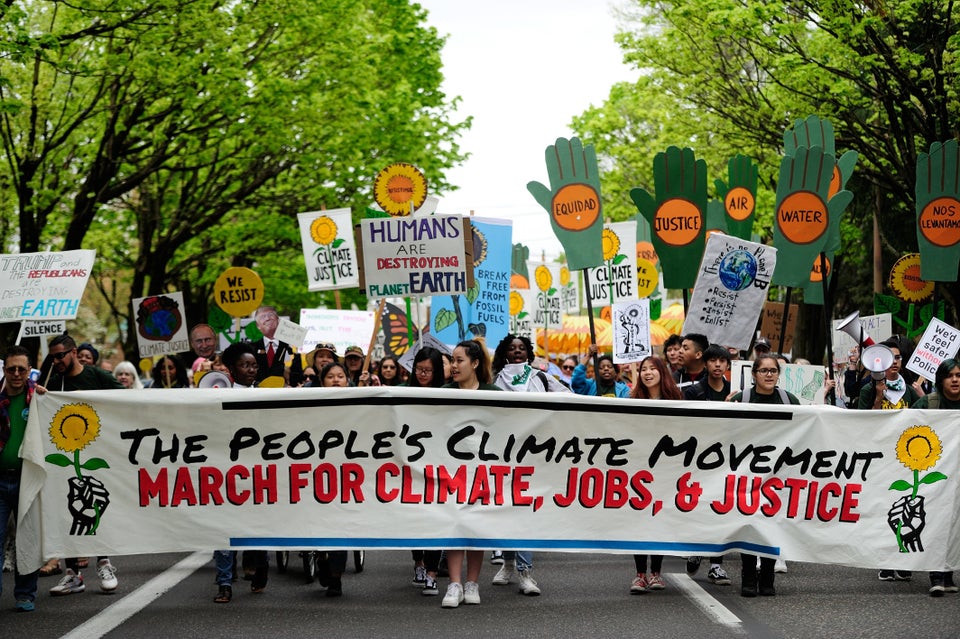 Climate Marches Across The U.S.
Popular in the Community