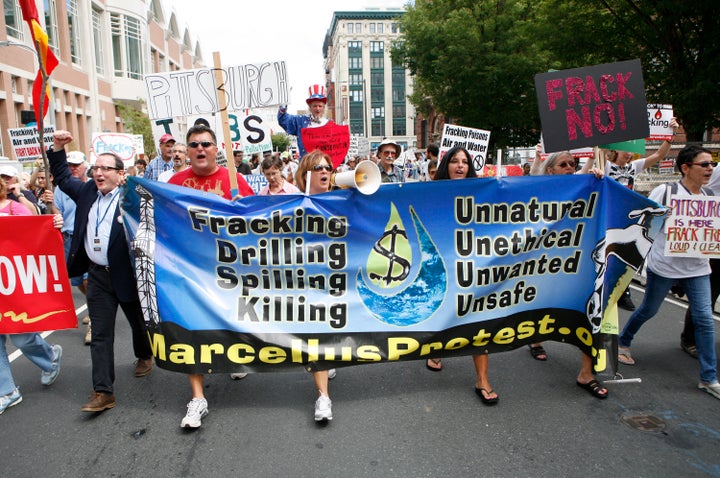 The Environmental Protection Agency announced plans on Wednesday to begin developing rules requiring makers and processors of certain chemical cocktails used in the oil and gas industry to maintain and submit records on those chemicals.
The agency, which said it plans to "initiate a dialogue process to seek public input" on the design and scope of the reporting requirements, would also be ordering the companies to submit health and safety studies related to the various chemical cocktails they produce.
The move was welcomed by industry critics seeking more federal oversight of the contentious practice known as hydraulic fracturing, or "fracking" -- a process that involves the injection of a mixture of water, sand and various chemicals deep into a well bore in order to crack open rock formations and stimulate the release of hydrocarbons. Hydraulic fracturing has exploded as companies have deployed it to access vast and previously unreachable deposits of natural gas in states like Pennsylvania, West Virginia, and Texas.
"We're delighted, and this will get us a lot more of the kind of information that we need so the public can do a reasonable assessment of the gas development happening around them," said Deborah Goldberg, an attorney with the group Earthjustice, which was among more than 120 environmental organizations that had filed a petition with the EPA in August. The petition requested that the agency issue reporting and toxicity testing rules, under the Toxic Substances Control Act, for a variety of chemical mixtures used by the industry.
Earlier this month, the agency declined to issue rules requiring companies to conduct toxicity testing. And Wednesday's decision to develop reporting rules targets only those fluids used in fracking. The petitioners had sought wider scrutiny of other mixtures used in oil and gas exploration and production, including so-called drilling mud, a solution used in the process of creating boreholes in preparation for hydrocarbon extraction.
"We would like them to go a little bit further and get them to include the drilling mud and not just the fracking fluid," said Goldberg, who added that the organizations would be seeking clarification from the EPA in coming days.
In making the announcement, the EPA said it was "exploring an approach that would minimize reporting burden and costs, take advantage of existing information, and avoid duplication of efforts. EPA believes that the development of this country's natural gas resources should continue to grow responsibly, building off the important work that has already been done by the states, the industry, and others to disclose crucial information to the American public."
A consortium of state regulators and industry stakeholders have already developed a voluntary effort called Frac Focus, which seeks to encourage oil and gas service firms -- typically those companies that perform the actual drilling operations -- to disclose the fracking products they are using on a well-by-well basis. The reporting rules that EPA said it would be developing Wednesday are aimed at the actual makers of those fluids.
Some large oil and gas service companies like Halliburton and Schlumberger also manufacture fracking fluids, and as such, they would come under any new reporting rules.
Environmentalists and many residents living near fracking operations have long been concerned about the chemicals that remain underground, which they say could potentially migrate through fissures in the bedrock and eventually contaminate shallower stores of groundwater. Two weeks ago, an EPA study revealed that an aquifer in Pavillion, Wyo., which has seen extensive gas drilling, contained several cancer-causing compounds, and at least one chemical -- 2-Butoxyethanol -- which is commonly used in fracking fluids.
The agency is also conducting a separate, multi-state analysis of the potential impacts of fracking on groundwater.
Oil and gas companies, which have long resisted reporting rules as a threat to their proprietary chemical cocktails, say chemical migrations are unlikely in properly designed wells. The industry is currently subject to a patchwork of state regulations, but pressure has been increasing to establish national baseline standards. Various iterations of a so-called FRAC-Act have been introduced in both the House and the Senate -- chiefly with support from Democrats -- with a goal of bringing the practice of hydraulic fracturing under increased federal oversight.
Those in the industry, with the backing of Congressional Republicans, have argued that regulatory responsibility should reside with the states, and that any new layer of federal oversight would be unduly burdensome. "[The EPA's] involvement in this issue is just another attempt to pursue a radical, anti-drilling agenda," said Congressman Bob Gibbs, an Ohio Republican, during a hearing regarding the EPA's investigation of fracking oversight. "They are threatening America's, and especially Ohio's, economic future with more redundant, job-killing regulations that do nothing to enhance the protection of public health and the environment."
In an interview with MSNBC host Rachel Maddow earlier this week, EPA administrator Lisa Jackson said states will always play a prominent role in regulating the oil and gas industries, but that national standards are needed.
"I always say, it doesn't have to be the EPA that regulates the 10,000 wells that might go in, but there needs to be standards and they need to be transparent," Jackson said. "And when it comes to the chemicals in the fracking fluid, I think that's a fair point. People want to know what's being injected into their water."
An investigation by Greenwire last week into state-level regulatory efforts suggested that few oil and gas companies are ever subjected to fines for violations of pollution and chemical handling rules. It also showed that when fines are issued, they typically amount to "little more than a rounding error for billion-dollar companies."
The EPA's decision on Wednesday comes on the heels of a separate announcement late last month that it would also be developing rules governing the handling and treatment of fracking wastewater arising from the development of natural gas wells.
Related
Popular in the Community