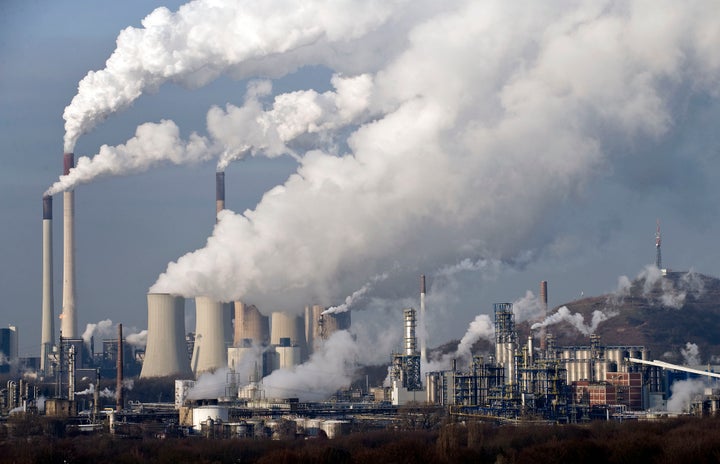 As we begin this new year, let's recognize an important long-delayed success finalized by the Obama Administration in late 2011.
On December 21st, the U.S. EPA announced the first-ever national standards to reduce mercury, arsenic, cadmium and other toxic air pollutants from coal plants by requiring installation of modern pollution control equipment. These standards make good economic and environmental sense. They were required by the Clean Air Act more than 20 years ago and level the playing field for energy companies in Illinois and other states that have already invested in mercury pollution control technologies. The national investments will create jobs, achieve cleaner air and water, drive technological innovations and protect children's health.
Coal plants are the largest source of mercury pollution in the Great Lakes and many other waterways. Public health officials have issued "mercury advisories" for almost every river, lake and stream in the Great Lakes states. Sad, isn't it? It's not safe to eat the fish we catch.
Mercury is a neurotoxin that, when ingested by pregnant women, enters the bloodstream, crosses the placental barrier and impairs fetal brain development, thereby causing mental and physical harms. Installing widely available pollution control technologies can reduce more than 90 percent of the mercury pollution that is harming both children's health and our environment.
In 2006, the Illinois Pollution Control Board adopted mercury pollution standards, which required all coal plants to install technologies to reduce mercury pollution by 90 percent or more by 2009 and 2013. Some coal plant owners then made the same overblown arguments about reliability threats and costs that we're hearing today at the Federal level. What happened in Illinois? The coal plants mostly complied, mercury pollution has dropped significantly, the lights have stayed on, and utility rates didn't go up from implementing these standards. Our children's health is better protected.
Illinois and other states that stepped up while the Bush administration failed to adopt strong standards are demonstrating that the national mercury standards are achievable, but some "stall and delay" coal plant owners and their Congressional allies have already declared that they will try to weaken the new standards.
There should be bipartisan support for these national standards to protect children's health and our environment. For example, both Senator Dick Durbin (D-IL) and Senator Mark Kirk (R-IL) in Illinois have long expressed their support for strong mercury pollution reduction standards. Senator Kirk wrote in the Chicago Sun-Times in 2003:
We are at risk and our children are at greater risk if we do nothing to reduce mercury pollution. This may become a defining issue of our decade, and we have the chance to make a real difference for our environmental future.
Illinois and some other states' coal plant owners are stepping up to clean up mercury, and they shouldn't be placed at a competitive disadvantage by others who don't and continue their mercury pollution. Let's move forward with these common-sense national mercury pollution reduction standards to protect children's health and the Great Lakes and other community waterways for all.
Popular in the Community