In May, the Environmental Protect Agency issued a new rule requiring oil and gas companies to report what equipment they use and how much methane ― a greenhouse gas 40 times more potent than carbon dioxide ― their drilling sites emit.
On Thursday, the agency's newly sworn-in administrator, Scott Pruitt, scrapped a regulation deemed crucial to cutting planet-warming emissions as part of the Paris climate deal.
The decision, one of Pruitt's first since the Senate narrowly confirmed his nomination last month, underscores the former Oklahoma attorney general's deep, friendly ties to an industry he's now tasked with policing. The move comes days after The Huffington Post reported on the White House's proposal to slash a quarter of the EPA's budget and pink-slip 1 in 5 agency employees.
"By taking this step, EPA is signaling that we take these concerns seriously and are committed to strengthening our partnership with the states," Pruitt said in a statement. "Today's action will reduce burdens on businesses while we take a closer look at the need for additional information from this industry."
Pruitt's relationship with oil and gas players became a flashpoint after President Donald Trump nominated him to lead an agency he sued 13 times as the Sooner State's top cop.
Pruitt repeatedly joined oil, gas and coal players ― including Oklahoma Gas & Electric and the Domestic Energy Producers Alliance, an industry-backed group ― in filing lawsuits to stop federal regulations. In 2011, Pruitt allowed Devon Energy Corporation, the Oklahoma City-based natural gas giant, to write a three-page complaint to the EPA under his letterhead, which he later signed.
Last week, the Oklahoma attorney general's office released emails under court order that shed new light on how chummy relations between Pruitt and the oil and gas industry became during his six years as the state's attorney general.
The office sued to block the release of more emails that were scheduled to be disclosed this month, and the Oklahoma Supreme Court on Tuesday granted a stay, giving the new attorney general's office more time to produce the correspondence.
The first batch of 7,564 documents released last week renewed concerns that Pruitt would use his new post to benefit his industry allies, who have donated more than $300,000 to his campaigns between 2002 and 2016. Even more money went to a political action committee and super PAC that paid for Pruitt's trips to Hawaii and New Orleans.
The now-infamous 2011 Devon Energy letter, published in 2014 by The New York Times, specifically criticized EPA estimates on methane emissions from drilling rigs as inaccurate or too high in hopes of preventing further regulation. Two spokesmen for Devon Energy did not immediately return calls and emails requesting comment on Thursday evening.
Natural gas emits less carbon than other fossil fuels, such as oil or coal, and utility companies are increasingly relying on it to produce electricity as hydraulic fracturing, or fracking, technology has made it much cheaper. The shift from coal- to gas-burning power plants has helped to limit the carbon footprint of the utility sector, by far the biggest emitter in the country, but not by much.
But the fracking industry is relatively new, and its effects on the environment are still being studied. Oklahoma is now dogged by man-made earthquakes caused in part by fracking, which involves cracking bedrock with highly-pressurized, sand- and chemical-laced water to unleash gas trapped below. (Most human-induced earthquakes in the state, however, stem from wells that inject wastewater ― usually briny water left over from drilling for oil ― deep underground, according to the U.S. Geological Survey.)
"We must reject as a nation the false paradigm that if you're pro-energy, you're anti-environment or if you're pro-environment, you're anti-energy," Pruitt said during his Senate confirmation hearing last month. "I reject that."
Yet so far, Pruitt's time at the helm of the EPA has been marked by plans to eviscerate the agency's budget, halt climate change action and ease restraints on corporate polluters. During his first speech to agency staff last week, Pruitt mentioned a "toxic environment" only once ― to refer to the political rhetoric of his critics.
He did not mention pollution, climate change or environmental destruction at all.
This article has been updated to include additional information about earthquakes due to fracking and waste-water injection.
Before You Go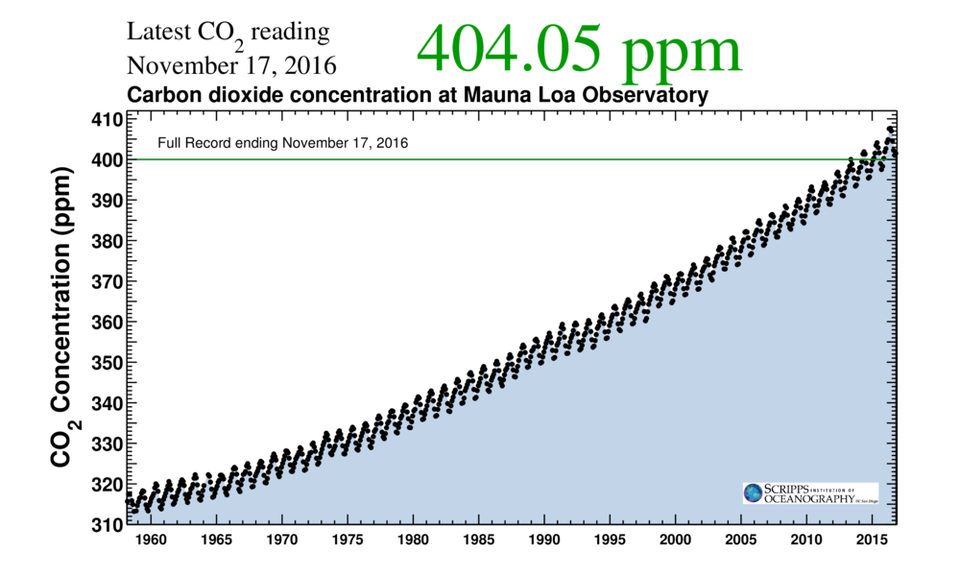 Climate Visuals For The Climate Change Denier In Your Life