The Environmental Protection Agency plans by next month to clear its backlog of hundreds of new chemicals waiting to be deemed safe enough to sell to the public.
So far, despite giving deference to the chemical industry and adding lobbyists to its ranks, the agency has flagged nearly half the new products submitted by companies for review.
Of the 373 new chemicals reviewed so far, 178 ― 48 percent ― were allowed to go to market only with significant limitations and guidelines. Eighty-one, or 22 percent, were given the green light to commercialize without restrictions. Just three were turned down for presenting an unreasonable risk, and none were banned.
"If you look at those statistics ― 22 percent go onto the market ― that's 1 out of every 5, and it used to be the inverse of that," Richard Denison, lead scientist at the Environmental Defense Fund, told HuffPost by phone on Monday. "That's a pretty dramatic change."
The process for approving new chemical products changed last June when then-President Barack Obama signed into law an update to the Toxic Substances Control Act, mandating safety reviews for all new chemicals, replacing a cost-benefit standard with a health-based safety one and setting aggressive, enforceable deadlines for EPA decisions.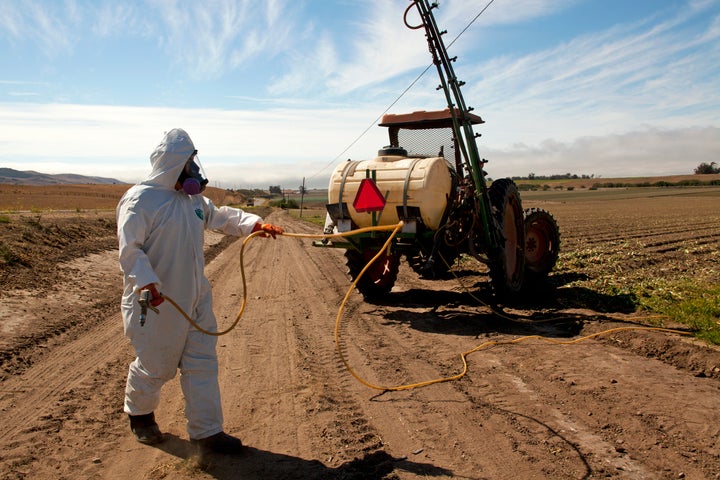 The EPA reviews about 1,000 chemicals per year, and the passage of the law forced the agency to reappraise droves of chemicals, creating a logjam. On Monday, the EPA said it planned to reach decisions on the remaining 150 chemicals by July.
"The EPA is flagging many more chemicals than it did in the past, and is imposing more restrictions or testing requirements on those chemicals than ever before," Denison said. "I can't give an independent judgment on whether what they're doing is enough, but it's a lot more than it used to be."
The approval process for new chemicals was so lax before that companies used to submit chemicals they didn't even plan to bring to market, Denison said. Now that the process is more onerous, companies are withdrawing chemicals they don't plan to sell. Between June 2016 and May 2017, companies rescinded 111 submissions, freeing up regulators' resources at a time when the agency has been facing historic budget cuts under the new administration.
The chemicals division has been largely spared the ax brought down by the White House on EPA programs that address climate change or environmental justice. Denison attributed the success of the new chemical guidelines to "the commitment by career program staff to implement this new law in the way Congress intended."
But he said he is concerned about new rules for regulating existing chemicals already on the market. The EPA is still finalizing formal regulations to establish procedures for evaluating existing chemicals. During the requisite public comment period before issuing new rules, industry players made clear that they opposed the rules or wanted them significantly weakened.
I am concerned that the industry could have significant influence.

Environmental Defense Fund lead scientist Richard Denison
To lead that effort, the Trump administration appointed Nancy Beck as deputy assistant EPA administrator in charge of the office that regulates the chemical industry. She previously served as a senior policy director at the American Chemistry Council, an industry group whose members include Exxon Mobil Chemical, DuPont and agricultural chemical giant Monsanto.
"It's too early to know what the fact of those rules will be, but I am concerned that the industry could have significant influence," Denison said.
In March, EPA Administrator Scott Pruitt denied a decade-old petition seeking to ban chlorpyrifos, rejecting his agency's own review that found the insecticide, commonly sprayed on crops such as strawberries and broccoli, caused damage to fetal brains and nervous systems. Despite multiple independent studies yielding those findings, Dow Chemical, which sells the pesticide under the brand Lorsban, argued that the evidence indicating harm was inconclusive.
One of the chemicals now under review is methylene chloride. The chemical, used in paint and coating stripper, is linked to the death of a 21-year-old Tennessee man, who suffered cardiac arrest after being overcome by fumes while refinishing a bathtub.
"There have been 50 of these kinds of deaths from different uses of this chemical in recent years," Denison said. "There's a hugely strong case for banning this, as the agency proposed to do in December. We're urging the agency to complete that."
CORRECTION: An earlier version of this story misstated the name of the American Chemistry Council. 
REAL LIFE. REAL NEWS. REAL VOICES.
Help us tell more of the stories that matter from voices that too often remain unheard.
BEFORE YOU GO
PHOTO GALLERY
Top 10 Toxic Industries