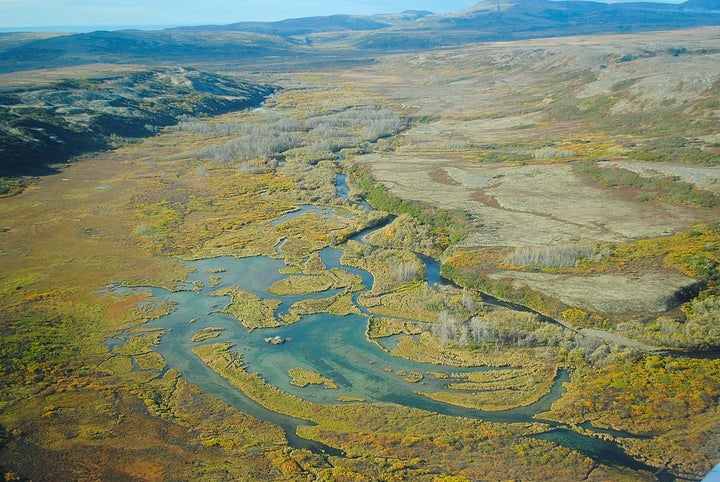 Three former administrators of the Environmental Protection Agency slammed a proposal to open a gold and copper mine in the heart of an Alaska salmon fishery, saying the project could devastate natural ecosystems and imperil a multibillion-dollar industry.
William Ruckelshaus, William Reilly and Christine Todd Whitman ― all former heads of the EPA under Republican presidents ― joined former Secretary of the Interior Bruce Babbitt in signing a letter published in The Washington Post on Tuesday. In the letter, they voiced their opposition to the controversial Pebble Mine near Alaska's Bristol Bay.
"The question of whether to build a massive open pit copper and gold mine in the heart of the planet's largest wild sockeye salmon fishery has a simple answer," the authors write. "The Pebble Mine is the wrong mine in absolutely the wrong place, and the answer is no."
Environmental, tribal and business groups also signed on to the missive, including the Natural Resources Defense Council, the United Tribes of Bristol Bay and Commercial Fishermen for Bristol Bay.
The EPA, now under the stewardship of Scott Pruitt, moved to reverse an Obama-era decision to block the mine in May after executives of the Pebble Limited Partnership, the developer of the project, sued the government.
At the time, the executives praised Pruitt for his "commitment to the rule of law" and said they would move to file a new application for a permit to proceed with the mine, according to The New York Times.
"We oppose the Trump Administration's efforts to sweep nearly a decade of science and Clean Water Act review under the rug," Tuesday's letter says. "The record is clear: The Pebble Mine is fundamentally flawed ― it's the wrong mine in the wrong place."
"Protect the greatest salmon fishery on the planet," the authors conclude. "Protect Alaskans and the Bristol Bay watershed."
Read the full letter below.
REAL LIFE. REAL NEWS. REAL VOICES.
Help us tell more of the stories that matter from voices that too often remain unheard.