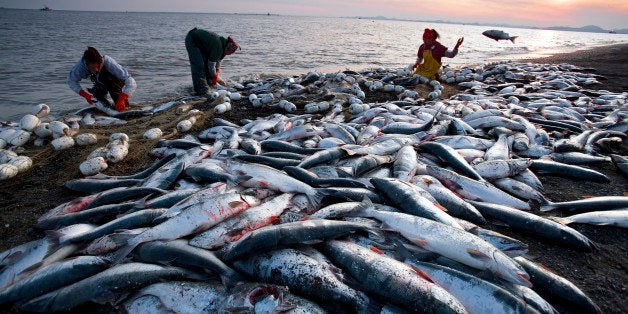 After nearly three years of study, the EPA released the final draft of its Bristol Bay Watershed Assessment this week, coming to conclusions in line with previous drafts: Large scale mining development in Southwest Alaska's Bristol Bay watershed poses a substantial risk to the region's ecosystem and its legendary salmon run.
The assessment compiled data relevant to evaluating the potential risks posed by several hypothetical large-scale mining scenarios. Of course, there was never any doubt about which hypothetical mine the report was aimed at: the Pebble Mine.
Pebble, for those unfamiliar, is a massive copper and gold deposit worth potentially hundreds of billions of dollars that sits at the headwaters of two of Bristol Bay's primary river systems. Those river systems, in turn, support the world's largest run of sockeye salmon and a robust fishing economy that contributes $480 million annually and upwards of 14,000 full- and part-time jobs. It has also been the backbone of the region's subsistence-based Native culture for thousands of years. It's not surprising that many Bristol Bay stakeholders aren't thrilled by the prospect of a massive open pit mine and its attendant tailings dams, road corridors and other development.
All of which helps explains why the project has become such a lightning rod -- it's the most controversial resource issue in Alaska and has attracted attention and opposition from well beyond the state. (For one example: see Robert Redford's take here). This study was initiated by a request from a group of Native tribes from the region, who approached the EPA in 2010 to ask that they block the mine's development by invoking section 404(c) of the Clean Water Act. Now, over three years later, after gathering data, holding public meetings, receiving over a million comments, and putting the study through two rounds of peer review by panel of independent scientists, the EPA has arrived at this final document.
In a conference call with reporters yesterday, EPA Region 10 Administrator Dennis McLerran had no answer for questions as to what sort of regulatory action the study might precipitate, or on what timeline, but on the findings of the assessment, he didn't mince words: "EPA has concluded that large-scale mining in the Bristol Bay watershed poses significant near and long-term risks to salmon, wildlife and native Alaskan cultures."
Jeff Frithsen, a senior scientist and special projects manager at the EPA's office of research and development in D.C, summarized the litany of potential effects -- ecological, economic, cultural -- resulting from each of the three hypothetical mine scenarios outlined in the study. In each case, he cataloged the risks posed both from a mine's routine operations and from potentially more catastrophic accidents or failures. The potential effects of even standard mining operations, as outlined by Frithsen, included the loss of dozens of miles of streams and thousands of acres of wetlands, as well as unforeseeable impacts on the 64 rivers and streams that the mine's transportation corridor would cross. (I encourage you to download the executive summary here for all the details).
Those who have been fighting against the mine were quick to endorse the study's findings. "We are pleased that the EPA has come to the conclusion that large scale mine development in the Bristol Bay Fisheries Reserve would endanger and put at risk the most valuable fishery in the world," said Anders Gustafson, Executive Director of the Renewable Resources Coalition, one of the primary groups fighting Pebble, adding that the study contained "exactly the kind of data" that will be needed in evaluating the project and others like it.
Of course, not everyone saw it that way. Northern Dynasty, the Canadian mining company developing Pebble, quickly issued its own press release titled, subtly, "Northern Dynasty Acknowledges Completion of EPA's Flawed Bristol Bay Watershed Assessment."
"Publication of the final watershed assessment is really the final chapter in a very sad story," said Northern Dynasty CEO Ron Thiessen in the release. "We believe the EPA set out to do a flawed analysis of the Pebble Project, and they certainly succeeded with both their first and second drafts of the BBWA."
John Shively, CEO of the Pebble Partnership, the Alaska-based face of Pebble's development, concurred with Thiessen. "We have maintained all along that the Bristol Bay watershed assessment process has been rushed and thus has resulted in two very flawed documents," Shively said in a release, saying that the EPA did not commit enough time or resources to do a thorough job, and he criticized the hypothetical mine scenarios. "It must be remembered that the report does not assess the effects of the Pebble Project as we have not finalized nor submitted a project for regulatory evaluation." In Shively's eyes, without a mine plan from Pebble, the EPA is evaluating a fiction.
The mine's opponents dismissed such critiques. "If you don't like the outcome of the review, you are going to say it's bad data," Bristol Bay Native Corporation President Jason Metrokin told local TV station KTVA, while praising the process.
Flawed or not, the assessment is now final, which means people on both sides of the Pebble debate have the same question: What now? It's clear where this report comes down on the mine -- a bad thing -- but there's no inkling of whether those conclusions will lead to policy action and, if so, on what sort of a timeline.
The EPA has gone to great lengths to separate this phase -- the compilation and examination of the underlying scientific, economic and historical data --f rom any discussion of policy. In fact, page one of the report's executive summary says as much: "As a scientific assessment, it does not discuss or recommend policy, legal or regulatory decisions, nor does it outline or analyze options for future decisions." The EPA's position is, effectively: Now that we've gathered the information, we can begin thinking about what to do with it and how to respond to the tribes' request for regulatory action.
As it turns out, the situation may not be as urgent as it once seemed. After years of insisting that they were nearly ready to file for their mining permits -- "by the end of the year" was an oft-heard refrain -- the path forward for Pebble looks somewhat murkier. In September, Northern Dynasty's partner in the project, mini-giant Anglo-American, walked away from its 50 percent stake, taking a $300 million loss for its efforts and citing a need to streamline its mine development pipeline by focusing on lower risk mines with a higher probability of near-term payout. A month later, layoffs at Pebble began. And in December, global mining company Rio Tinto announced that it was reevaluating its 19 percent stake in Northern Dynasty, which represents its de facto investment in Pebble, with a possible eye on divesting.
All that being said, this story is far from over. Northern Dynasty has vowed to press forward with the mine's development, likely with a new partner to replace Anglo American.
"The report does not change our plans," Mike Heatwole, spokesman for the Pebble Partnership, told me in an email. "Our immediate focus remains on working with Northern Dynasty in securing a partner to help advance the project."
Or, as a fisherman friend of mine commented after I posted a link to the EPA report, "Well, the deposit isn't going anywhere, so we'll see where it goes from here!"
Calling all HuffPost superfans!
Sign up for membership to become a founding member and help shape HuffPost's next chapter