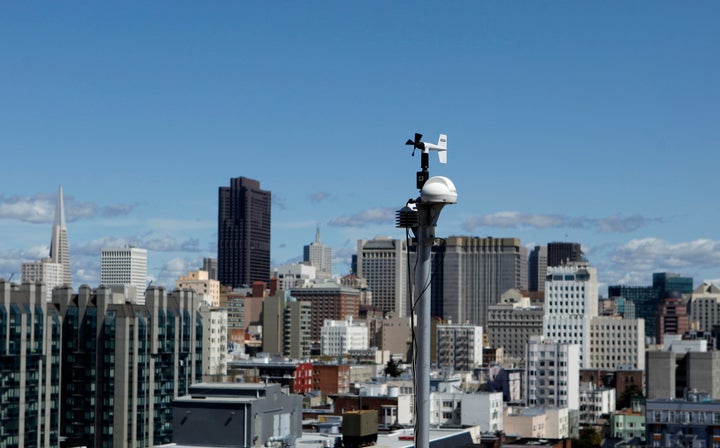 An environmental watchdog group is criticizing the federal government for scaling back its radiation monitoring, while simultaneously planning to raise allowable levels of radiation releases in food, water and soil after a nuclear incident.
The group, Public Employees for Environmental Responsibility, issued a press release yesterday condemning the U.S. Environmental Protection Agency's decisions.
The EPA and the Food and Drug Administration increased their radiation monitoring efforts after a massive earthquake and tsunami off the coast of Japan set off the world's worst nuclear disaster since Chernobyl.
But on May 3, the EPA announced [PDF] in a press release that it was falling back to a business-as-usual schedule of radiation monitoring, citing "consistently decreasing radiation levels."
The EPA will begin analyzing milk and drinking water on a quarterly basis, with monthly testing of rainwater.According to the federal agency, detectable levels "are well below any level of public health concern, and continue to decrease."
But the environmental group isn't buying it.
"With the Japanese nuclear situation still out of control and expected to continue that way for months and with elevated radioactivity continuing to show up in the U.S., it is inexplicable that EPA would shut down its Fukushima radiation monitoring effort," said Jeff Ruch, executive director of the watchdog group, in a statement.
He said the agency found high levels of radiation in drinking water, and now was not the time to be pulling their efforts back.
He also said the EPA's monitoring program, RadNet, is unreliable and fails to cover large swaths of the West Coast.A spokesman for the EPA denied Ruch's allegations.
"We have over 100 monitors up and running, more than enough to detect even the slightest fluctuations in background radiation levels," said Brendan Gilfillan, an EPA spokesman. "The network was built specifically to ensure that if one monitor is down for maintenance, we still have overlapping regional coverage."
Paul Carroll, a senior scientist with the Ploughshares Fund, a nuclear non-proliferation group, agreed with the EPA and said Ruch's concerns seemed a bit "unfair" and a "little severe."
"The milk levels they cite in the press release are very localized, around Fukushima," he said.
"While the crisis in Fukushima is not under control, it is far more stable than it was three weeks ago," he said."The EPA has a lot of other things on their plate: issues related to Superfund and toxics in the water," he said. "On an ordinary day, it'd be a big deal. But given that detectable levels are decreasing, the situation is stable, and with everything else the agency has to deal with, well, it's all relative."
However, he expressed concerned with the group's other allegation that the EPA may be trying to raise the allowable levels for radiation levels found in water and soil after "radiological incidences," such as a nuclear plant accident or a dirty bomb.
According to Public Employees for Environmental Responsibility, the EPA has proposed raising their guideline radiation limits, or Protection Action Guides. These values are used to guide decision makers about when a clean up is needed after a nuclear incident.
According to Ruch, the new clean up standards are "thousands of times more lax than anything the EPA has ever before accepted."
Carroll, of the Ploughshares Fund, said any plan by the agency to raise these levels is "worrisome" and "a little tone deaf."
The EPA denied the allegations.
"That is flat out inaccurate," said Gilfillan. "No decisions on revised (guidelines) have been made. We have not made any decisions on this issue. Any changes to this guidance would undergo a public review and comment period and would likely never include such a high risk range."
Support HuffPost
The Stakes Have Never Been Higher
Related
Popular in the Community