WASHINGTON — A number of Environmental Protection Agency employees spent their lunch hour Wednesday outside agency headquarters calling for the immediate ouster of their boss, agency chief Scott Pruitt.
One longtime staffer who requested anonymity to comment candidly told HuffPost they find Pruitt to be perfectly personable, but fear what will come of his efforts to discard decades of hard work aimed at keeping the American public healthy and safe.
"How much damage are we going to do in four years?" he asked. "And how many years is it going to take to get back [to where things were]?"
The "Boot Pruitt Rally" was hosted by a union that represents thousands of EPA workers and part of a nationwide campaign launched by progressive environmental groups who say Pruitt is unfit to lead the scientific agency and is "working for industry at the expense of our health and the environment."
The embattled EPA chief is facing mounting pressure, both from Democrats and Republicans, to step aside and is currently the target of 10 federal investigations.
"We know he's little better than a polluter's puppet, with a total disregard for ethics or the law," Rep. Don Beyer (D-Va.) told the crowd.
Pruitt is scheduled to appear before a pair of House committees on Thursday, where he is expected to face tough questions about his numerous ethical scandals and seemingly lavish use of taxpayer money. Among other things, federal watchdogs are probing Pruitt's travel aboard private planes, the purchase of a $43,000 soundproof phone booth for his office, his 24-hour security detail and a sweetheart deal in which he rented a room in a luxury Capitol Hill condo for just $50 per night.
Initially, President Donald Trump defended Pruitt, tweeting that he was "doing a great job." But the administration's support appears to be withering. Bloomberg reported Tuesday that White House officials were warning Republicans against defending the EPA chief. And on Wednesday an official told E&E News that "staff believe pretty uniformly that this guy is going to be fired soon."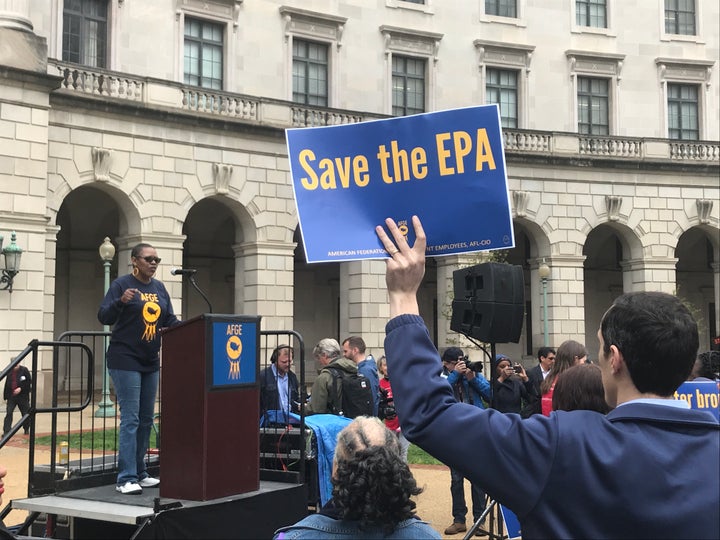 For many gathered at the Federal Triangle on Wednesday, Pruitt's dogged efforts to roll back environmental protections are more problematic than any ethical lapse.
Nate James, an 18-year staffer at the EPA and president of AFGE Local 3331, a bargaining unit representing some 3,000 employees at EPA headquarters, told HuffPost that employees are dedicated to the agency's mission regardless of who's in charge. But under Pruitt's wing, he said, staffers are increasingly afraid to speak the truth.
"We've done everything we can to remain focused, to continue to accomplish the mission," he said. "But it's difficult with the budget cuts. It's difficult with the reduction to the workforce. It's difficult when you tell what science really says, then see people who bring those truths forward eliminated from service. That's a very frightening environment to work in."
Pruitt's deregulatory blitz has repeatedly hit legal snares, and at least 10 of his rollbacks were blocked by courts. But scientists say his efforts to reshape the EPA's science advisory boards and alter the way the agency uses research to write regulations could have lasting effects. In October, he barred scientists who receive EPA grants from serving on the agency's advisory boards, effectively clearing the way for industry-friendly researchers to dominate the oversight panels. On Tuesday, Pruitt proposed a new rule that would limit the use of public health studies in writing regulations, a strategy to cripple fossil fuel industry rules on air pollution cribbed from the tobacco industry's playbook. Tom Burke, a Johns Hopkins University professor and former EPA adviser, told HuffPost the regulation threatened to send the country back to "the Dark Ages."
Another employee who attended Wednesday's rally said they've watched many administrators come and go, and all of them were changed by the job, usually after coming face-to-face with a serious environmental disaster. So far, the staffer hasn't seen that from Pruitt, but remains hopeful he will come to recognize the untapped potential of the agency and the opportunity he has to be a leader.
"Right now he's trying to change us," the staffer said. "We're too busy to be changed."
A representative of the American Federation of Government Employees, a labor union representing 700,000 federal and D.C. government employees, estimated at least 30 EPA employees joined the rally. The event featured speeches from representatives of environmental groups and several members of Congress.
Rep. Ruben Gallego (D-Ariz.) said that instead of focusing on Pruitt and his scandals, he wanted to speak directly to EPA workers, whom he called the "last line of defense for clean air, clean water, a breathable, livable society."
"We are with you in the fight … We are 100 percent behind you," he said.
Alex Kaufman contributed to this report.
REAL LIFE. REAL NEWS. REAL VOICES.
Help us tell more of the stories that matter from voices that too often remain unheard.