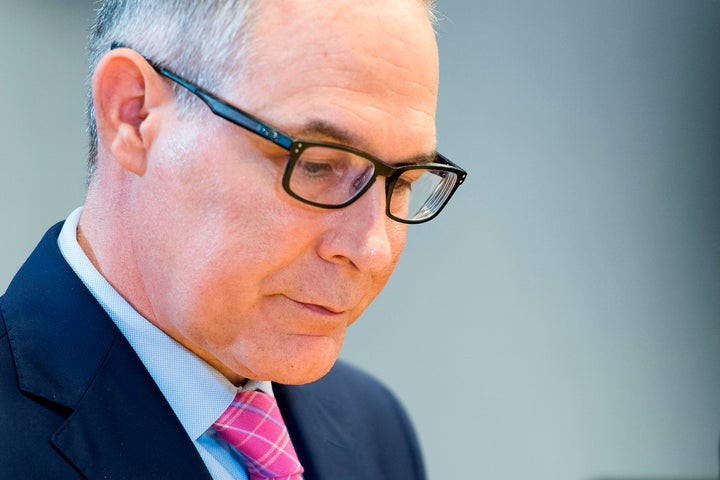 Scott Pruitt's longtime mentor all but joined the chorus of voices calling on the Environmental Protection Agency administrator to resign as an unrelenting series of public corruption accusations stretches into a three-month fiasco.
In a radio interview Wednesday with right-wing pundit Laura Ingraham, Sen. James Inhofe (R-Okla.), who counts Pruitt as a friend and protégé, said the EPA chief "has really done some things that surprised me" and said it may be time for him to "leave that job."
"All these things that are coming out are really not good things," Inhofe said. "I've kind of taken the position that if that doesn't stop, I'm going to be forced to be in a position where I'm going to say, 'Well, Scott, you're not doing your job.' And hopefully that will change."
The denouncement comes as a significant setback for Pruitt. Inhofe, an adamant supporter of Pruitt's deregulatory agenda, represents his home state of Oklahoma, and the two were so close Pruitt was long said to be considering a run for the Inhofe's Senate seat when the 83-year-old retires.
Ingraham, a Fox News host and influential booster of President Donald Trump, said Pruitt was "hurting the president" with extravagant spending and embarrassing personal revelations that he ordered aides to buy him a used Trump hotel mattress and track down his favorite moisturizing lotion at a hotel.
"I see these things, they upset me as much as they upset you, and something needs to happen to change that," Inhofe said. "I hate to say this, I've got so many good friends in common with him, but everything you say is true. He's got to get off these little things that are distracting and keeping him from doing the job that he's supposed to be doing."
Ingraham responded that it was "death by a thousand cuts."
"We just don't need it," Ingraham said. "No one's perfect, but there's just so many of these things."
In a statement to HuffPost, Inhofe spokeswoman Leacy Burke said, "the senator is not calling for the administrator's resignation."
"The interview this morning was very much the same things the senator has said before in the halls — that he has concerns about the reports and wants to hear about them from the Administrator," she said.
The EPA did not respond to a request for comment.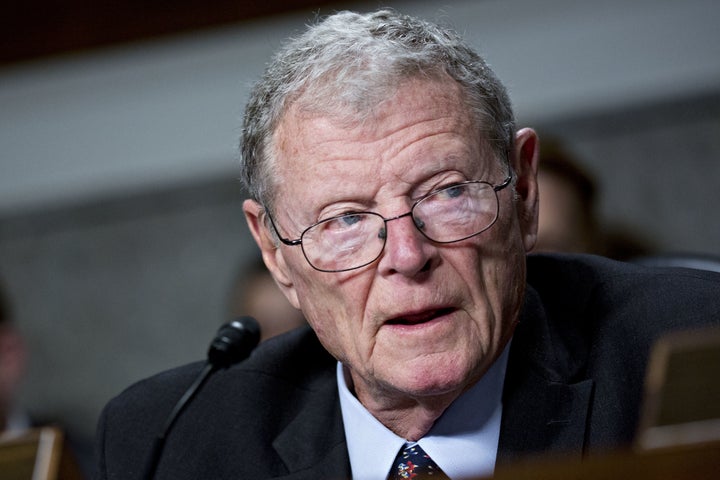 "We share most of Pruitt's views about environmental policy," the editors wrote. "But ... Pruitt is replaceable. And he should be replaced."
The public calls mark a low point for Pruitt as newly public congressional testimony and a trove of his aide's emails released under a Freedom of Information Act request yield new revelations almost daily ― sometimes more. The details range from the odd and humiliating ― the mattress, the lotion, Pruitt's penchant for ritzy restaurants and high-priced finger foods from upscale grocers ― to the legally dubious, including deploying his political sway to nab wife Marlyn Pruitt a job, first by setting up a call with the chairman of fast-food chain Chick-fil-A, and later by connecting her with the chief executive of a nonprofit conference where he then spoke.
On Friday, six House Democrats urged the FBI and the Department of Justice to open criminal corruption investigations into Pruitt over his use of his office to enrich his wife. On Monday, a liberal watchdog group filed a formal complaint with the Office of Government Ethics requesting a probe. Then, by Wednesday, the scandal worsened as the Washington Post reported that Pruitt enlisted an aide and former donors to get his wife, a one-time school nurse with little political experience, a job at the Judicial Crisis Network, a right-wing political group.
"I'm going to be forced to be in a position where I'm going to say, 'Well, Scott, you're not doing your job.'"
That same day, a dark-money conservative group in Iowa rolled out a new TV ad calling Pruitt a "swamp monster" who is "embarrassing the president."
Pruitt is already the subject of at least a dozen federal investigations from the EPA inspector general, the Government Accountability Office, the White House and the House Oversight and Government Reform Committee.
Republican support for Pruitt has waned before. By late April, after nearly four weeks of mounting corruption accusations, at least five Republican members of Congress joined the 170 Democrats calling for Pruitt's resignation. Even Inhofe, in a surprise admission of doubt, distanced himself from the administrator this week, stating he would support a hearing before the powerful Senate Environment and Public Works Committee into the EPA chief's ethical lapses. But, after Pruitt deflected blame for his scandals during a pair of heated congressional hearings, Inhofe walked back the comment, issuing a new statement in support of Pruitt and blasting Democrats for "mudslinging."
Last week, House Republicans blocked two separate attempts to rein in Pruitt's ethical lapses via a bill to fund the agency, rejecting one amendment to require more increased disclosures on the administrator's travel and another to grant the EPA's Office of Inspector General the full budget it requested.
President Donald Trump's support for Pruitt has remained steadfast, insisting last week that the "EPA is doing really, really well."
Speaking on Wednesday, Inhofe offered an alternative. In April, the Senate voted to confirm Andrew Wheeler, a former coal lobbyist and Inhofe aide, as the EPA's deputy administrator, putting him next in line to become the de facto agency chief if Pruitt departed. Wheeler would need to be confirmed in another Senate vote to permanently replace Pruitt, but the federal government's acting rules are complicated and riddled with loopholes that give the White House leeway over who commands an agency in the absence of its Senate-approved chieftain.
Wheeler is an ardent climate change denier who, in 2010, suggested the EPA could "reconsider" the so-called endangerment finding that established carbon dioxide as a harmful pollutant legally required to be regulated under the Clean Air Act. The finding serves as the legal undergirding of the federal government's efforts to combat climate change. Before joining the EPA, Wheeler worked as a lobbyist for Bob Murray, the coal tycoon wielding unprecedented influence over the Trump administration's energy and environmental agenda.
"There's a guy behind him in Andrew Wheeler who's really qualified too," Inhofe said. "So that might be a good swap."
This story has been updated to include the National Review's editorial.
Popular in the Community