For HuffPost's #LoveTakesAction series, we're telling stories of how people are standing up to hate and supporting those most threatened. What will you stand up for? Tell us with #LoveTakesAction.
On Thursday, environmental group Stand.earth encouraged the public to send e-Valentines to EPA staffers as a show of support in these trying times for the agency.
"Times are real tough at the Environmental Protection Agency (EPA) right now," Stand.earth wrote. "Climate deniers ― Doug Ericksen and Scott Pruitt ― are running the show while people who've dedicated their lives to protecting the environment, and human health are being silenced. Show EPA staffers you care."
The call-out netted "thousands" of notes, many of which Stand.earth published Tuesday. Here are just a few:
"We're still watching, listening, and paying attention. We still care."
"At least a quarter-billion people in this country want EPA to keep doing what it's always done. We hope you'll thwart what Trump tries to do. We'll give you all the support we can!"
"Stand strong. Stand together. Persist. am a great-great-grandson of Charles Darwin, and he is with you in spirit."
"Roses are red, violets are blue. We wouldn't have an EPA if it weren't for you! Have a ripping good Valentine's Day and keep up the excellent work. You are appreciated!"
"There are over 7 billion people depending on the work and science you all do. Hang tight where you are and we'll keep up the fight out here. A handful of fascist lunatics do NOT have the right to destroy OUR planet."
The group isn't sending notes to individual employees but is working to make sure the agency sees them, said Stand.earth spokesman Ross Hammond.
"We don't want to get folks in trouble, so we've been posting them on social media to channels where we know EPA staff congregate and sharing them as well on some Listservs," he said.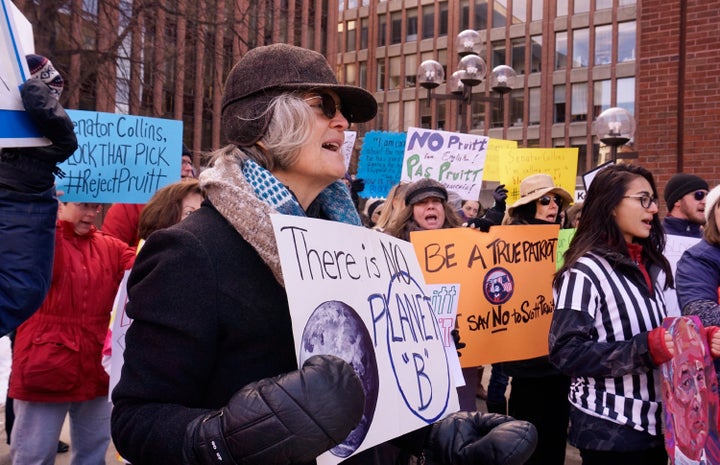 Doug Ericksen, the other person mentioned by Stand.earth, is head of communications for Trump's EPA transition team, Ericksen has notoriously stated that "climate change will always happen." One of his first moves on the job was to announce that the work of EPA scientists will be subject to internal review to ensure "the voice coming from the EPA is one that's going to reflect the new administration."
PHOTO GALLERY
Why Scott Pruitt Is A 'Dangerous' Choice To Lead The EPA
Know a story from your community of people fighting hate and supporting groups who need it? Send news tips to lovetips@huffingtonpost.com.
REAL LIFE. REAL NEWS. REAL VOICES.
Help us tell more of the stories that matter from voices that too often remain unheard.