It's true - the girl that took me to see David Bowie in 1978 was wearing overalls and no shirt. It truly was a different time. Wide open. It felt like anything could happen.
Bowie fans will recognize the music as a beatnik version of 'Heroes' mashed up with a slippery secondary riff, made more famous by a certain Seattle grunge band.
This story has been one of the cornerstones of my performances on my tour for my new book, You Are a Complete Disappointment, and, despite the topic of rock concert as spectacle and druggy metaphor for living in the moment, actually one of the more subdued stories I tell.
You should hear the one about my parents getting into a fight about a slice of meatball pizza at the White Birch Inn - a former dump of a bar and grill, no longer extant - embarrassing everyone within earshot including the Big Haired Ladies of New Jersey, who hung around the bar waiting for their future husbands to answer their call of the wild.
The Bowie story is a happy story, more than just a great night at a rock concert in the 70s, but about living in the moment, in contrast to my miserable father who had always too worried too much to let go and enjoy himself, and berated me constantly for having more fun than he did, as if that were a crime. Which is why at the end I quote legendary comedian Bill Hicks - "If you are living for the future, you will always be one day behind."
The performance was recorded this month on my "Completely Awesome Book Tour," at East Village locale 2A on their Sunday night music series, The Treehouse, and features ex-Sonic Youth drummer Bob Bert on bongos and Mickey Finn (Boss Hog) on piano.
By the way, even on a book tour, we are always happier reading and bringing the stories to life in bars rather than bookstores - I bring my guys into bookstores, and the person in charge of events, without fail a young optimist, says, "You are going to do reading and music? That's great. Which are you going to do first?"
A young man in San Francisco told us, "If I had known author events could be like this I would have told everyone! Usually they are so...." He trailed off there, because he is the one that books all the events, but we knew where he was going. He is used to authors reading from their books, behind podiums.
Sometimes it feels like an uphill battle, but I am trying to change that culture - I love books and writers, and love my job, and I always try to share the joy. Even if this book has, at its caramel core, a huge father-son heartbreak, I promise that it will make you laugh. Tragedy plus time and all that - I once was stabbed at a White Castle restaurant, and let me tell you, it sucked at the time, but now I tell the story and it kills.
Here is a little bit more about my book (from the jacket), and a little book trailer we made. If nothing else, I finally lived one more dream - becoming a cartoon!
You Are a Complete Disappointment (Sterling) is the hilarious yet deeply heartbreaking memoir of a dysfunctional father-son relationship. Edison takes us on a warped suburban odyssey that pulls no punches when it comes to the adversity and adventures of growing up in the 1970s and '80s, "the tail end of an age of bewildered enlightenment" -- sibling rivalries, Ronald Reagan, the Rolling Stones, abysmal family dinners, sex, drugs, terrified parents, and Jewish guilt are just the beginning of an adolescence forged in equal parts of boundless self-exploration and needless doubt. This is a book about being who you want to be, not who you were told you should be.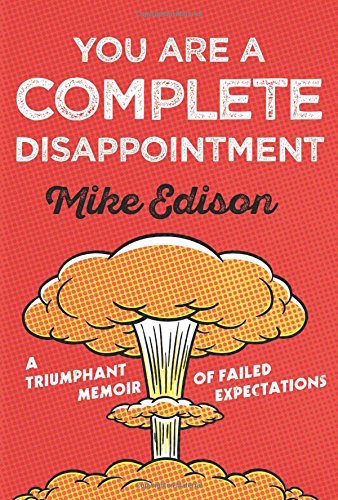 Calling all HuffPost superfans!
Sign up for membership to become a founding member and help shape HuffPost's next chapter