Because sharing is never fun.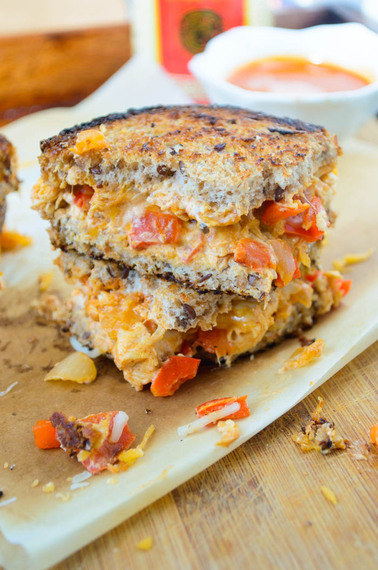 I take that back because I love sharing food and I am a pretty selfless person overall. I will put those who matter first and be there for you at 3 a.m. whatever the situation may be. Or rescue you from your crazy apartment landlord lady and book a hotel room in downtown Manhattan (true story). I will spend all night baking you a pie because I know you're having a stressful week and will mail out a thank you letter for the most simplest of gestures.
That being said, I can be 100% selfish when it comes to my goals and dreams. You just can't get in the way of that. Like, sorry I am not going to sacrifice what I love doing (or eating?) for just anyone or anything. You better be Robert De Niro or something otherwise don't even attempt at stopping me. Dramatic, I know.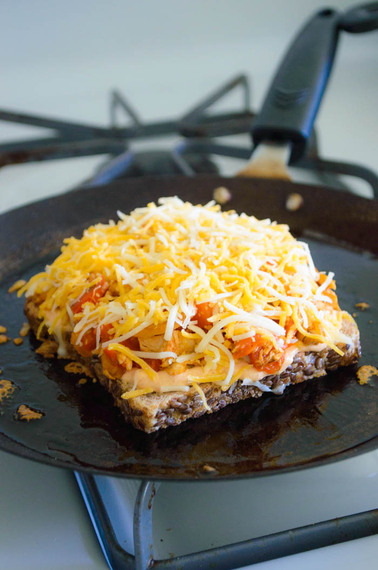 And when it comes to this epically* dramatic grilled cheese, there is no room for being nice. This sandwich is made for ONE. You just gotta do you sometimes ya know? We are talking enchiladas + grilled bread + cheese cheese and more cheese.
This is when selfless goes out the window and the other's need to fend for themselves.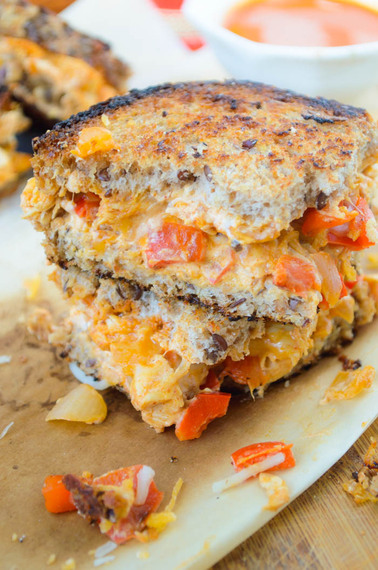 The recipe is idiot proof too meaning when you find yourself needing a small window of time for yourself, make this. Eat and enjoy it till the last cheesy crumb.
Sharing is fun but I have to say being selfish is pretty damn fun too. Find the balance ---> PREACH.
*Epically is a real word. Who knew!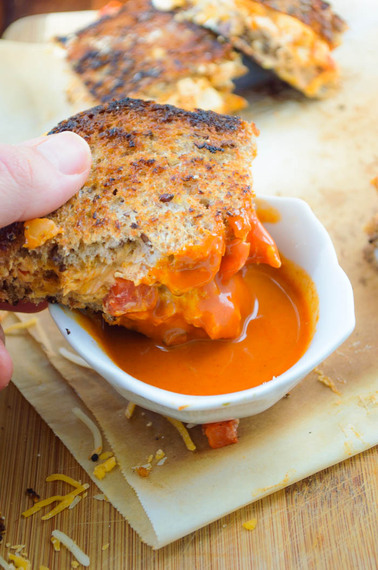 Ingredients
Enchilada Cream Spread:
1-2 Tbsp enchilada sauce
1.5 tbsp cream cheese
1 Tbsp greek yogurt
Enchilada Grilled Cheese:
Olive oil or butter for greasing pan
Red bell pepper, roughly chopped
Onion slices, chopped
Shredded and cooked chicken
1 Tbsp enchilada sauce
2 slices whole wheat bread
Shredded cheddar cheese (I used a mix of cheddar and jack)
Directions
First prepare your enchilada cream spread by whisking ingredients with a fork until smooth. Set aside.
Sauté your bell pepper and onion in a greased pan over medium high heat. Once veggies have wilted, about 4 minutes, add in your cooked chicken and enchilada sauce. Mix together and cook for an additional minute.
Spread enchilada cream spread on one slice of bread. Spread cheese on the other slice of bread and place on a heated and greased skillet over medium heat. Add chicken mixture to one slice of the bread and continue to cook until cheeses are melted. Place other slice of bread on top of chicken mixture, press down with a spatula and serve immediately.
For more about this recipe click HERE