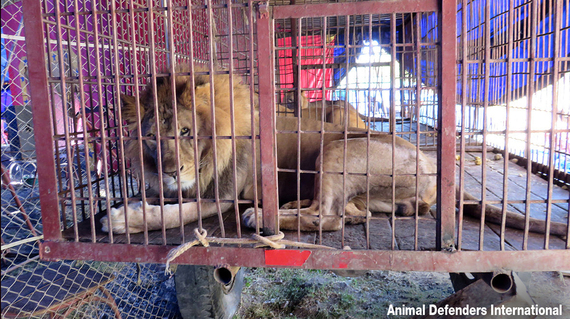 Copyright: Animal Defenders International/Rey - as he was in a Peruvian circus
There have been some truly wonderful stories of animal rescues, such as after Hurricane Katrina, but none has inspired such awe in me as Animal Defenders International's rescue of over 100 animals abused in circuses in Bolivia, Peru, and Colombia.
One part of the epic rescue included taking 33 lions and flying them home to sanctuary in Africa. Just writing these words 'home to Africa' brings tears of joy to my eyes. You can see a video of the first part of this journey here.
After team ADI had spent two years chasing circuses running away from the new legislation, dangerous confrontations and multiple trips over the Andes transporting big cats, the 33 lions rescued from Peru and Colombia were loaded onto a cargo flight on April 30th. The animals, along with a veterinarian and erstwhile founders of ADI Jan and Tim Creamer, were flown to Johannesburg. Their final destination, the Emoya Big Cat Sanctuary, located on a private estate in Limpopo Province.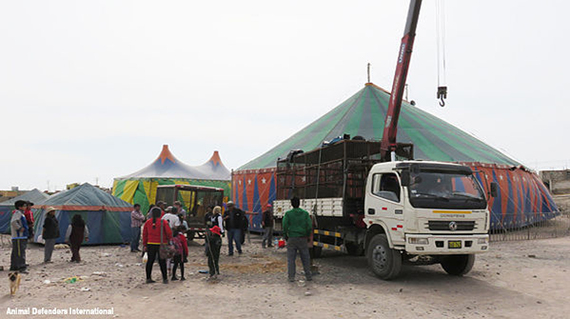 Copyright: Animal Defenders International: The ADI truck at the circus
These lions will never be able to be released into the wild. They have suffered terribly at the hands of humans who have smashed their teeth and declawed them. One lion called Joseph who was seized from Lima Zoo, Peru, is blind in one eye, his face battered by human cruelty and greed. Joseph's one good eye portrays the profound betrayal and wisdom of a soul who has gone through hell and to whom we owe much.
The first part of ADI's Operation Spirit of Freedom started in Bolivia and was recently told in a riveting documentary, Lion Ark. The award-winning documentary depicted in dramatic detail the grueling ordeal of all involved rescuing multiple animals including 25 big cats from backwater, decrepit illegal circuses in Bolivia. To truly understand the logistical nightmare of the hurdles overcome in this massive undertaking it is a must see. Hats off to team ADI for this incredible accomplishment, especially to husband and wife team Jan and Tim Creamer for leading this effort with such grit and determination.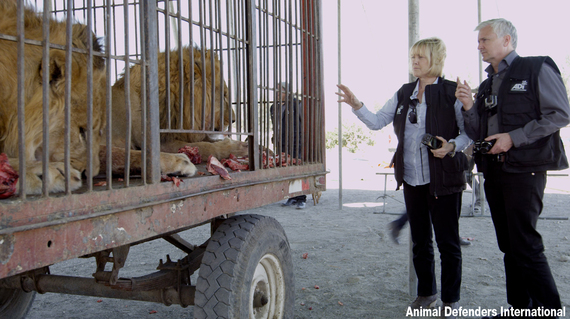 Copyright: Animal Defenders International/Jan and Tim Creamer at the circus
As much as I love South America, anyone who has traveled there cannot fail to understand the hoopla and intense drama this group went through to achieve such an immense rescue. My cats are all of 13lbs and to get them into a travel crate to the vets is like trying to handle a cartwheeling Edward Scissorhands on steroids so dealing with angry, frustrated, caged, half -starved, sick and injured big cats - well the mind boggles.
ADI's work in Latin America first started in 2007 when they launched a campaign to end the use of animals in traveling circuses. After two years of undercover investigations, the group took their dreadful findings to the press and caused a massive pubic outcry. Bolivia was the first to ban all wild animals in traveling circuses, followed by Peru, Ecuador, Paraguay, Colombia, El Salvador, Panama, Costa Rica and Mexico. America could use a lesson from our friends in Latin America from this!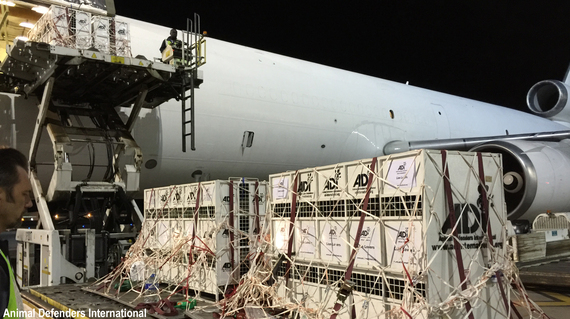 Copyright: Animal Defenders International/Lions being loaded for the flight to Africa
Promising to help authorities in those countries with the rehoming of all the animals found in illegal circuses, ADI helped Bolivia first to enforce its new legislation and rescued every single animal. The documentary, Lion Ark details this magnificently and depicts the terrible conditions the animals were kept in including Mufasa, the puma who was kept chained in the back of a pickup truck! The story of Cholita, the bear, dubbed the 'real-life Paddington Bear' and her journey back to her native forest was well documented across the world's press.
The deep love and compassion each person involved in these epic rescues must feel for each and every special animal is palpable in the portrayal of their story. The human race has become a disgrace in the way it treats our fellow beings on this planet, but just sometimes, some of us show such enormous depth of humanity and compassion there just maybe a ray of hope.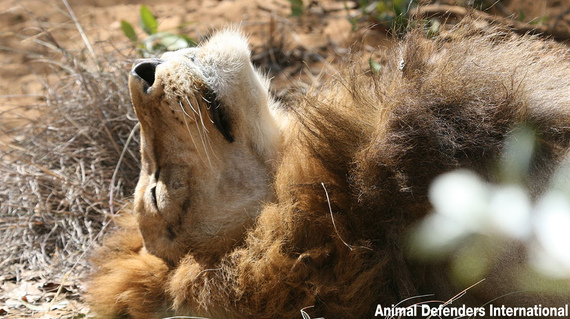 Copyright: Animal Defenders International/Rey - free at last in Africa
Popular in the Community