LOS ANGELES -- By the time Andrew Rios was 2 years old, he had already been given nine different medications to quell the non-stop seizures that had racked his little body since he was just 5 months old.
One of them, Felbamate, caused severe bruising, as well as insomnia, which makes epileptic seizures worse. Depakote put him in a coma for four days. Phenobarbital made him very aggressive, which led to a prescription for an antipsychotic medication. The final drug, Banzel, seemed to increase the number of seizures, from two a day to six a day.
Andrew's mother, Genesis Rios, said the neurologists at his hospital told her that if Banzel didn't improve things, there were no more pharmaceutical options for her son. Instead, she would need to consider either a brain surgery that could blind him in one eye or vagus nerve stimulation surgery, which involves inserting a pacemaker-like rod into his chest.
Rios and her husband felt they were at the end of the road for Andrew. At 24 months old, when he should have been walking and talking, Andrew spent his days in his mother's arms, crying and seizing. The combined brain damage from the seizures and side effects from the medication caused him to seriously lag behind his twin brother, who was developing normally.
"The moment I said cannabis, it was like, 'No, no, no, no. We don't do cannabis here,' almost as if I were crazy," recalled Rios, who lives in Los Angeles with her family. "I thought, well, the medications you already gave him are crazy. You've already drugged him up more than [cannabis] would ever drug him up."
Rios wanted to give Andrew a strain of marijuana that is high in cannabidiol (CBD), a compound believed to calm the excess brain activity that causes seizures, and low in tetrahydrocannabinol (THC), the psychoactive compound thought to cause a pot user's "high." She had heard about it from a cousin, who had watched a Discovery Channel program about another child who was taking a CBD strain of cannabis oil to calm his debilitating seizures.
In September 2013, when Andrew's neurologists suggested that surgery could be the next step, Rios knew she had to try the cannabis option. She said she also had to find new neurologists who would respect her decision to use marijuana. Rios sought a second opinion from Andrew's pediatrician.
"I asked the pediatrician what he thought: brain surgery or a non-psychoactive cannabis oil?" Rios recalled. "He said, 'I'd try the oil.'"
Rios did her research and two months later found Dr. Bonni Goldstein, medical director for the California clinic chain CannaCenters. Goldstein is a former emergency pediatric doctor who had switched exclusively to cannabis care in 2008. She also serves as medical director for Ghost Group, which operates several major marijuana-related websites.
Under Goldstein's watch, Andrew started taking the oil, squirted under his tongue by his mother, on Nov. 15, 2013. By then, he was 26 months old and had been seizing daily for almost two years. After his first dose, he didn't have a seizure for the next two days. The myoclonic jerking in his arms, which was by then a daily nuisance, stopped completely and never came back.
Under Goldstein's oversight, Rios slowly increased her son's cannabis dosage to three times a day, hoping to extend the time between seizures. Four months later, Andrew can now go up to two weeks without a seizure, when before he was having up to six seizures a day. His seizures have subsided enough that he's been able to resume working with speech and motor skills therapists.
When asked about potential side effects from the cannabis, Rios ticked off a list: Andrew is smiling, laughing and playing with his four siblings, and his brain seems to be recuperating. Shortly after starting the treatments, he began speaking again.
"Every week, it's something new: eye contact, noticing family members in pictures. He's starting to talk like he should," said Rios. "If you're asking for negative side effects, I haven't seen any. ... Thank God there's something like cannabis."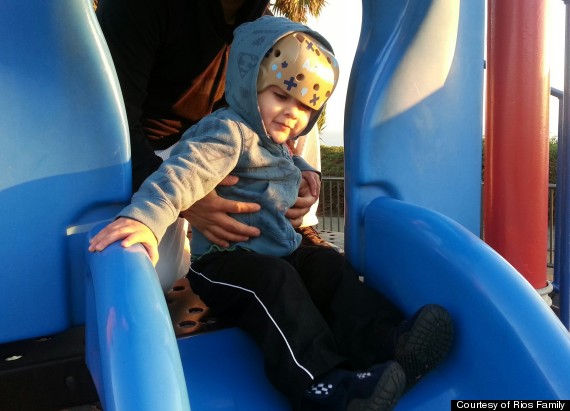 Andrew Rios plays on the slide without fear of seizures for the first time in months. (Courtesy of the Rios family.)
Hundreds of other families like Rios' have begun using medical marijuana to treat their children's otherwise intractable seizures, and many have seen positive results. "Marijuana refugee" families are flocking to Colorado, where their children can get on the waiting list to try a high-CBD strain of marijuana called "Charlotte's Web" that has worked wonders on young patients. Moved by the promising anecdotal evidence, even conservative states like Utah and Florida look ready to allow some medical use of marijuana.
California legalized medical cannabis in 1996, and 19 other states and the District of Columbia have followed suit. But it remains illegal on a federal level: Since 1970, the federal government has classified marijuana as a Schedule I drug, a category for substances that have "no currently accepted medical use" and a "high potential for abuse." As a result, it's very difficult for researchers to win grants and approval for the kind of testing that leads to Food and Drug Administration approval of pharmaceutical drugs.
Scientists who want to study marijuana in clinical trials, develop information about its effects or come up with standards of care have lost 44 years of federal funding and research -- time that could have been spent nailing down a treatment for debilitating forms of childhood epilepsy like Andrew's. In that vacuum of knowledge, traditionally trained epilepsy doctors are loath to prescribe untested, federally banned products like cannabis -- despite an endorsement from the Epilepsy Foundation.
So cannabis use remains highly stigmatized in the medical field, even in states where medical marijuana is legal. And parents like Rios struggle to find physician support to treat their ailing children with cannabis.
In addition to Goldstein's continued monitoring of Andrew's cannabis treatment, Rios' son is now under the care of Dr. Raman Sankar, M.D. Ph.D., the chief of pediatric neurology at Mattel Children's Hospital UCLA. As Andrew's seizures are being better controlled with cannabis oil, Sankar is helping Rios to taper her son off his multiple pharmaceutical drugs. Meanwhile, Goldstein works to safely increase Andrew's cannabis dosage to further reduce his seizures.
But even though they're both caring for Andrew, Sankar and Goldstein don't see eye to eye on the proper way to use cannabis as part of a treatment plan.
Goldstein is passionate about the good the drug has done for her pediatric seizure patients and believes marijuana must be downgraded from its Schedule I status so that scientists can study its medicinal properties. Fifty percent of her epilepsy patients have seen a reduction in seizures, she said, while a handful have stopped seizing completely under her supervision.
"For many of the people I see, this is the last resort," said Goldstein. "How long do you let your child have seizures? How invasive and aggressive are you with treatment before you realize this plant has some value?"
For his part, Sankar is no cannabis hard-liner -- in talking to HuffPost, for example, he distanced himself from others in his field who have "fired" patients for experimenting outside the bounds of their prescriptions -- but he hasn't jumped on the medical marijuana bandwagon, either.
Sankar agrees that marijuana needs to be removed from Schedule I status, and he sympathizes somewhat with Goldstein's decision to treat patients with cannabis. But as long as marijuana's effects remains unstudied, he remains skeptical about doctors' guiding parents in administering the drug to their children.
"Sometimes people get very excited and enthusiastic, and they will actually say, 'You can do anything you want. I trust you. Experiment with my child,'" he said. And Sankar, who treats patients with various forms of epilepsy and other neurological disorders, has to remind parents how problematic such requests can be.
"It's incredibly understandable -- all they can see is the horrible time they've had controlling their child's seizures and the toxicities that come from many of the medications," said Sankar. "But I think where the disconnect has occurred is that we don't normally do medicine that way."
"We don't want to go back to the time before the FDA, when people would subscribe to snake oil," he said. "Our concern is really that we should have a consistent product in terms of purity and potency, good-quality efficacy data, dose response data, good-quality toxicity data and safety warnings as may be needed."
Sankar is not just talking about the need for better data. He's working with his colleague, Dr. Shaun Hussain, to gain approval from the FDA and the Institutional Review Board at UCLA to participate in a multi-hospital pharmaceutical cannabis pilot study. It would, for the first time, test an FDA-approved cannabis-based drug on children like Andrew, whom Sankar tentatively diagnosed with Lennox-Gastaut syndrome this February. The drug, Epidiolex, was created by U.K.-based GW Pharmaceuticals, and it was approved for a pilot study on patients with Lennox-Gastaut syndrome, Dravet syndrome and other forms of intractable epilepsy last fall.
"Everything will be done by the books," promised Sankar. "The drug will be administered by the UCLA pharmacy, overseen at our facilities, and the data will be shared among the hospitals."
As with all trials, the number of participants will be limited, in part because there's only so much of the free drug to go around. Sankar and Hussain hope to have it up and running at UCLA by the end of 2014. If successful, the pilot study could lead to randomized, controlled, double-blind studies that could establish the place of CBD in epilepsy treatment.
Rios is very interested in having Andrew be part of Sankar's trial. She said she'd like to have more information about how the cannabis is interacting with the other drugs he's still tapering off, and the trial's tests could give her that. Rios is also excited about the fact that Epidiolex would be a rigorously controlled product -- as opposed to the CBD oils that can vary in strength.
But four months into the cannabis oil treatment, Rios is not waiting around for formal testing to catch up with her son's needs. Before he began using it, Rios thought Andrew would grow up dependent on a wheelchair, needing round-the-clock care and tube feeding. Medical marijuana has given her hope that he might be able to develop normally.
"The only thing I want you to know is that this works," said Rios, recalling the time she took Andrew to an outdoor park just a month after he began treatment. He played all that day without experiencing one seizure. "My son is better," she said.
Rios added that children like Andrew don't have the luxury of waiting for the government's approval. "A lot of children don't have the time to wait [for a trial]," she said. "Every single day your kids have a seizure or are on drugs that keep them high, you lose them more and more."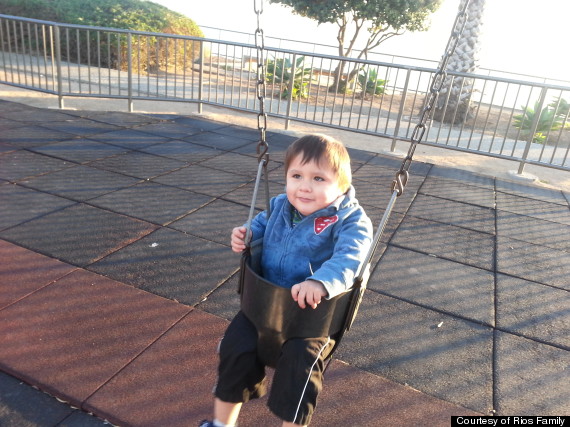 Andrew Rios plays on the swing without fear of seizures for the first time in months. (Courtesy of the Rios family.)
Before You Go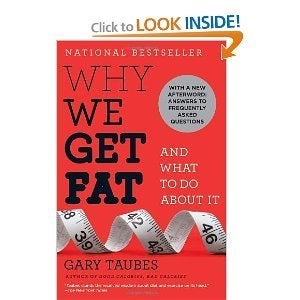 Top 50 Health Books Chosen by Healthy Living Community