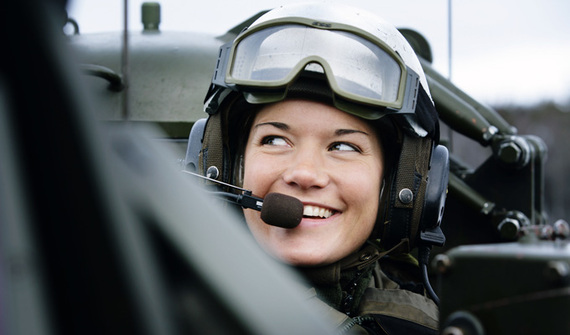 Tomorrow the five Nordic Embassies in D.C., in cooperation with the Center for Transatlantic Relations at the Johns Hopkins University's School of Advanced International Studies (SAIS), launch the book "Nordic Ways" about the Nordic model of society.
A cornerstone of that model is equal opportunity.
Norway has recently taken this one step further by introducing universal conscription in the Armed Forces for both women and men.
For more than 30 years all branches and services in the Norwegian Armed Forces have been open to women. This summer marked a milestone, however, when the first young women began their military service as part of Norway's system of universal conscription.
Why is this seen as necessary at a time when the Armed Forces only need a limited number of the men coming of age each year?
First of all, it is widely recognized in Norway that women and men have - and should have - equal rights, obligations and opportunities in all parts of society.
But also, the Armed Forces should have the opportunity to recruit among the most capable candidates, regardless of gender. Today, the level of specialization in our Armed Forces is high. So is the need for sophistication and technical qualifications.
As in other parts of society, we cannot afford to exclude half the population.

Our experience from more than three decades of widespread integration of women in the Armed Forces is positive and thus the number of women in uniform has gradually increased.
We have had women in positions as fighter pilots, in combat units in Afghanistan and as submarine commanders. In 2011, Ingrid Gjerde was the first Norwegian woman to be appointed National Contingent Commander for all Norwegian military personnel in Afghanistan. Additionally, the first woman appointed United Nations Force Commander was Kristin Lund of Norway who, prior to this, served as the first female Chief of Staff of the Norwegian Home Guard.
Currently almost 30% of the conscripts are women. And they usually serve for 12 month periods.
I see three areas where we have already experienced the benefits of having female conscripts.
Based on feedback from women in the Armed Forces who have lived segregated from their male peers, we have now established coed rooms in the barracks. This was done to accommodate a notion several female soldiers expressed on feeling left out, and to create more unity at the troop level.
After two years with this integration, we see very few reasons for not continuing. However, it requires good leadership.
Our Air Force has established a ground-based air defense unit with a 50-50 gender rate. Our experience with this has been very positive especially in areas of operational standards, unity and respect.
Furthermore, our Special Forces established a female Ranger troop to see if the challenging physical and mental standards would be easier met with more women in the same unit. So far, the feedback is positive and our experiences again very promising.
Norway has approximately 60,000 potential conscripts to choose from every year. We physically test and evaluate around 20,000 - out of which we draft about 8,000. Many candidates who were not chosen are disappointed - they want to serve, and even keep calling to argue their candidature.
In other words: We have a luxury problem.
What is important, though, is that the Norwegian Armed Forces get to choose from the most motivated and best-suited conscripts available - regardless of gender.
This is an experience in equality we are proud to share with our friends and allies.
If you'd like to learn more about the Nordic model or have specific questions, please join the other four Nordic ambassadors, Ambassador András Simonyi, Secretary General of the Nordic Council of Minister Dagfinn Høybråten, and myself tomorrow from 12 PM - 1 PM EST for a LIVE Twitter town hall. Submit your comments and questions using #AskNordicAMBs or #NordicDayUSA.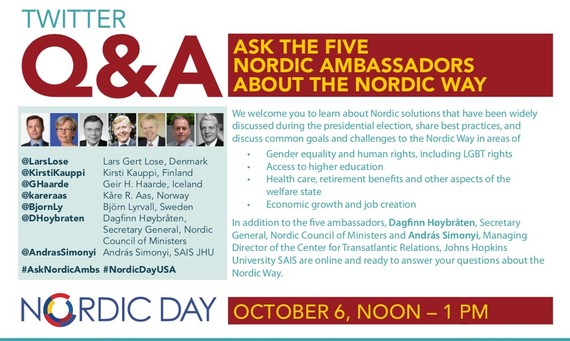 Calling all HuffPost superfans!
Sign up for membership to become a founding member and help shape HuffPost's next chapter