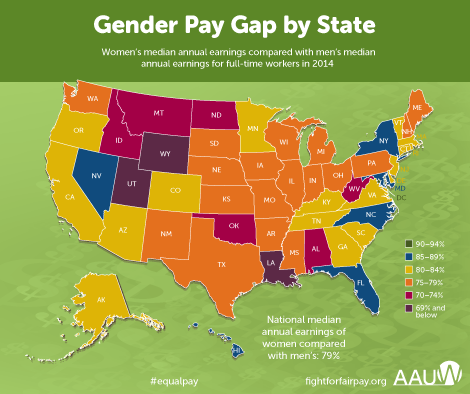 Tuesday, April 12, may seem like just another day leading up to the oft-dreaded tax deadline of April 15, but for women across the country it represents another economic milestone -- and an unhappy one. April 12 is the symbolic date when women "celebrate" Equal Pay Day, the day women's earnings finally catch up to men's earnings from 2015. You read that correctly. Women working full time in the United States typically have to work 15 months to earn what white men did in just 12! Think that's bad? It gets even worse for women of color and mothers, who each get their own Equal Pay Day to "celebrate" the extra time they have to put in to break even.
Unequal pay early in women's careers compounds throughout a lifetime, hindering women as they try to pay off their student loans, contribute to and raise their families, and thrive in retirement. It also leads to workplace dissatisfaction, low morale, and higher turnover -- all things that undermine the corporate bottom line. But compensating women equally can address many of these problems and be an economic engine for our entire economy.
Women keep holding out hope that Congress will pass the Paycheck Fairness Act to help remedy the ongoing and pervasive problem that is the gender pay gap. The time has come, and voters want action. As a result, some Republicans have joined Democrats in acknowledging the very real consequences of the pay gap and supporting legislative solutions. But the federal legislation we need hasn't been able to make it past Congressional gridlock and partisan posturing -- or the traditional business lobby, for that matter.
Some states are perking up and taking notice of their constituents' concerns about equal pay. In their 2016 state of the state addresses, Gov. Andrew Cuomo (D-NY) and Gov. John Bel Edwards (D-LA) each spoke about equal pay. Unfortunately, no other governor acknowledged the need to tackle pay inequality, even though many of the gubernatorial addresses focused on the economy. What could be more crucial to a working, thriving state economy than providing fair and equitable pay to its citizens? Equal pay is good for everyone.
But there is light on the legislative horizon! State houses around the country are seeing an increase in equal pay legislation this year, with bills introduced or pending in 34 states thus far. I'm proud to say that AAUW members have been leading that charge. While some of those bills have already failed due to roadblocks or short legislative sessions, several are moving forward and are likely to pass this year. Nebraska and Utah have already amended their laws to protect more people from pay inequality, and the Maryland and New Jersey legislatures each passed bills that are awaiting gubernatorial signatures. As of early April, bills in Colorado, Hawaii, Massachusetts, and Oklahoma have passed in at least one chamber of their state legislatures.
The 2016 legislative session is poised to continue the progress seen across the states in 2015. Last year, seven states -- California, Connecticut, Delaware, Illinois, New York, North Dakota, and Oregon -- passed equal pay legislation. A bill passed in California, which went into effect on January 1, created the strongest equal pay protections in the country. It had nearly unanimous support and was endorsed by the California Chamber of Commerce. Not to be outdone, Massachusetts is gearing up to fight for its own equal pay bill, which would arguably be even stronger than the new California law. Boston is already leading the way on the fight for equal pay, through a collaboration that will provide AAUW's Work Smart salary negotiation training to tens of thousands of Boston women. Passage of the Massachusetts bill would mark another historic step in the battle.
Without real legislative remedies for pay equity, the pace of change has been glacial. Just how long will it be until we see equal pay? At this rate, it could be more than 100 years. Our nation's economy and the working families that continue to chase the American dream can't wait that long. If Congress won't act, more and more states and cities will. They're moving beyond the politics to focus on the realities of women's lives. It's time for citizens in every state to join together and tell their state and federal representatives that women need equal pay today, not tomorrow, and certainly not 100 years from now.
REAL LIFE. REAL NEWS. REAL VOICES.
Help us tell more of the stories that matter from voices that too often remain unheard.