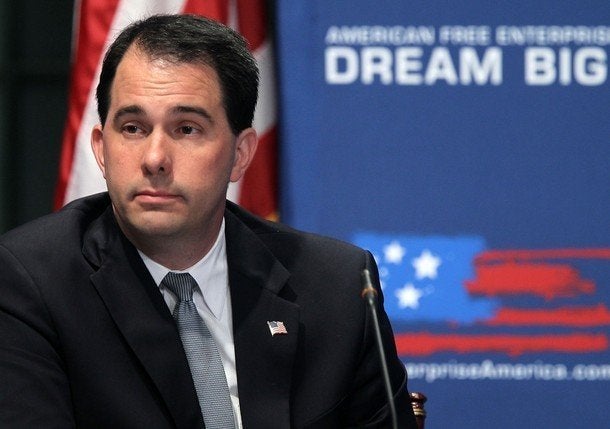 WASHINGTON -- In 2009, the Wisconsin legislature made it easier for victims of wage discrimination to have their day in court. That law is now on the verge of repeal.
In November, the state Senate approved (SB 202) rolling back this provision. On Wednesday, the Assembly did the same. Both were party-line votes. The legislation is now in the hands of Gov. Scott Walker (R). His office did not return a request for comment on whether the governor would sign it.
"It really takes away the teeth and the enforcement aspect of equal pay in Wisconsin," said Sara Finger, director of the Wisconsin Alliance for Women's Health (WAWH).
Women earn 77 cents for every dollar that men make. In Wisconsin, it's 75 cents, according to WAWH, which also estimates that families in the state "lose more than $4,000 per year due to unequal pay."
State Sen. Dave Hansen (D) was one of the authors of the 2009 law, and said he had no doubt that Walker would sign the repeal of his legislation.
"The whole [Republican] agenda in this state is about attacks on workers," he said. "It's an ongoing assault on workers' rights. But now it's also taking the assault to workers in the private sector. It's not just an assault on women. Older workers can be taken advantage of, and they're hurting in this bad economy. It didn't hurt business at all."
State Sen. Glenn Grothman (R), who sponsored SB 202, also did not return a request for an interview.
Business associations lobbied in support of SB 202, according to the state's Government Accountability Board. Groups like Wisconsin Manufacturers and Commerce, and the Wisconsin Restaurant Association all backed a repeal.
Rep. Tammy Baldwin (D-Wis.), who is now running for the state's open U.S. Senate seat, supported the federal Lilly Ledbetter Fair Pay Act and has worked on equal pay issues since graduating from college, including in the administration of former Wisconsin Gov. Anthony Earl.
"He made fighting our pay inequities based on gender a priority issue," she said. "I was working on that agenda. I can tell you, even back then, I was being fiercely opposed by the Wisconsin Manufacturers and Commerce association, which didn't want us advocating for fair wages."
"It is much easier for somebody who's been unfairly compensated to gain access to a state court than a federal court," she said of the Wisconsin law. "It is something that if you want these laws to have meaning, they have to be enforceable. So I'm very disappointed with the Wisconsin state legislature. Yet another big step back for women. This is becoming a real pattern."
Assembly Speaker Jeff Fitzgerald, former Gov. Tommy Thompson and former Rep. Mark Neumann are competing for the Republican nomination to challenge Baldwin in the general election for the U.S. Senate seat. Fitzgerald supported SB 202 and, as speaker, brought it to the Assembly floor for a vote. His campaign declined to further comment on the issue. Neither Thompson nor Neumann returned a request for comment.
"A lot of people weren't even aware this was up for a debate," said Finger. "Here we have this issue that's going to the governor's desk with very little time or understanding for the public to weigh in and express their disappointment. We're now one step away from having equal pay enforcement repealed in the state of Wisconsin."
Popular in the Community