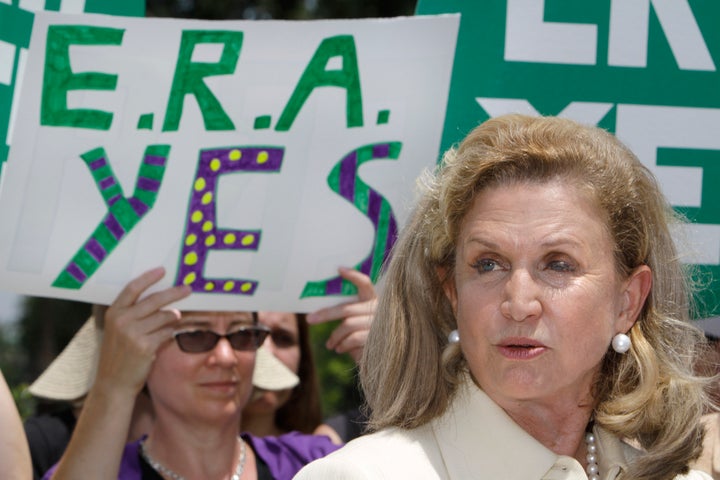 Most women over 50 I know are displeased -- to put it mildly -- that the Equal Rights Amendment is still not a permanent part of our U.S. Constitution. Every year it is introduced to Congress, and every year it sits and languishes, even though there are many supportive groups trying to push it along.
That's all about to change.
Women over 50 have experienced -- firsthand -- what gender inequality can do, making us uniquely qualified to lead the younger generation into battle. We just need to dig deep down inside ourselves to find that passionate belief that women and men are equal, and should be viewed as such in the eyes of the law... and once we do, there will be no holding us back.
One reader left this comment on another article I wrote recently:
Growing up in a family of only female children, our equality was never questioned­. We were expected to get outside and mow the lawn just as if we had been male children. We were expected to get the dinner dishes done just as if we were the female children we actually were. We were expected to bait our own fishing hooks, learn to change the oil in our own cars, and debate the topics of the day with reason and intelligen­t arguments. Equality definitely meant we weren't too delicate, too squeamish, too unintellig­ent, or just otherwise too "girl" to handle any task our mother and father threw our way.

Growing up in a military family, we were also somewhat isolated from the rest of the world. Small bases, small communitie­s, but lots of the same expectatio­ns from males and females alike (at least as far as we as children saw things).

It wasn't until I got out into the "real world" that I experience­d gender discrimina­tion. Street harassment­, workplace sexual harassment­, education system "gender-ap­propriate" career choices "encourage­ment", domestic and sexual violence against women, media messaging that objectifie­s and limits the role of women in our society, pay inequality -- there hasn't been a year that's gone by that I haven't either experience­d these things directly or indirectly through female friends and family members. And now I'm seeing my daughter experience these same things directly and indirectly­.

To say we don't need the ERA is to say we don't need oxygen.

This is reality, and women over 50 understand that we have a moral responsibility to get the Equal Rights Amendment passed -- once and for all -- for our daughters and granddaughters.
What's the Current Status of the Equal Rights Amendment?
The Equal Rights Amendment, first proposed in 1923 by Alice Paul, to affirm that women and men have equal rights under the law, is a simply stated sentence which no man or woman with a sense of justice and fairness should be against:
Equality of rights under the law shall not be denied or abridged by the United States or by any state on account of sex.
What is the current status of the Equal Rights Amendment?
There are two main strategies for getting the Equal Rights Amendment passed at this time:
The ERA was passed out of Congress in 1972 and has been ratified by 35 of the necessary 38 states. When three more states vote yes, it is possible that the ERA could become the 28th Amendment. However, that would mean passing the HJ Res. 47 Resolution, which would ask Congress to waive the time limit.
The ERA could also be ratified by restarting the traditional process of passage by a two-thirds majority in the Senate and the House of Representatives, followed by ratification by legislatures in three-quarters (38) of the 50 states.
There are some who may believe the ERA is an outdated concept put forth by the original vanguard of the women's movement in the 1960s, and one that is no longer relevant. The truth, in fact, is quite the opposite. It has never been more important, essential and urgent than it is now. Women continue to be undervalued, underemployed, and underpaid -- across all sectors -- compared with their male counterparts. This must be changed.
Why do we need the Equal Rights Amendment?
Earlier this year, Rep. Carolyn Maloney (D-N.Y.) and Sen. Robert Menendez (D-N.J.) reintroduced the Equal Rights Amendment at an event in Washington D.C. I asked Rep. Maloney this question: Why do we need the Equal Rights Amendment? She answered:
Laws can be repealed. Judicial attitudes can shift. We continue to see demonstrable cases of systemic gender discrimination -- even in this day and age when women have come so far. Establishing the clear unambiguous language of the Equal Rights Amendment into the U.S. Constitution would have a real impact on our national consciousness. Our democracy rests on the principle of 'liberty and justice for all.' We need the ERA to ensure that this concept applies equal to women.
I presented the same question to Carolyn A. Cook, founder and CEO of United 4 Equality, who wrote the HJ Res. 47 resolution, which would effectively call for Congress to officially remove the time limit for ratification of the Equal Rights Amendment, and who has just started a new campaign to ratify the ERA in 2015. She said:
Women in the armed services are fighting on the front lines in two wars to protect and defend a constitution that does not protect and defend them. The U.S. strongly urged Iraq and Afghanistan to include women in their new constitutions as they rebuild their societies; yet we have not led by example.
Complacency will kill the Equal Rights Amendment, and so will thinking it's no longer relevant. Just as important, we need to change the tone of the discourse. Let's stop thinking about equality in terms of us against them, left vs. right, conservative vs. liberal, men vs. women. Reframe the issue of the Equal Rights Amendment and ask yourself this question:
Is it the right thing to do?
And, consider this: Can a country that prides itself as the leader and protector of democracy in the world, and one which implores other countries to include the word "women" in their constitutions (Afghanistan and Iraq), still not protect the rights of women in its own?
Post50 Women . . . here's what we need to do:
Share this article on Facebook, Twitter and other social media.
Become mentors to the next generation of women
Read up on both strategies (starting over and the three-state solution).
Contact your local government representative and urge them to co-sponsor "HJ Res 47: Removing the Deadline for Ratification of the Equal Rights Amendment."
Visit United4Equality.com and "friend" them on Facebook and join the "Equal Rights Amendment by 2015" campaign.
Contact your local NOW chapter, and get involved.
Go to Facebook pages ERA Now, ERA Once and For All, Occupy ERA, and Equal Rights Amendment to get up-to-date information.
. . . and lastly, raise your voice, loud and clear, and don't stop until the Equal Rights Amendment is fact . . . instead of fantasy.
* * *
Staying connected is a powerful tool: "Friend" me on Facebook, and "Tweet" me on Twitter (BGrufferman). Please visit my website--www.bestofeverythingafter50.com

REAL LIFE. REAL NEWS. REAL VOICES.
Help us tell more of the stories that matter from voices that too often remain unheard.