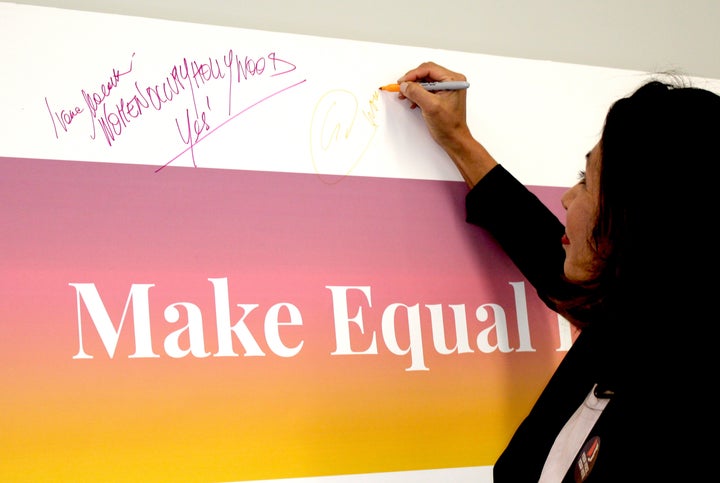 Film director and Los Angeles-based activist Kamala Lopez is leading a new movement to complete the ratification of the Equal Rights Amendment ― within a year. If you're thinking: What? Don't we have an Equal Rights Amendment in our U.S. Constitution? Don't worry: You're not alone.
Turns out that 80 percent of Americans think that women and men are already guaranteed equal rights in the U.S. Constitution. I was one of those people not too long ago.
Seven years ago, I met Kamala Lopez when I interviewed her for a column I was writing. At the time, Kamala was the U.S. program director for Global Girl Media, which is an organization that provides media and journalism training to teen girls from underserved communities around the world. It teaches them to report stories from their reality and perspective. In other words, the organization was, and still is, empowering the future generation of female broadcast journalists.
In the interview seven years ago, Kamala spoke about how she has always been motivated by a desire to improve the world for women, in particular in the media. The media tells us what to think of ourselves, and it shapes our collective image of women. Kamala spoke about how women's place within that context was deeply troubling, and how this translated into trouble for women in society and all over the world, as media is one of our country's biggest and most influential exports.
I was so inspired by Kamala's work and wanted to know more. At the end of the interview, Kamala said: "You should check out my other project: The ERA Education project." Hmmm… The ERA. Didn't that pass already?
Sure enough, it had passed. In 1972, both houses of Congress passed the Equal Rights Amendment, and President Nixon endorsed it. The ERA, however, was never ratified by the required number of states to make it into our U.S. Constitution. Of the 38 states required for ratification, only 35 states passed the amendment.
Consequently, women are not guaranteed the same rights as men in this country. Without the ratification of the Equal Rights Amendment, women's equality is still unfinished business in the United States.
Not having equal rights makes it very difficult for women to pursue prosecutions for cases of rape, sexual assault, sexual harassment, child trafficking, forced prostitution, domestic violence, unequal pay and pregnancy discrimination – all things that strip women of their power.
The lack of an Equal Rights Amendment is why things like the wage gap and violence against women persist. It's not just because of unconscious bias, as many would tell us. It's conscious gender discrimination under the law.
Without the ERA, we women do not have the law on our side.
This past weekend, I drove into West Hollywood for a screening of Equal Means Equal, Kamala's film that is the centerpiece of the of the Equal Means Equal movement (formerly the ERA Education Project). The film, which was written and directed by Kamala, is a huge wake up call for those of us who have been sitting on the sidelines. It's an unflinching look at how women are treated in the United States. Kamala examines both real-life stories and legal cases, and along the way reveals the inadequacy of present laws that claim to protect women.
You can't leave the film without feeling totally fired up to get the Equal Rights Amendment ratified now.
We watched the film on August 18th, the same day, that in 1920, America celebrated the ratification of the 19th Amendment, marking a long-fought victory for equal voting rights for women.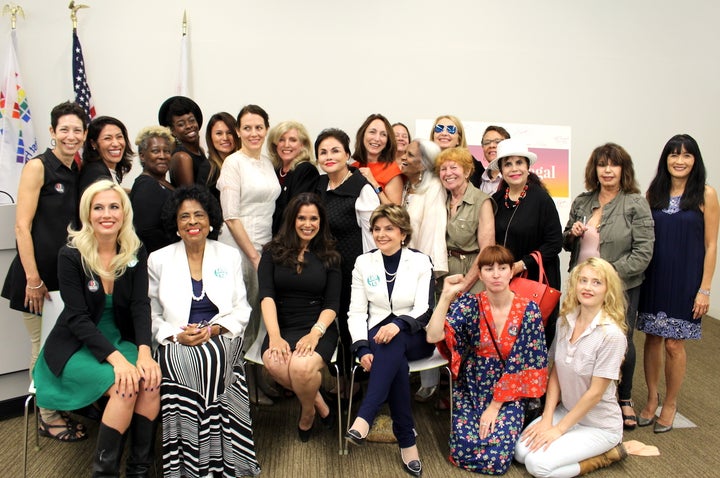 After the film, Kamala announced that she is laying down the gauntlet to have the ERA fully ratified within a year. And guess what? This is completely do-able.
A few months ago, in March 2017, after 40 years of in-action, Nevada became the 36th state to pass the ERA, breathing new life into the possibility of its complete ratification and equality for all humans in America.
Now only two more states are needed to pass the Equal Rights Amendment. We are closer than any time in American history to making the ERA part of our U.S. Constitution.
"It is long past time the Constitution acknowledged women as equal citizens, deserving of full human and civil rights," says Kamala.
Equal Means Equal has joined forces with Blue State Digital, the team behind the digital campaign of President Barack Obama, and a growing grassroots team of state leaders, organizations and activists on the ground across the nation to ratify the Equal Rights Amendment once-and-for-all.
Is your state one that has ratified? You can check here.
If your state has yet to ratify, you have the power in your hands to change this. You can put pressure on your state legislatures to ratify within the year. Put simply, the ERA would help end economic inequality, violence against women, and many other pervasive forms of gender discrimination.
Tabby Biddle is a well-known women's leadership coach, women's rights writer, and bestselling author of Find Your Voice: A Woman's Call to Action. She is currently working on a gender equity initiative for women in media and entertainment with Take The Lead, a non-profit organization committed to creating gender parity in leadership across all sectors by 2025. Learn more.
Related
Popular in the Community