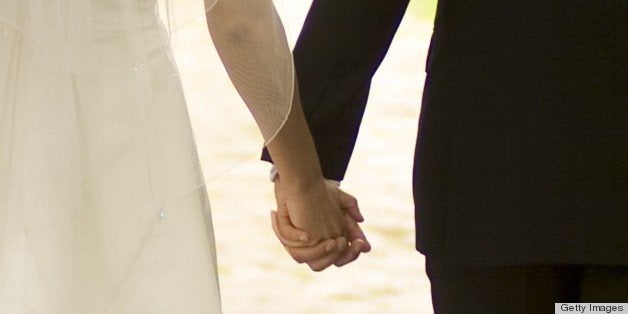 My brother-in-law's family of origin is two gay men -- my husband and I -- or at least that's how he portrayed us at his wedding.
Over the course of our 13 years together, my husband and I have often found ourselves the novelty "wild card" at weddings (including our own), the image of our togetherness evoking some mix of discomfort, fear, awe and/or hope for change yet to come. But as we both read verse during my brother-in-law's ceremony (we were the only people asked to stand and represent him in this manner before the hundred or so guests), it struck me that change had arrived. We had the privilege of being recognized not only for what we are but for who we are: a married same-sex couple and, quite simply, his immediate family.
The past decade has taught all three of us a lot about family units, my husband and his brother having lost their mother, along with the loss of several other relatives between us, in that time. Family units can develop deliberately or accidentally, forming out of need as easily as they form out of want. They shift, morph, lose and gain parts and can revitalize entire relationship systems through processes of adaptation.
My husband embodied this adaptation while toasting his brother and new sister-in-law with the gravity of a parent, the teasing of a sibling and the sharp reflection of one who has shared in great loss and in the rebuilding of life with great hope. The flame of our family unit burned strong before relatives and friends with whom my husband, his brother and I have made efforts to cultivate relationships since their mother's death -- including faces they hadn't seen in two decades or hadn't even met before that day. Our identity as a family was clear and was only made clearer by my brother-in-law's choice to keep us front-and-center.
Perhaps more importantly, the guests recognized us as the groom's primary family, exactly as we were. Gone were the days of disguises or omissions, gone the circa-1996 hijinks of The Birdcage, in which a gay couple attempts to deceive their son's fiancé's family into believing that one of them is a woman. My new sister-in-law's entire extended family approached and embraced us, eager to meet and connect with those closest to the groom. ("We hear you're great cooks!") My husband's cousin introduced us to her 4-year-old daughter using the word "husband" as effortlessly as if she had said "Disney." My grandfather-in-law, a lifelong Republican who now suffers from dementia, couldn't remember where he was, but he did hug me when he saw me, laughed with recognition and remembered my name.
Regardless of how the Supreme Court responds this summer in the DOMA and Proposition 8 cases, marriage equality has already been woven into the fabric of our culture so intricately that no laws -- and no amount of fear or hate -- can unthread its effects. Families are forming, transforming, shrinking, growing and sometimes staying the same, with a great deal more choice, recognition and acceptance than ever before. Same-sex spouses can be spotted as the first in line for the groom at art deco altars, and as the last to say "bon voyage" to the newlyweds on a radiant Sunday morning-after. I know this because it happened to us at an unforgettable wedding last weekend. My husband and I are no longer his brother's immediate family, of course; as I said, families change. That mantle now passes to his lovely wife, and our generation, with all its beautiful varieties and evolutions, gains another happily married couple.
Calling all HuffPost superfans!
Sign up for membership to become a founding member and help shape HuffPost's next chapter