Known as one of the country's most highly visible symbols of LGBTQ equality, the Equality House is bouncing back after becoming the target of homophobic vandals in October.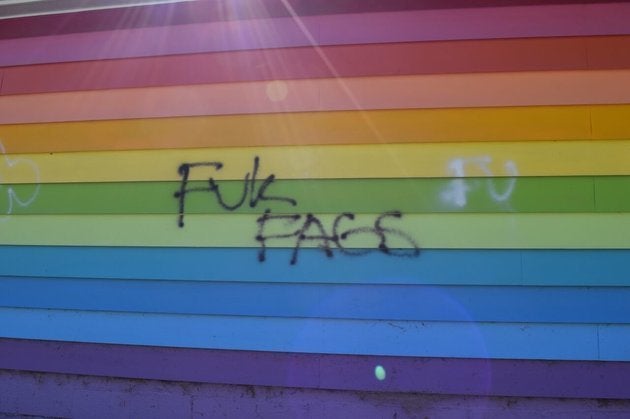 Jackson told The Huffington Post that he was awakened in the wee hours of Oct. 23 by a series of strange noises outside his bedroom in the Equality House. After he contacted the police, Jackson found the Equality House's pride flags scattered in the street and the words "Fuk Fags" spray-painted on the outside of the building. A few days later, Planting Peace employees discovered a series of seven bullet holes in one of the Equality House's windows.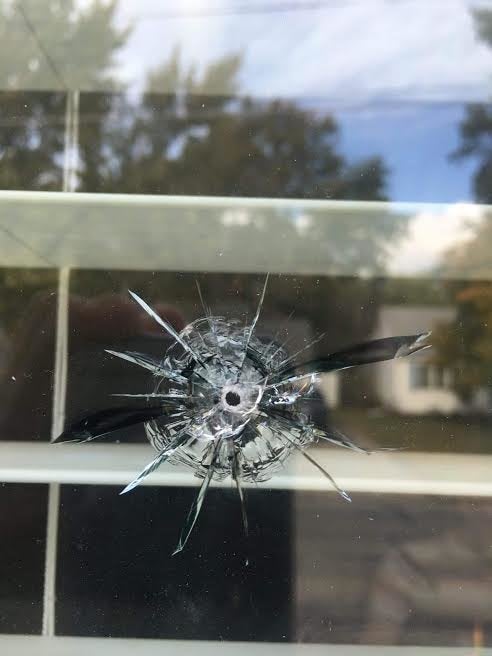 The investigation into the attack, Jackson said, is still ongoing, and local police have yet to identify any suspects.
Still, Jackson and his associates have opted not to wait for answers. In November, they launched an online fundraiser in hopes of repairing the damage caused to the Equality House, fully repainting the exterior, and adding security features to ensure such vandalism won't happen again. Planting Peace also asked supporters to write personal messages of love, hope and compassion, some of which were printed on the side of the house by the Equality House staff in the weeks since the attack and more are slated to be added and showcased before the new paint job takes place sometime in 2017.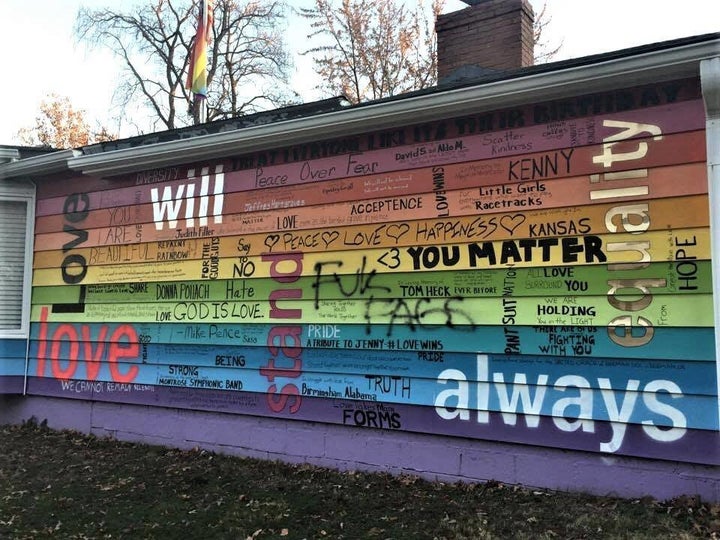 "We took some of the positive themes and messages and painted them on the house a weeks ago as an artistic, visual protest to hate, bigotry and violence," Jackson, who pointed to the disturbing rise of attacks against many minority groups in the weeks since Donald Trump's Nov. 9 victory, said. As it turns out, Planting Peace staff decided to keep the homophobic graffiti in place for a while, he said. "We realize the hate speech makes some people uncomfortable, but it's important to get people to understand that those are the same feelings our LGBTQ brothers and sisters feel every day in the face of hate and discrimination." 
The new project, Jackson told HuffPost, represents the "very reason the Equality House exists ― to show a community that continues to fight for equality and the freedom to love without fear that they have strong allies that will not back down or be bullied."
"We stand with them today more strongly than ever," he said. 
Head here to read more about the Equality House's campaign. 
Calling all HuffPost superfans!
Sign up for membership to become a founding member and help shape HuffPost's next chapter
BEFORE YOU GO
PHOTO GALLERY
15 Of The Biggest LGBTQ Villains