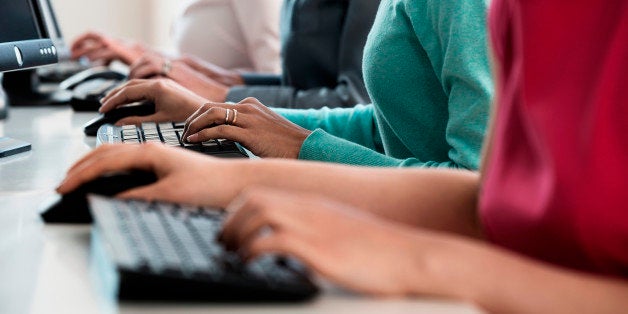 It's a head/desk day. A day when heads are banging on desks across our nation in frustration.
Wage and hiring discrimination is a big deal. It hurts our families, our businesses and our economy. In fact, study after study shows that the more women in corporate leadership, the bigger the corporate profits. Yet, less than five percent of Fortune 500 CEOs are women, and a maternal wall is standing in the way of most women ever even getting in a room with a glass ceiling in the first place.
Being a mom is now a greater predictor of wage and hiring discrimination than being a woman.

Across the country, women without children make about 90 cents to a man's dollar, mothers make only 73 cents, single mothers make about 60 cents and women of color earn as little as 56 cents to a man's dollar.
A full 81 percent of women have children by the time they're 44 years old, so this extra wage hit impacts most women.

Solutions are possible. Times have changed, but we haven't yet made the changes we need to ensure that women are paid more than spare change. In short, we are living in a Modern Family World with Mad Men workplace policies. Our labor force is now nearly 50 percent women for the first time in history, three-quarters of moms are now in the labor force (and nearly half are primary breadwinners for their families), and yet unfair pay persists and hits moms and women of color the hardest.
Updating our outdated workplace policies would lower the wage gap between women and men, as well as between moms and non-moms, while also boosting all families and our economy. Studies show policies like access to paid family leave after a new baby arrives, affordable childcare, sick days and healthcare significantly lower the wage gap. Pay transparency policies like the Paycheck Fairness Act are also needed to combat pay discrimination. Moreover, the minimum wage must also be a living wage in order to achieve wage parity. (a new study found that 42 percent of all workers in our nation are currently earning less that $15 per hour, and that the majority of those workers are women and many are moms.)
This may seem like a long to-do list, but these policy updates are not only possible, they are already happening in red and blue states across the nation. Momentum is growing.
More than 20 cities and three states have now passed paid sick days, and historic wins swept the nation in the last November election as voters backed paid sick day legislation, increased access to affordable childcare, and minimum wage increases for low wage workers. In Massachusetts, and in cities in New Jersey and California, voters backed ballot initiatives guaranteeing paid sick days to nearly one million workers. In Seattle, voters approved increased access to affordable childcare. In Arkansas, Alaska, Illinois, South Dakota and three cities in California, voters approved ballot measures that raised the minimum wage for an estimated 1.7 million workers, the majority of whom are women and mothers.

To continue making progress, many myths are floating around about unfair pay that need busting. For instance, the wage gap isn't primarily women's fault for taking lesser jobs as some have insinuated. In fact, wage differences within the same occupation make up most of the pay gap between men and women.
For instance, Claudia Goldin, a labor economist at Harvard University, calculated that after controlling for age, race, hours and education, women who are doctors and surgeons, for example, earn 71 percent of men's wages; women who are financial specialists make just 66 percent of what male financial specialists earn. Another recent study found rampant wage discrimination against women who work in higher education. And yet another recent study found that equally qualified male nurses earn about $5,000 more per year than female nurses.
Wage discrimination is happening across all job sectors and it most certainly isn't women's "fault."

Another myth is that women and moms are paid less because they work less hard or aren't qualified. Not true! In fact, one study found that with equal resumes and job experiences moms were offered jobs more than 80 percent less of the time than non-moms, and were offered $11,000 lower starting salaries for highly paid positions. Dads, on the other hand were offered $6,000 higher starting salaries than non-dads.
When women are ripped off and don't get equal pay, then our families suffer and our economy suffers too. Raising women's incomes to parity would boost our economy and save taxpayer funds by lowering the need for government programs and also by putting money directly into our economy. After all, women make the majority of purchasing decisions in our consumer-fueled economy.
The economic boost from pay parity is a big one: A new report found that equal pay would cut poverty in half for families with a working woman in their household. Further, the Institute for Women's Policy Research found that U.S. GDP would grow by 3 percent if women were paid as much as men.
The good news is that women, men, moms (including the over million moms of MomsRising), dads and even our youth are focusing on how lack of equal pay will impact their future and are taking action.
Fair pay is extremely important to me as I start to think about my future. I'm starting to think about college and possible careers. My friends and I should be able to make the most out of our futures and have the same opportunity as everyone else. Women are worth more than spare change!

-- Olivia, age 16
We have a responsibility to make sure people are treated and paid equally for equal work. There really isn't any excuse to not do so.

-- Connor, age 18
Equal pay is a basic human right that can't be denied any longer.

-- Lilly, age 17
Let's build a better future for our kids and a stronger nation for us all. It's time to move forward Modern Family policies and put the Mad Men world behind us. Equal Pay Day should no longer have to be a head/desk day. Women are worth more than spare change.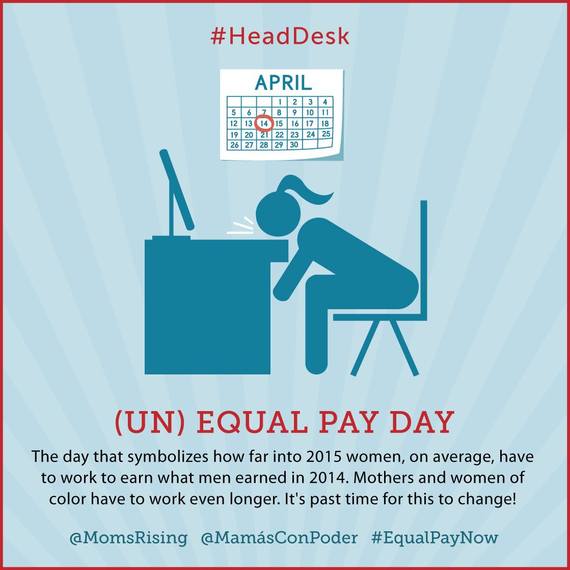 Calling all HuffPost superfans!
Sign up for membership to become a founding member and help shape HuffPost's next chapter