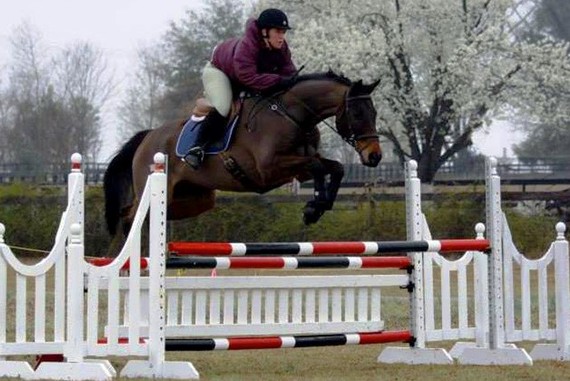 Trust is something I focus on a lot, both for my Accenture teammates and the clients we serve, or the close relationship I have with Owen, my champion equestrian horse.
If it wasn't for the flexibility Accenture gave me to move to Lexington, Kentucky, to further my equestrian eventing career, I wouldn't be able to pursue both with equal passion. Now, there's barely a weekend that goes by when I'm not competing in, or training for, equestrian events.
Weekdays, I'm a busy business and systems integration senior manager in Health & Public Service, usually working at my client site in Hartford, Connecticut, where I lead a team of 17 people. By the weekend, I'm back in the saddle on Owen, my 15-year-old former steeplechase horse who is helping me rise in rank among the top amateur equestrians.
In June, I returned victorious from an event in northern Michigan. I was back home for about eight hours before I had to fly back to my project location, but I wouldn't have it any other way.
Riding my "Ferrari"
I had peaked at the "Novice" (second) level, competitively speaking, with my former horse I like to call "my F150" Ford pickup truck. So, needing a "Ferrari," I found Owen.
Following a four-month leave of absence from Accenture in 2012 to train with Owen in Kentucky, I knew I had a big decision to make. For Owen to reach his potential in the equestrian arena, I needed to be in Kentucky where we could both receive the proper training and coaching.
For anyone unfamiliar with professional horse racing and equestrian sports in the United States, the state of Kentucky, home to the famous Kentucky Derby thoroughbred horse race, is one of the best locations in the world for competitive horse training and breeding.
With Accenture's nod, and the whole-hearted support of my new husband, Nathan, I moved from St. Louis to Kentucky in 2013 where my horse and I could hopefully gallop up the competitive ranks.
Accenture gave me the jump start I needed to participate in the sport I love, which has been a part of my life since I was 10 years old. I've picked up three consecutive wins at the Novice level this year, and Owen and I recently moved up to the "Training" (third) level. "Advanced," the sixth and highest level, is reserved for professional equestrians and Olympic caliber competitors.
Taking the reins
I currently have no plans to leave Accenture and take up equestrian eventing full time because I feel like I have the best of both worlds.
I'm always looking for incremental improvements whether it's at the client site or in the equestrian arena. I just love the partnership you have with your horse, how you communicate and accomplish something together.
The skills I use at Accenture and on a horse both involve multitasking and coordination. As with my team members and clients, I'm always attuned to Owen's abilities, attitude and level of trust. The more time we spend together to improve communication, the further we can progress and achieve results.
Having the support of my husband and Accenture makes it that much sweeter.
REAL LIFE. REAL NEWS. REAL VOICES.
Help us tell more of the stories that matter from voices that too often remain unheard.