Do you go to the gym to get healthy and strong -- or skinny and sexy?
What the photos don't show, however, is women -- or the men, for that matter -- exercising. Instead, they lay on the couch, arm wrestle on a fancy dining room table and tool around on bikes, all in sumptuous landscapes and what must be very expensive clothes.
Only beneath the photos is there any indication that the ads are for a gym: words like "Rejuvenation," "Flexibility" and, oddly, "Victory."
As advertising for a fitness center, the whole endeavor seems misguided. Sure, the photos are eye-catchingly sexy. But how exactly are they promoting fitness? And what does sex have to do with it? And moreover, why are the women so darn skinny and waif-like?
Why did all of the models have a runway physique? Equinox is promoting health and fitness, so I would like to see some healthy and fit women on their ad campaigns who look like they could actually survive a typical Equinox class.. Can we maybe see a little bit if muscle on the ladies next time around? The Nike ads are great examples of strong, fit women!
It's not totally inaccurate to depict slender models working out (after all, most of the top models you see on magazine covers and runways do, in fact, exercise).
But such racy, fashion-y photos do seem to miss the objectives of physical fitness, which include getting healthy (not unhealthily skinny), building muscle definition (which the male models have but the women, not so much) and feeling good about one's physique (which we're guessing is not best accomplished by showing average women pictures of size 2 models).
This isn't the first time Terry Richardson has done a sex-as-exercise project for Equinox: he shot a quite similar campaign in 2010. So apparently the response was good enough the first time for Equinox to give the fashion photog another shot. After all, sex sells.
But forget what the advertisers think -- what do you think?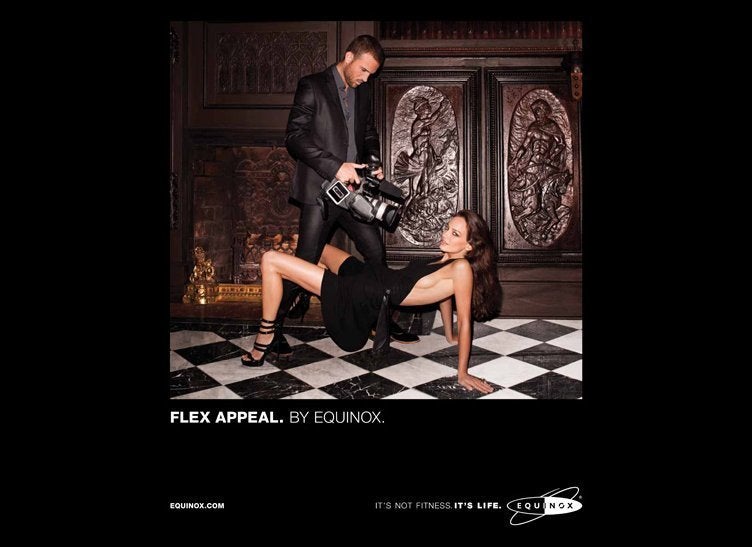 Related