Once again we look into the cinematic mirror to better understand ourselves and the world we inhabit. Equity is a seething and cynical Wall Street drama written, directed, acted, produced, and financed primarily by women with a release date, of Friday, July 29th in Los Angeles and New York.
This chick flick with backbone calls into focus premises of the 3rd Wave of Feminism, or is it the 4th Wave? Is there a chance to get the 3rd perfected in the 4th? I can hardly keep track anymore.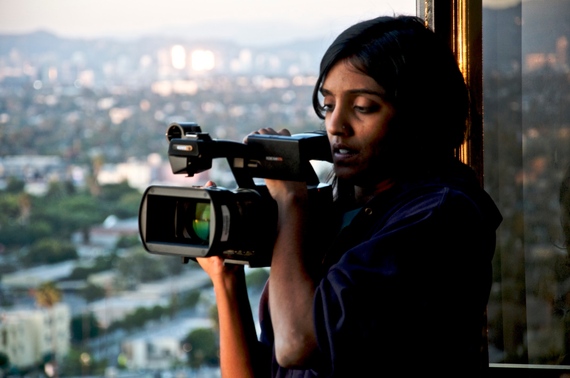 Director at work, Meera Menon

The question remains: Can women have it all? In this tale of greed and avarice, modern feminists are as cunning and dastardly as men. Few tender mercies here. At the center is a clutch of protagonists. The villain, Naomi Bishop, played by Anna Gunn has a rags to riches back story as she resolves her inner mysteries. She is edgy and takes flack for having attitude.
Samantha Ryan, played masterfully by­­­­­­ Alysia Reiner, is a more sympathetic foil, a Federal prosecutor of white collar crime and a lesbian mother of two. Tracie Thoms, a black woman plays Melanie, a dancer and Ryan's love interest. Ms. Thoms is the other mother of their blond twins. In an interview, Ms. Reiner cleared up my confusion surrounding details of her character's personal life.
I mistakenly thought Melanie, was the present nanny of the children that turned into an affair. Also plausible was Melanie is the former nanny who developed into an affair that broke up Ryan's marriage. Turns out, Ryan is the biological, birth mother from a sperm donor, edited out of the movie, and left on the cutting floor.
The role of the father/sperm donor (why he was not a man of color remains unclear or maybe he was and the children could still be fair skinned) may be expanded on the small screen. Ms. Reiner's hope is Equity becomes a springboard for a television show. It would be so interesting to see the co-parenting relationships fleshed out on the small screen. There is plenty of material here.
An interesting thread I would like to see developed is the portrayal of career women as mothers. I want to know more about the protégé, Erin Manning, played by co-producer Sarah Megan Thomas. Does her husband, winsome and patient Nick Gehlfuss (someone to watch), become a Mr. Mom? If so, what will their already tension riddled life look like post partum? The lengths Manning must go through to 'man up' and hide her pregnancy in the midst of a big deal is poignant.
Equity is a cautionary tale. In this world trust is a rare commodity. Everyone is susceptible to betrayal by friends, lovers, and coworkers for your job. Each character behaves in ways both cunning and brilliant, skating the thin line between righteous and evil. Equity delivers you to a place where everything is up for sale.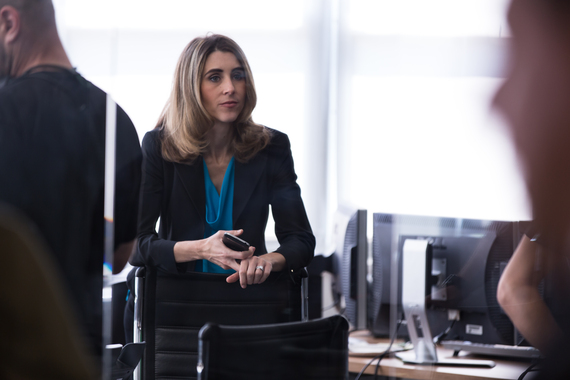 Co-producer Sarah Megan Thomas's character must hide her pregnancy

The feminism I grew up with in the 1970's told me, "A woman without a man is like a fish without a bicycle." In the 80's I recall hearing a woman could wait until age 40, and beyond, to conceive a child without issues while intellectual and professional goals were pursued.
The pendulum swung and a woman could have it all if she sequenced her priorities. The retro version has returned with a twist. High earning couples who have the luxury, decide it is better for the life of the family that someone needs to be primarily at home, or at least part time running the show. Increasingly it is the man, who may also be the lower earning spouse.
For Ms. Gunn's anti-heroine, who has opted out of motherhood, does she possess the capacity to reflect, correct, and sufficiently refine her personality defects? Will she be able to get out of her own way, stay relevant, and continue her climb up the corporate ladder? Will she be given third and fourth chances like her male counterparts?
Does Ms. Reiner's character give up the people's work, or can she be so cunning as to move between two worlds, an agent provocateur in the court system that polices the financial world?

Exuberance and joy, worry, strength and beauty, grit and resilience. These women in power gaze out at us, pumped with ambition, entitlement and vigor. This film reminds women of their towering strength and beauty, used to what ends?
The sets are gorgeous, as are the clothes, jewels, and make up for women approaching a certain age. Equity radiates an insider's knowledge of a dog-eat-dog world dressed up and presentable for the kinds of horrors perpetrated in the Big Short (2015) made known through films like the Wolf of Wall Street (2013).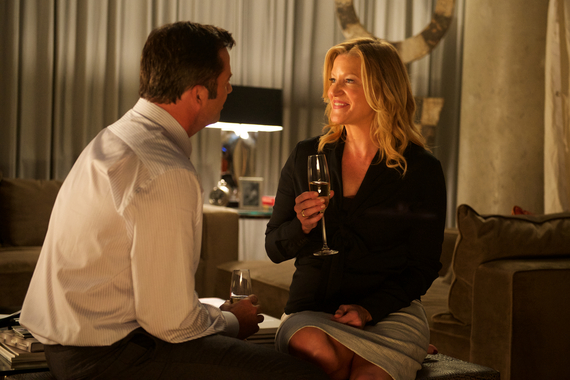 Everything is up for sale in the world of high finance for Anna Gunn

It would be too easy to conclude that some things are expensive because they are worth it. This question lies at the heart of the movie without asking it. That's up for you, the viewer, to decide. The film speaks to the glory of women in a new century who get to the top, and not by 'playing like girls.'
These women can be vicious steel magnolias, vulnerable to the obsessive myth of control. Simply put, it is a common irony to be out of control with the need to be in control. A vivid coronation of queens, these titans of their industries are also its sacrificial lambs that keeps the message real.
Disclaimer Alert: Watching movies may reveal insights about life, but is no substitute for therapy. If you or someone you know is suicidal, do not hesitate to reach out to a professional or trusted family member or friend to get needed help.
___________________
Calling all HuffPost superfans!
Sign up for membership to become a founding member and help shape HuffPost's next chapter