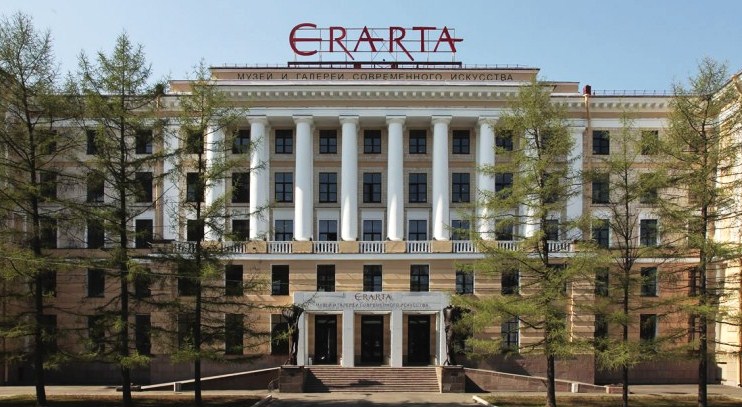 One of Europe's more unusual contemporary art centers occupies a palatial neo-Stalinist building in a distant corner of a St Petersburg island, 1½ miles from the nearest metro station.
Erarta is the brainchild of Marina Varvarina, a low-profile businesswoman with a doctorate in mathematics who divides her time between London, the Channel Islands and her home town -- where the collection she has built up, mainly from visits to artists' studios over the last 15 years, now runs to 2,300 works, with some 600 on display at any one time.
Many of the artists are young, almost all Russian. Erarta claims every work is 'outstanding' and destined to be famed 'among the best pieces of their era,' which is (a) baloney and (b) irrelevant: Erarta does not target a public of connoisseurs. 'Ninety-nine percent of our visitors are not ingrained in the world of art' declares Marina's son Vadim, who read Economics at Oxford and trained at Merrill Lynch before joining Erarta as executive manager in September 2011. 'We aim to get them start appreciating art!'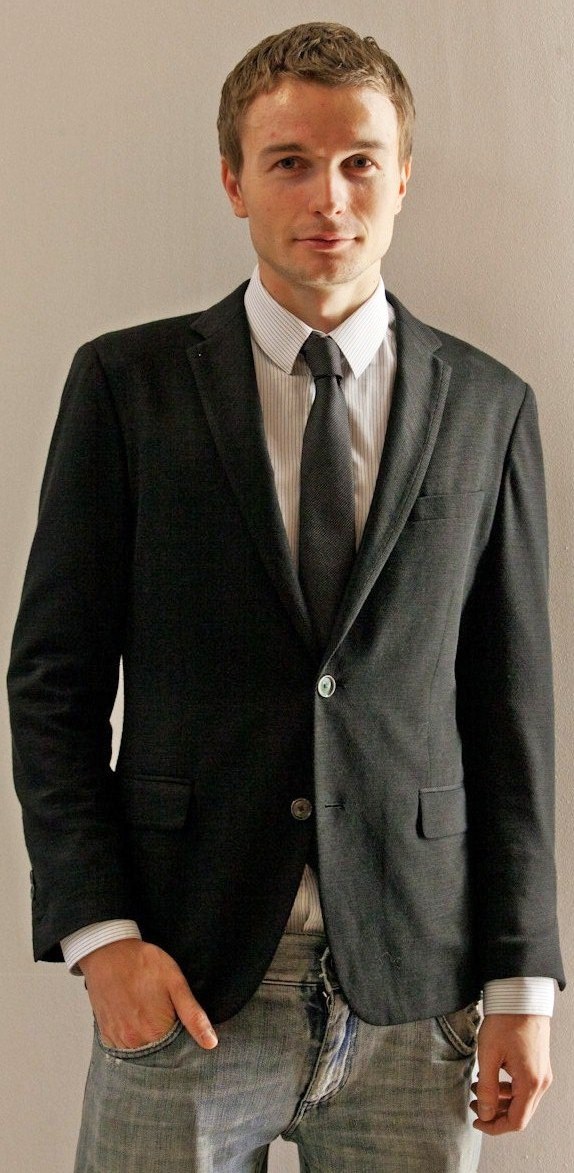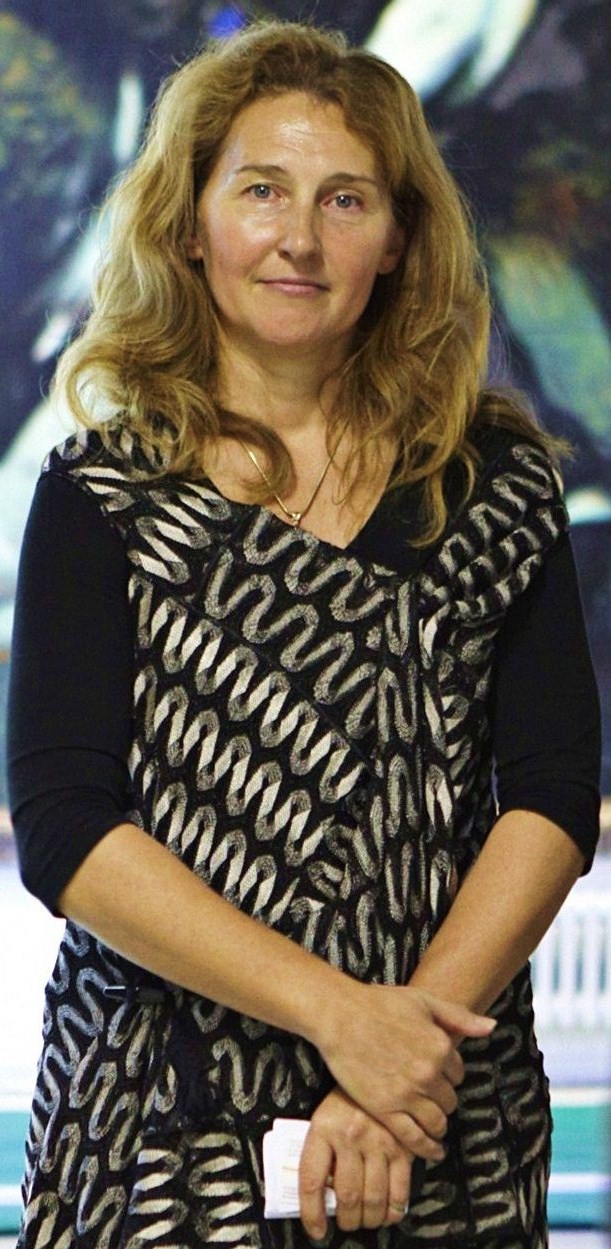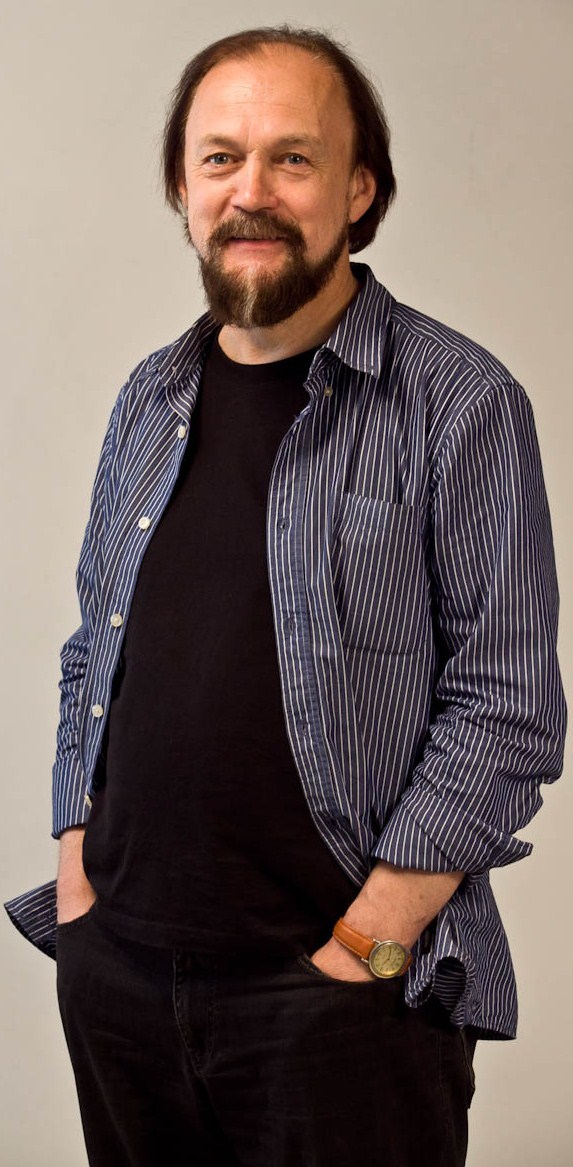 VARVARINA AND HER V-MEN: Son Vadim, Curator Vladimir
To do that, Erarta is far more than just a museum. It hosts plays, concerts and lectures, and its two five-floor wings -- linked by a space-age foyer -- also enclose a commercial art gallery, temporary exhibition halls, print store, fashion boutique, cinema, café, restaurant and 100 staff.
The Museum is brought to life by gimmicks that would make a Disney imagineer purr with pleasure. These include 'U-spaces' -- themed installations (recreating a country log cabin, say, or a Soviet kommunalka apartment) which visitors can book into for a contemplative quarter-hour; a 'adults only' corner where suggestive paintings are displayed to a grunt-and-groan soundtrack; and minute-long cartoon animations that bring works of art wittily to life. One features a still life with a fish flat on a salver whose upturned eye surveys the dinner guests about to devour it; another, based on a landscape with an old peasant's truck, has the truck roar up and down a muddy hillside until Mr Rich happens along in his gleaming new LandRover, flashes his headlamps, gets stuck in the mire and sinks without trace.
To coin a pun worse than its own Era-of-Art, Erarta is all about Entartainment.
This deliberate confusion des genres may curl Establishment upper-lips (a Moscow art review recently fired a respected journalist for submitting an overly favorable article about Erarta), but goes down a storm with the man in the ulitsa. Visitor levels have been rising by over 20 percent a year and, despite the sturdy 300-ruble ($9) entry fee, average 500 per day. Ten-till-10 opening hours, free wi-fi and welcoming polyglot staff all help. Although it only opened in 2010, Erarta is now ranked 10th from 421 sights in St Petersburg by TripAdvisor and 8th best museum in the whole of Russia (immediately after Moscow's venerable Pushkin Museum).
Erarta's Guest Relations Manager understandably keeps a greedy eye on TripAdvisor. On May 28 a post from Estonia's Inga K: "I did not know contemporary Russians were so obsessed with angels" -- prompted this retort: "Angels are a symbol of the Russian mentality, linked to spirituality, sincerity, generosity and hospitality." Inga was thanked for her observation and wished a safe trip back to Tartu.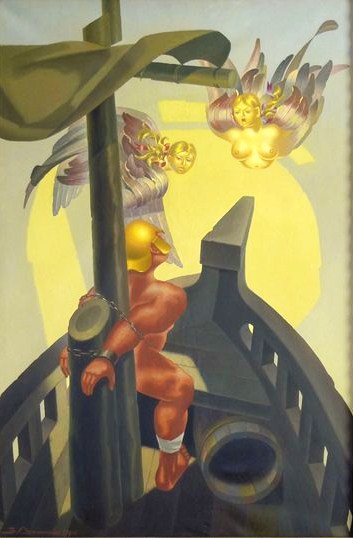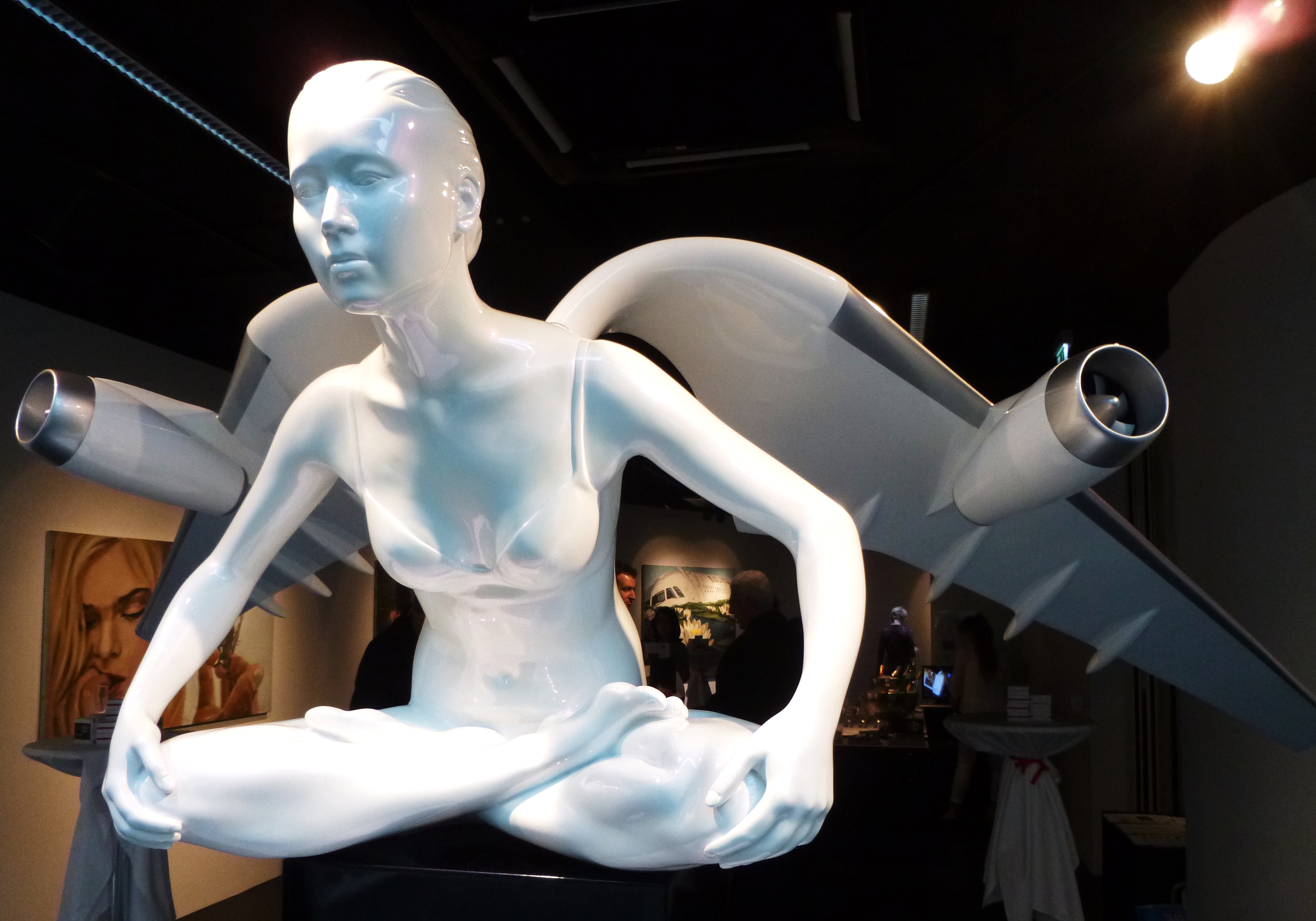 ART ANGELS
Vladimir Ovchinnikov: Odysseus / Dmitry Shorin: I Believe In Angels #7
Angels are indeed an Erarta obsession. Nearly every hall in the museum has its heavenly host. Dmitry Shorin's polyurethane angels (with aeroplane wings) were Erarta's showpiece artworks at this year's Art Paris fair and Venice Biennale.
It is hard not to muse about a possible allusion to Varvarina's late husband Dmitry, the boss of a Russian-American timber and shipping conglomerate, who was shot dead in March 2000. That subject is taboo; there is no reference to Dmitry at Erarta. Marina exudes (or takes refuge in) a spiritual, almost mystical serenity. "I never react to confrontation" she says. "Art makes me happy."
She employs four ladies to walk around the museum full-time to ensure visitors are happy, too. There are a variety of guided tours: for those who know about art, and for those who don't; some conducted by artists, others held at night by flash-light; some geared for the elderly, others just for children.
Perhaps that excuses Nikolay Kopeykin's infantile Elephant paintings, which outplummet even Shorin's kitschy angels in their dubious taste. Yet a lot of Erarta's art is weighty and somber: the coal-dust and bitumen mine scenes of Ilya Gaponov; Sergey Karev's rough-sawn metal bench, coiled around two walls like a giant worm; or the colossal Crown of Thorns hanging from the ceiling above a tableful of faceless, sackcloth figures enacting The Last Supper, accompanied by anguished Biblical drawings by Pyotr Gorban (1923-95) - a powerful but forgotten Communist-era artist rescued from provincial oblivion by Marina Varvarina when she bought his entire posthumous studio in distant Stavropol.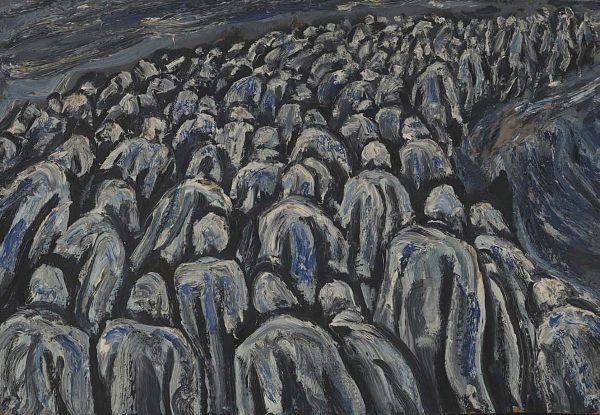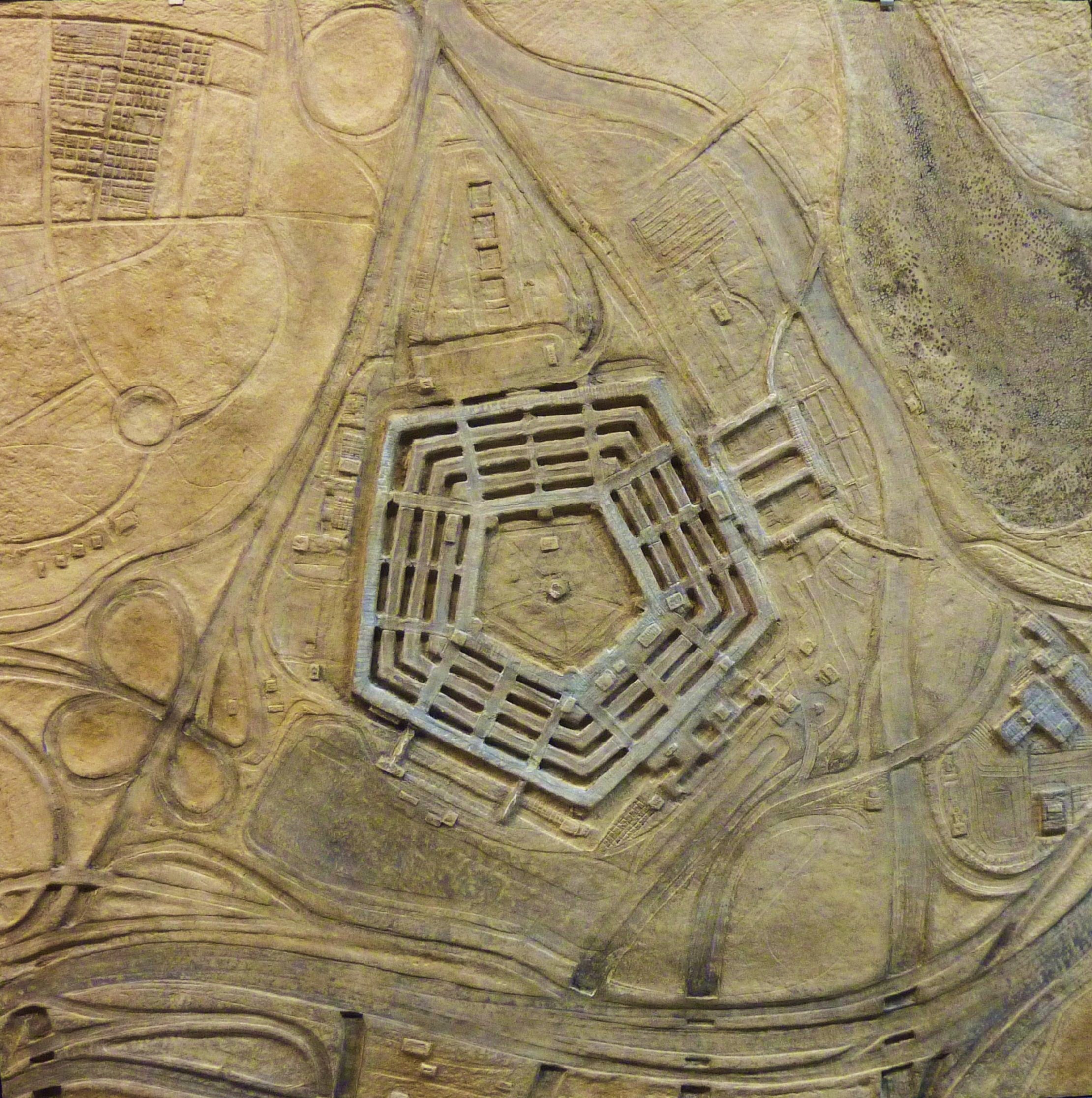 Piotr Gorban: Refugees / Rinat Mennebayev: Pentagon
It's easier to define what the Erarta Collection isn't than what it is. It spurns Russia's most famous post-war groups, the Non-Conformists and Moscow Conceptualists, and turns its back on St Petersburg's leading contemporary movement, Timur Novikov's New Academy of the 1980s and '90s. Erarta, explains Varavarina defiantly, 'is about putting Ekaterinburg and Novosibirsk on the same level as Moscow and St Petersburg.'
A key component in that strategy is Russia in Erarta: a program for exhibiting newly discovered provincial artists, overseen by Vladimir Nazansky, who has spent much of his career east of the Urals. I was pleased to find, at last, a curator who could discuss Alexander Pyrkov, to my mind the country's top abstract artist (even though he lives in Vladivostok, near North Korea) -- and also to see Nazansky promoted to the role of Erarta's Chief Curator this May, when Mikhail Ovchinnikov (son of artist Vladimir) was prised away to launch Viktor Vexelberg's new Fabergé museum.
Headlined by Rinat Minnebayev's fossil-like treatment of architectural sites seen from the air, Nazansky's Spring exhibition of works from Ufa, a city 850 miles east of Moscow, was a knock-out. Erarta's provincial program will gain further space and impetus next year, when a new wing (also containing an auditorium) is completed, freeing up more space for the commercial gallery.
A dual role as museum and gallery is unusual but, as the Russian gallery scene outside Moscow remains embryonic, Erarta's emergence as an international commercial outlet is a godsend for regional artists. The sudden launch -- in the midst of a global recession -- of its airy, stylish galleries in down-town New York, London and Zurich (another will open in Hong Kong this fall) has nonetheless caused art world consternation. The mystery is compounded by the unfamiliar names of the Russian artists offered for sale, for prices mainly in the $10,000-15,000 range.
'Russian contemporary art is full of new ideas with strong energy" counters Laurie Sanderson, director of Erarta New York. When I visited her long, light gallery in April, where non-Russians account for 80 percent of buyers, the walls were sizzling with the Pop Art colors of Urban Reflections by Elena Chestnykh, a 38 year-old from Novosibirsk. Also on show were the cool classical nudes of another young artist, Tatiana Bazanova -- whose St Petersburg colleague, Irina Drozd, was starring in the Zurich with a series of atmospheric architectural views, mystically entitled Another Dimension, alongside works by Veronika Rudyeva-Ryazantseva (just 32) from Krasnoyarsk.
It's not all young ladies at Erarta -- Vyacheslav Mikhailov, a 68-year-old artist from the northern Caucasus, starred at their London gallery in June -- but almost.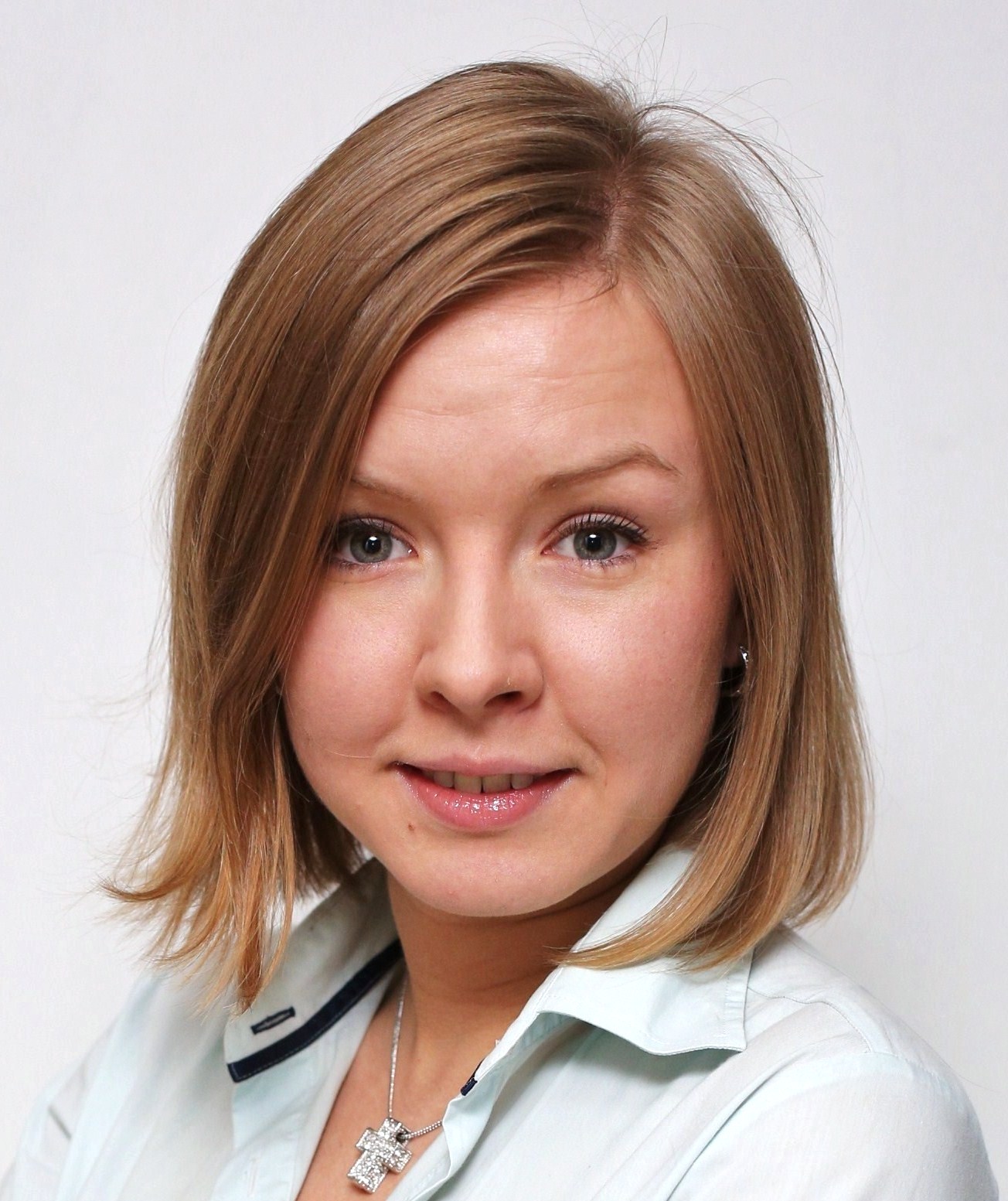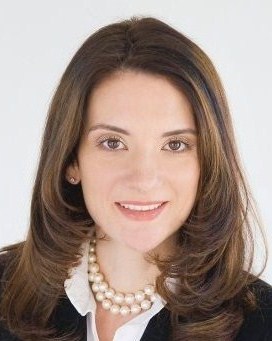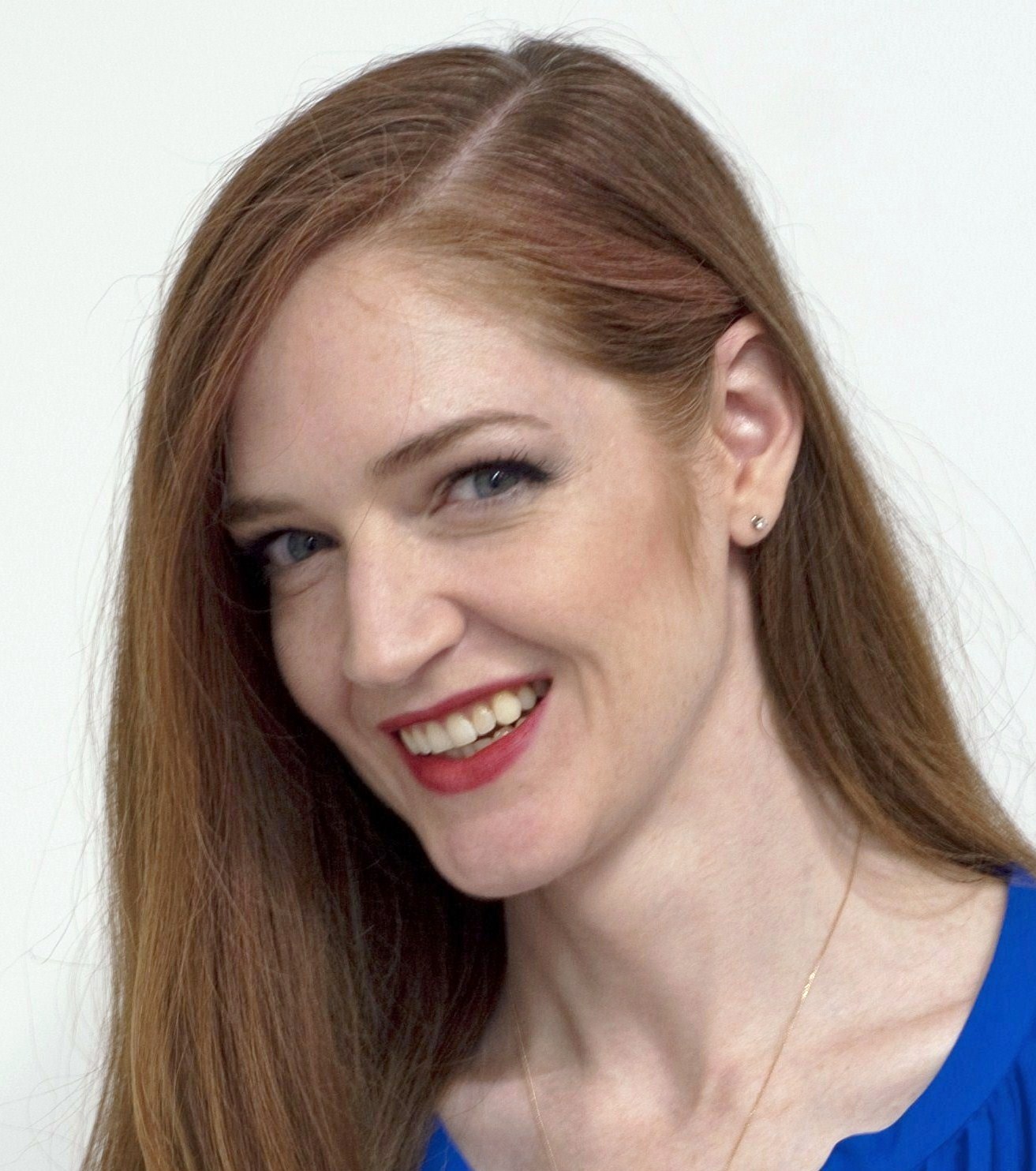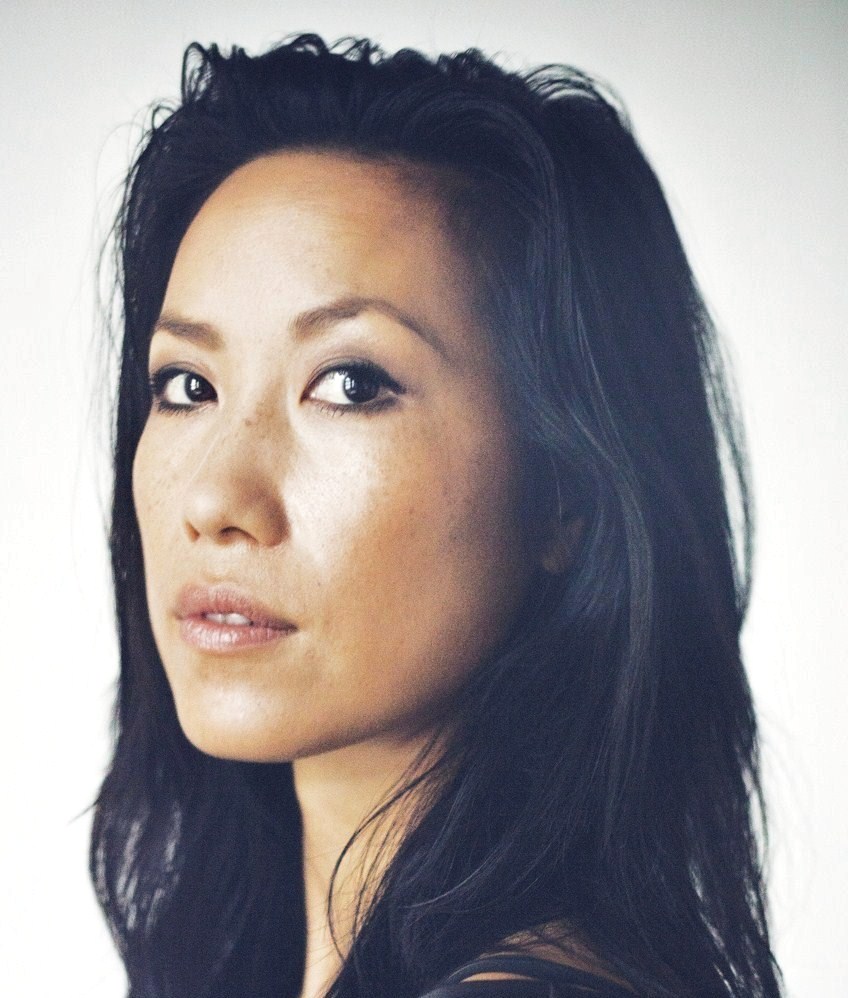 ERARTA ANGELS
Anastasia (St Petersburg) - Laurie (New York) - Beth (London) - Meesha (Zurich)
The three Gallery Directors are savvy, svelte and form a complementary brunette, red-headed and raven-haired trio. All hail from North America and studied art. Sanderson worked for other New York galleries before joining Erarta, but Beth Morrow (London) previously taught engineering and Meesha Chang (Zurich) used to work as a product manager for a nutraceutical company. Blondinka Anastasia Blokhina, Erarta's resourceful and effervescent Head of PR, co-ordinates their activity and completes an angelic quartet.
Yet steely determination and long-term planning lurk behind Erarta's attractive corporate façade. "Most galleries attach themselves to a small circle of artists and, if they are successful, so is the gallery" says Marina's son Vadim. "Our goal is different. We have 150 artists to showcase. We're thinking long-term. Decades."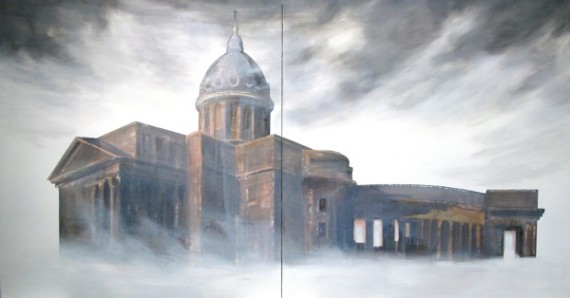 SPIRITUAL ELEVATION FOR DECADES TO COME
Irina Drozd grants St Petersburg's Kazan Cathedral Another Dimension
Calling all HuffPost superfans!
Sign up for membership to become a founding member and help shape HuffPost's next chapter