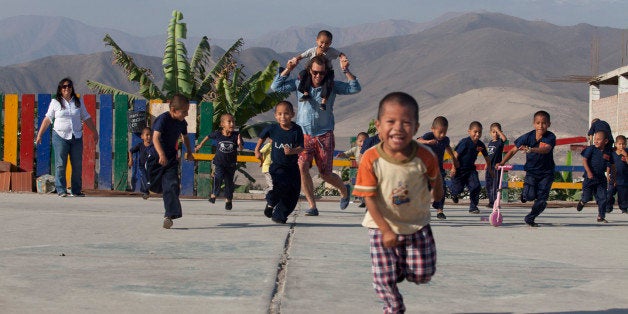 Today, 193 world leaders came together at the United Nations in New York to adapt the Global Goals for Sustainable Development. While there is much conversation about how governments can work together to help eradicate extreme poverty by 2030, continuing with the progress made by the Millennium Development Goals, the forum also offers a new opportunity for business leaders to play a more pivotal role, embracing profitability while at the same time benefiting humanity.
When I started TOMS, it began as a simple idea. In 2006 was I traveling in South America where I met so many children who could not go to school due to a lack of shoes. With this stark perception, I felt immediately motivated to help. Already a serial entrepreneur, I approached the solution like any other business idea, aiming to leverage the purchase power of customers instead of charity dollars. This led to the concept of creating a for-profit shoe company that would give away a pair of shoes for every pair sold, "One for One."
Through my journey in becoming a social entrepreneur, I know now that anyone in business can be part of this movement, whether they lead a major global corporation or a start-up hatched in a garage.
TOMS has grown well beyond my original vision and, remarkably, the majority of our current giving program aligns with the UN's Global Goals. Through our donations of shoes, sight restorations, safe drinking water and safe birth initiatives our Giving Partners' work helps meet the 2030 targets outlined to address hunger, health, education and job creation. We hope to continue to learn and deepen our impact. None of TOMS giving would be possible without the tremendous work of our more than 100 Giving Partners, which provide essential services to worldwide communities in need.
The urgency is now, but we have reason to be optimistic. Communities and entrepreneurs have come up with simple solutions to many of the tough challenges that people face. For instance, when I was traveling in Nepal in 2010, I saw the power of sight restoration. With a simple intervention like prescription glasses or a cataract surgery individuals are able to regain their sight. This sounds so basic, but it is life-changing because people can go back to work and see their children and grandchildren again. There are no silver bullets for meeting the Global Goals, but by understanding local needs and working in partnership with communities we can accelerate progress.
This isn't just a top-down movement; consumers and employees want to participate. They want to give back and be part of something bigger. This culture shift offers an opportunity to create a groundswell of action around the Global Goals, and it changes the stakes for business around the globe.
Nine years ago, TOMS and many other social enterprises that consumers know and love today did not exist. The mightiest tidal wave can begin with the smallest ripple. Entrepreneurs and investors everywhere can be part of this movement, helping to launch more game-changing social enterprises, start-ups and innovative non-profits.
Governments cannot solve the world's challenges alone. Businesses must help lead the charge not just by launching special "one-off" projects, but by evolving their business models and discovering their own social DNA. A higher commitment and the bottom line are not incompatible. Many companies have proven that, not just TOMS. Making this commitment sustainableleads to further innovation. I joined Sir Richard Branson's B Team to call on corporate executives to do just this. We aim to catalyze a movement of business leaders committed to a better way of doing business.
We are inching ahead but will not succeed in creating a generation free from poverty unless business undergoes this evolution. Existing businesses have an opportunity to innovate and re-engineer their models to incorporate a social mission and emerging businesses have the chance to do this from day one.Companies with a social DNA are the ones that will redefine the role of business and set the table for a just society. Every successful business begins with setting goals. Let this be a call to action to achieve this one together.
Related
Popular in the Community