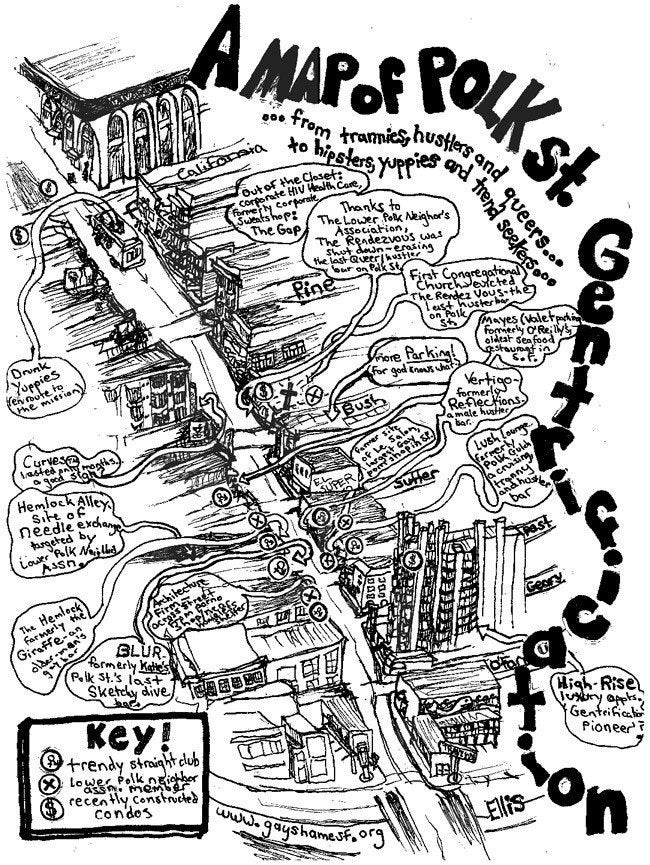 Lower Polk Neighbors (LPN) is a central San Francisco neighborhood association that meets monthly to talk "crime, cleanliness, beautification, and [the] strengthening of our community." But that "community" part deserves closer examination, because for years the organization has been openly trying to erase the history of Polk Street as a sanctuary for lower-income gay and transgender people. Last month, it was at it again, censoring a queer activist group that criticized that erasure.
In January, the website of the queer direct action group Gay Shame was shut down as a result of a formal complaint by LPN Co-Chair Carolyn Abst. On the site, the group had mentioned Abst's name, playfully but combatively, in a "wanted" poster describing Abst as "chairing the brutal gentrification squad commonly known as the 'Lower Polk Neighbors.'"
Abst and Ron Case are the married couple who founded and have served as Lower Polk Neighbors's Co-Chairs for years. Architects by day, neighborhood politicos by night, Abst and Case entered the scene in the pre-gentrification late '90s, in seek of what was some pretty cheap real estate compared to Nob Hill, the posh neighborhood which borders Polk a few blocks to the east. Although the real estate was cheaper, it was still too expensive to translate to homeownership for most residents at the time. If the new residents could just push some of the old ones out, it could mean a spike in property values. Maybe they could create a Nob Hill of their very own.
Abst and Case convened their first Lower Polk Neighbors (LPN) meeting in late 2001. One of its first apparent missions: send local gay bars packing, and into the Tenderloin or out of business. (Gay Shame members regularly attended early meetings, and kept their own version of meeting minutes in a blog.) One of the first casualties was the hustler bar Club RendezVous at Polk and Bush Streets. As historian Joey Plaster wrote in the San Francisco Bay-Guardian in 2007, Club Rendezvous owner David Kapp told the Central City Extra that a "smear campaign" by LPN ended Kapp's plans for staying in the neighborhood. Once RendezVous closed, the architecture firm owned by Abst and Case, Case+Abst Architects, received a contract to design the First Congressional Church, which now stands in its place.
Case went on to say that he didn't want to gentrify the neighborhood, but only to "make it clean and safe." That meant pushing queer and trans people, as well as closing a potentially life-saving needle exchange, out of the area. From the Bay-Guardian report:
Chris Roebuck, a medical anthropologist at UC Berkeley, told us that the increased policing has also meant increased harassment of trans women. Sex workers, many of them immigrants from Mexico, the Philippines, and Thailand, are "increasingly being pushed into the alleyways, into unsafe spaces," he said. He's also noticed a criminalization of what he called "walking while trans" in the six years he has spent interviewing trans women on Polk Street.

At a community meeting with the district attorney earlier this month, two trans women said the police, despite sensitivity trainings, do not take them seriously when they report a crime.

"Getting rid of the public space for trans women and drug users is not safe for them," Polk resident Mattilda Bernstein Sycamore told us. "Deportation [of immigrant sex workers] is not a safe space. The needle exchange actually does make people safer. Getting rid of it does not make people safer."
Case explained in a later interview with Plaster that "If some people do get pushed out... it might be the downside of... trying to clean up the neighborhood... You have to make decisions [for] what is best for the neighborhood." But where would those people go? And why should newcomer Case get to decide "what is best"?
Another example of the intentional disappearing of Polk's queer history happened in 2010. That fall, LPN, along with the San Francisco Arts Commission, asked local artists Helen Bayly and Aaron Bo Heimlich to "design a mural depicting the influence of Polk Street's Beat poet community on the LGBT movement." But LPN shot down the artists' mock-up, which included a variety of gay SF history icons: rainbows, drag queen José Sarria, and city supervisor Harvey Milk. Everyone was wearing clothes. There were no dead bodies. For a city like San Francisco, it was nothing particularly controversial. But as the Bay Area Reporter described, the Neighbors's response was "decidedly hostile."
Some Neighbors were put off by some of the mock-up's imagery showing conflict (including a gay rights protest) and poor people. They'd asked for a historical depiction of their 'hood and got it. As it turned out, they also wanted to re-write the past.
"We were pretty shocked," said one of the artists, Helen Bayly, "thinking we had a positive message and art that spoke to the community and history." Some of the Neighbors begged to differ; one remarked that "Representations of struggle are bad for business." Overall, Bayly said the meeting "felt homophobic." Bayly and Heimlich were encouraged to propose a piece under a new, non-gay theme: transportation! But, Bayly said, "It was really such a negative experience [that] I don't wish to repeat it... I have a few art shows coming up, so I am painting for those happily in my home, away from the Lower Polk Neighbors meetings."
I unsuccessfully tried calling and emailing Abst and Case for a comment, but Gay Shame member Mary Lou Ratchet says their website will be back, and that the group will continue to push back against attempts to disappear queer SF history: "Even the Grand Wizard herself, Carolyn Abst, will need more than a homophobic censoring campaign to disappear the resilience of queer resistance."
Popular in the Community