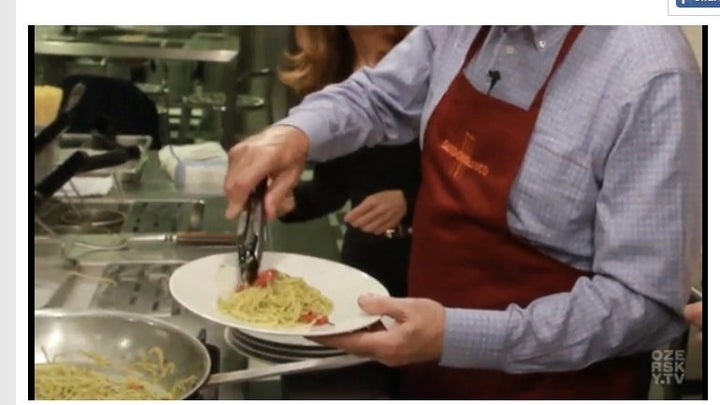 Executive Chef Louis Kim worked at the Four Seasons in Milan and at the French Laundry before opening Erbe Matte.
I once spent a year and a half in Korea under rather unfortunate circumstances. There was a war on and people were shooting at me. I have spent much more time in Italy under vastly more pleasant circumstances, eating and drinking my way through the peninsula from heel to boot to border. And I never thought the two nations would meet culinarily. Different cultures, each fascinating and of intense interest to me, but vastly diverse.
So imagine my surprise, shock, and, yes, pleasure when I was parking my car this week on Canon Drive in Beverly Hills, preparing to have lunch with my friend Steve Shulman, when I found myelf in front of a new restaurant named Erbe Matte (340 N. Canon Drive, B.H. (310) 273-6500). The sign proclaimed it was Italian with Korean influences. I immediately phoned my friend to change our luncheon destination from a long-trafficked Italian place to the new upstart. Coincidentally, this new eatery was in the former location of Tiger Sushi, which I had reviewed with the same friend about a year ago.
The charming assistant manager, Anna Knudson, seated us and said they had been open just three weeks. She told me that Executive Chef Louis Kim was a world-class Italian chef, having cooked in such top-flight kitchens as the Four Seasons in Milan, the Four Seasons in Singapore, and several other prestigious eateries. (I later learned that Chef Kim, when young, had participated in an exchange program which saw him working in Thomas Keller's kitchens at the French Laundry and Bouchon Bakery in Yountville.)
Along with co-owners Saehae Lee and her husband, they own three restaurants in Seoul, Korea, two of which are fine Italian dining spots, the other Japanese sushi. As I examined the extensive and fascinating menu, I realized that this was basically a classic, sophisticated Italian restaurant. The Korean influence was exhibited in a few dishes, three of which I proceeded to order at that first lunch.
I asked Chef Kim what was the meaning of the name "erbe matte," and he explained it translated to "wild herbs" (which probably would have been a better name). Italian food with an occasional touch of Korean herbs? This was worthy of a major look-see, so we returned a few nights later with my trusty reviewing team of Penny McTaggart and David Rapoport, for a tasting of many of the classic Italian dishes. Before starting our meal proper, we opted for a few wicked cocktails created by Great Jones bartender Eric Tecosky.
Korean ginseng and green tea infused into a house-made limoncello, followed by a bourbon libation with Asian pear and lavender bitters inexplicably named for Ronnie Chasen. I recommend the Beverly Farms, kimchi-infused vodka in a mixture of spiced tomato juice finished with dirty martini olive juice. Weird and wonderful... which is also a fitting description for the food to follow.
Chef Kin later told me that he wanted to take the refined, celebrated style of his Italian restaurants in Seoul ("Koreans love Italian food!") and blend it with the relaxed, vibrant spin of Beverly Hills and California. As I said, weird and wonderful. The charming Mrs. Saehae Lee came by the table and told us that she and her husband had spent two years seeking the perfect location for this eatery, and then another two years preparing it just the way they wanted. It's stunning, with an outdoor patio for good weather and a sophisticated interior for casually elegant dinners.

Mrs. Saehae Lee and her husband spent two years seeking the perfect location for their first American eatery.
As soon as I took a forkful of the linguini with wild mushrooms in a shaved white truffle sauce ($20), my eyes opened wide and I sat up straighter. Yes, this was very special. One companion smiled and offered me a bite of Penne with braised oxtail in a rosemary tomato sauce ($20).
Koreans love oxtail soup, but this was a pasta dish from the heart of Italy. A third friend was so busy with his oyster risotto, with its champagne, rosemary, orange-lemon peel ($20) it took a moment to wedge a morsel from him. At that moment, a plate of Agnolotti stuffed with a puree of veal, pork and beef in a luscious mushroom sauce ($20) came into our ken.
Possibly the most satisfying dish of the astonishing evening. We all agreed that this was an exciting new adventure in Italian eating in the heart of Beverly Hills, surrounded by Spago on one side and Café Roma next door, with Il Pastaio on the corner. We finished with a fabulous traditional tiramisu and a not-so-traditional marinated peach, with cassis liquor and green tea ice cream. I made a dinner reservation for two nights hence as I exited that first evening.

The national dish of Korea is bi-bim-bab, steamd rice, short ribs, and a fried egg, with chili sauce. I could eat it every day for breakfast.
Did I mention that this restaurant is exqisite? Designed by David Chun Studio, it features a cool, elegant indoor dining room and an outdoor patio. Fine linens and silver, excellent glassware; they didn't stint on anything in preparing this experience. A full bar and fine wine list. Think a take on an old fashioned with apple garnish. A tequila drink, the Gerguson, made with grapefruit juice, garnish and fruit.
Explore the exotic cocktails... they are a vast improvement on those in most local spots. Grilled calamari, beef tartar, pan-seared scallops, tuna tataki, marinated crab, wonderful starters with unusual, delicious dressings. Oh, my, what was happening here? Sauteed clams and mussels in a spicy tomato broth. Oven-baked beets, cold avocado soup... and a Korean dish of sweet potato noodles stir fried in sesame oil with vegetables and soy sauce. All $12 or $14, and I could easily make a meal or two (or three) just from these starters (and I will). Especially that beef tartar with sesame, pear, egg yolk and soy dressing ($12)... or the crab with soy sauce dressing ($12).
Spaghetti alle Vongole, pasta with fresh clams, is one of my passions. Here it is superb ($16, inexpensive), with white wine, garlic, dry chile, basil and Italian parsley giving it a unique and wonderful flavor. Had to taste the ubiquitous Pork Belly ($26), on every menu in town but here truly amazing, braised with cucumber, dill, cranberry, curry, cherry tomatoes in a Mediterranean cream sauce. A friend had ordered the Sea Bass ($30), oven-baked in a salt crust and drizzled with an herbed vinaigrette.
I craved the duck breast ($26), here pan-roasted with couscous, dry fruit compote and (yes!), sautéed sweetbreads. There's a grilled prime rib eye ($36) yet to be tried. The Korean government has a team of chefs traveling the globe to sample their traditional vegetarian dish, bi-bim-bab, to entice visitors to the country. Here, at that first lunch, it was excellent, steamed rice with mixed vegetables, fried egg on top, and chili/soy sauce ($24).
The Korean Kal-bi, short ribs ($26) were the best I have had in years, but a major surprise was the roasted rack of lamb ($32), with barley risotto, endive, arugula ad natural jus; it would have been a winner at The Grill a block away. And the Angler fish medallion ($26) wrapped in Parma ham, with Tuscan-style sourdough bread and red onion, would have done justice to Valentino's. Desserts were equally superb.
Who would have dreamed? A blending of two disparate cuisines resulting in a fantastic new 'whole.' This is not fusion food but something far beyond that, a reinvention of food possibilities worthy of El Bulli. I do worry that they won't find a wide audience soon enough to sustain the high level of cooking Chef Kim is offering.
Trust me, this visit to Italy and Korea, thousands of miles apart but coming together in Beverly Hills in one afternoon or evening, is a voyage you will relish forever... so please join me in spreading the word... Erbe Matte is very special! If I were a Michelin inspector (god forbid), I would give it three stars... and come back many times on my own dime for some of the exquisite dishes.
To subscribe to "Jay Weston's Restaurant Newsletter" ($70 for twelve monthly issues), email him at jayweston@sbcglobal.net

Calling all HuffPost superfans!
Sign up for membership to become a founding member and help shape HuffPost's next chapter