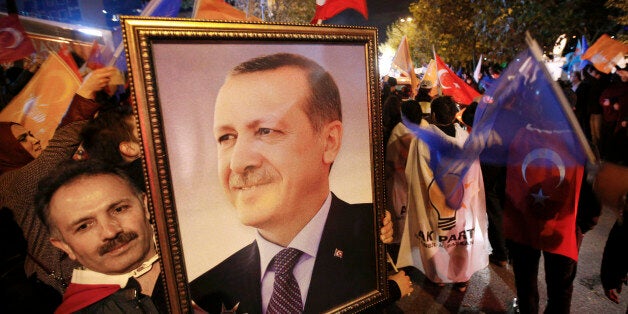 In November of 2002 I had the opportunity to observe, for a few days, the first election campaign of Recep Tayyip Erdoğan. I travelled in the bus that transported him from city to city. Wherever we would arrive it was the same scene. The whole town would be gathered at the square. Poor people, women in headscarves, huge crowds. Everywhere we would find the same passion, tears, the same overwhelming emotion. In the smallest town, Erdoğan conducted an electricity the likes of which I had not seen since the gatherings of Karamanlis in Aristotelous square in '74 or those of Andrea Papandreou in '81, at Syntagma square. Turkey, the deeply religious, poor Turkey, still hesitant and scared, was welcoming him as a liberator. The same way they had greeted Menderes, the first non-Kemal prime minister in the '50s, giving him three electoral wins -- at percentages as high as 57 percent! -- before a military coup overthrew him and led to his death by hanging.
Back in Istanbul, the progressive folks of the city, intellectuals, old leftists, old prisoners of the coups stood against Erdoğan a bit more apprehensively. Some suspected that behind his liberal-leaning profile hid an Islamist agenda that would convert their country into a conservative Sunni emirate. Some saw in his face a last chance to see the deep state be defeated and Turkey finally become a regular democratic country.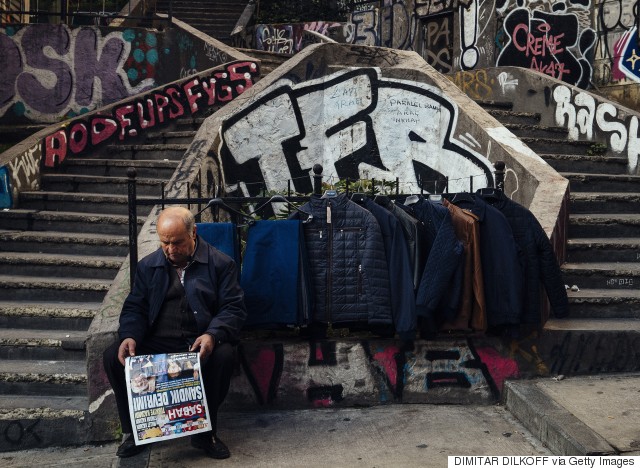 A vendor reads a newspaper in Istanbul on November 2, 2015, a day after Turkey's general election.
After his electoral win I had the chance to meet him again, at his old house, where he still lived, in a poor neighborhood, on the east coast of Karachi. I asked him:
"Are you not afraid that you may follow Menderes's fate?" He laughed, and answered me: "Menderes first became prime minister and then went to jail, while I went to jail first and then became prime minister."
In the following years, as the battle of the elected prime minister versus the deep Kemal state developed, my progressive friends got over their hesitations. Now they openly supported Erdoğan. At the 2007 elections, when he shot up from 34 percent to 47 percent support, many even voted for him. He had become a liberator for them too, who would finally shut down the generals in the barracks and end the long era of military custody and movements. "What we are living," a famous professor had told me, "is quite similar to what you lived through in Greece in 1974. We had not yet experienced such a political changeover."
What came next is well known. The scandals, the palaces in the Bosporus, the prosecution of his opponents, Taksim Square and the violent confrontation with the young protesters, the hundreds of journalists in jail, the article of the penal code that punishes whoever would insult him, the army of salaried trolls mercilessly hunting down anyone who dares to post something sacrilegious or incendiary on Facebook and sends the police knocking on their door. In the eyes of some of those who believed in him the liberator now seemed a dictator.
He got what he wanted -- power. But without the confidence or hope that once accompanied him.
This change showed itself in the elections of last June when Erdoğan, now as President of the Republic, needed a two-thirds majority for his party to be able to change the constitution and give himself all power. The voters didn't even give him a simple majority to form a government.
The elections were repeated yesterday and Erdoğan emerged victorious. But not as a liberator any more. More like a necessary evil.
"His people," a wise friend from the city explained to me yesterday, "will always be his people, that is at least 40 percent. The main opposition party, the Kemalist CHP, has a ceiling of 25 percent -- not a vote more. The rest hate it and it is itself unable to change. The Kurdish HDP managed to get back into Parliament -- and this is an achievement given the violence and terror that the country experienced during these months, but it is one of reduced power. AKP, the party of Erdoğan, won the majority because they managed to scare away a significant percentage of the votes of the nationalist MHP, the Gray Wolves, with the threat of ungovernability or because they managed to convince them that it will be equally tough on the Kurds. He got what he wanted -- power. But without the confidence or hope that once accompanied him."
And for Greece? What may this development mean?
In November of 2002, after a pre-election gathering at Gialova, we were returning to the city by boat. I had 10 minutes for a quick interview with him. I was wondering what question I should ask. I posited one that I had not until that point: "What are you going to do to solve the Cyprus problem, if elected?" I had posited the same question to prime minister Ecevit, two years prior in 2000. "There is no Cyprus problem" he had answered. "It was solved in 1974!"
I did not know what answer to expect from Erdoğan, as a candidate for the prime minister's office. I must admit that his answer surprised me. "I support a solution of the Cyprus problem, based on the Belgian model," he had said. It was the trademark of his first term, when Tayyip was the liberator of Turkey and served an agenda of peace in the Aegean, settlement of the Cyprus problem and fighting for integration into Europe. I really wonder what agenda Tayyip has for 2015, 13 years later, after yet another electoral win.
I am not too optimistic...
This post first appeared on HuffPost Greece and was translated into English.
Calling all HuffPost superfans!
Sign up for membership to become a founding member and help shape HuffPost's next chapter