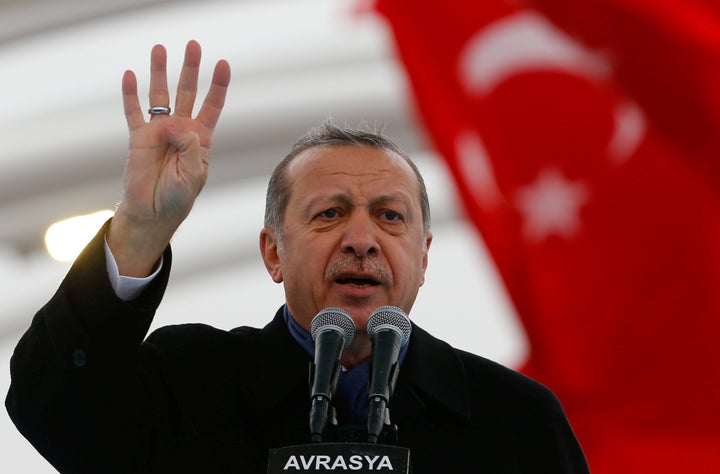 Turkey's elections this past Sunday returned the Freedom and Justice Party, or AKP, of President Recep Tayyip Erdogan to majority rule, raising speculation the president will launch a new push to pass a contentious revision of the constitution. 
Turkey's current constitution was drafted under military rule decades ago, and was designed to limit the power of civilian governments. Turkey's political parties have previously agreed on aspects of a new constitution that would prevent military coups, for instance, but are split when it comes to sticky issues like Turkish identity and citizenship.
"The opposition parties are not against the change to the constitution. The opposition parties are against the presidential system being included in that change to the constitution," Aaron Stein, non-resident fellow at the Atlantic Council, told The WorldPost.
Turkey's previous presidents have usually held largely ceremonial roles in the nation's politics, but Erdogan has sought to expand the office and has already exercised all the possible powers associated with the presidency to press his influence. 
Previous signs of Erdogan's growing authoritarianism included his switch from prime minister to president in order to get around party rules requiring him to step down, and building a sprawling presidential palace that cost hundreds of millions of dollars in public funds. 
If the AKP's proposed constitution were to pass, it would likely give Erdogan an even firmer and more expansive grip on the country's political system. 
Such a scenario worries Erdogan's many critics in the media and opposition, who fear that the new powers will allow the president to expand his power and crack down on foes even more. Journalists whose editorial stances oppose the government have been arrested and prosecuted on vague charges in recent years. Supporters of exiled cleric Fethullah Gulen, Erdogan's political rival, have also been targeted for arrest.
However, despite the AKP's surprising sweep to victory and parliamentary majority on Sunday, it still won't be easy for the party to pass the constitution it wants. The AKP won 317 seats in Sunday's election, but it requires 367 votes in parliament to pass the constitution outright.
It can also pass a new constitution with a more attainable 330 votes, but that result would require an additional national referendum for it to be fully approved.
AKP members have been lobbying hard for a new constitution in the days after their win. Turkish Prime Minister Ahmet Davutoglu issued a call for the new constitution in his victory speech, while Erdogan's chief economic adviser Yigit Bulut wrote a newspaper editorial claiming the economy would skyrocket if the AKP's plan passes.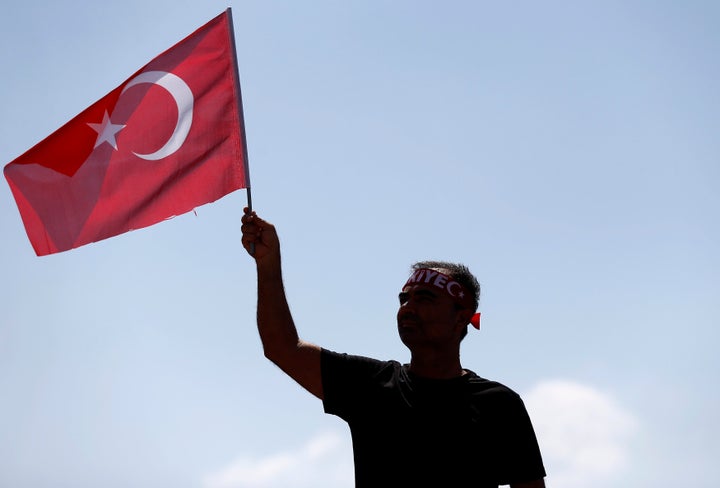 It's unclear how Turkey's populace would vote if the AKP plan makes it to a referendum. In June, voters kicked the party out of its long-held majority in part because of its ambition to create an executive presidency for Erdogan. 
The months after that election were rife with violence and political tension, as the government launched an airstrike campaign against Kurdish PKK militants, and a suspected Islamic State terror attack killed 97 people. 
After the AKP failed to form a coalition government and called snap elections, the party campaigned on the promise of a return to stability. Observers say this is the same tactic it is using to promote the idea of an executive presidency for Erdogan.
"Turkish voters had rejected the concept [of executive presidency] in June, and now the AKP is basically rolling it back out in a repackaged form using the election results as the means to do so," Stein explains.  
Whether the party will be able to win the population's support for the change remains to be seen. 
"History tells us that it will be a very heavy lift, but that they'll put everything they've got into it," Stein says. 
PHOTO GALLERY
Daily Life In Turkey
Calling all HuffPost superfans!
Sign up for membership to become a founding member and help shape HuffPost's next chapter