Turkish President Tayyip Erdogan on Wednesday said he would tell U.S. Vice President Joe Biden that Washington has "no excuse" for not handing over the Pennsylvania-based cleric blamed for last month's failed coup.
Erdogan, who is due to meet with Biden in Ankara later on Wednesday, said Turkey would continue to provide U.S. officials with documents to demand the extradition of Fethullah Gulen, who has lived in self-imposed exile in the United States since 1999.
Gulen, once an Erdogan ally, denies any involvement in the July 15 coup attempt and has condemned it. But Turkish officials say a network of Gulen supporters for years infiltrated Turkey's military and public offices to create a "parallel state".
"We will tell him that FETO's leader is in your country," Erdogan said, using an acronym for "Gulenist Terror Organisation", the name Ankara has given Gulen's network. "If a country wants a criminal in your country to be extradited, you have no rights to argue with that."
Erdogan said Turkey and Washington were strategic partners and keeping Gulen would not benefit the United States.
Biden, who arrived in Turkey on Wednesday, was guided by Turkish officials around the parliament, which was damaged during the coup attempt. He is also expected to meet with the prime minister.
Rogue troops commandeered tanks, jets and helicopters to attack state institutions in Istanbul and Ankara last month in the failed coup bid that killed 240 people and triggered a massive purge of thousands of suspected Gulen followers in Turkey's armed forces and civil service.
Washington has said it needs clear evidence to extradite Gulen. Its failure to do so - and the perception of a slow response to the coup from Western allies - has angered Erdogan and chilled relations with Washington and the European Union.
The U.S. State Department has confirmed documents submitted by Ankara constituted a formal extradition request, although not on issues related to the coup.
Hours before Biden's arrival, Turkish forces launched a major operation inside Syria to clear Islamic State militants out of the Syrian frontier town Jarablus, backed by U.S.-led coalition warplanes.
Turkey is both a NATO member and part of the U.S. coalition in the fight against Islamic State in Syria and Iraq.
But U.S.-Ankara relations have been complicated by that conflict. Washington backs the Syrian Kurdish YPG rebels against Islamic State. Ankara is worried the YPG's advance emboldens Kurdish insurgents in its mainly Kurdish southeast.
(Reporting by Ayla Jean Yackley and Ece Toksabay; writing by Patrick Markey; Editing by David Dolan)
Related
Before You Go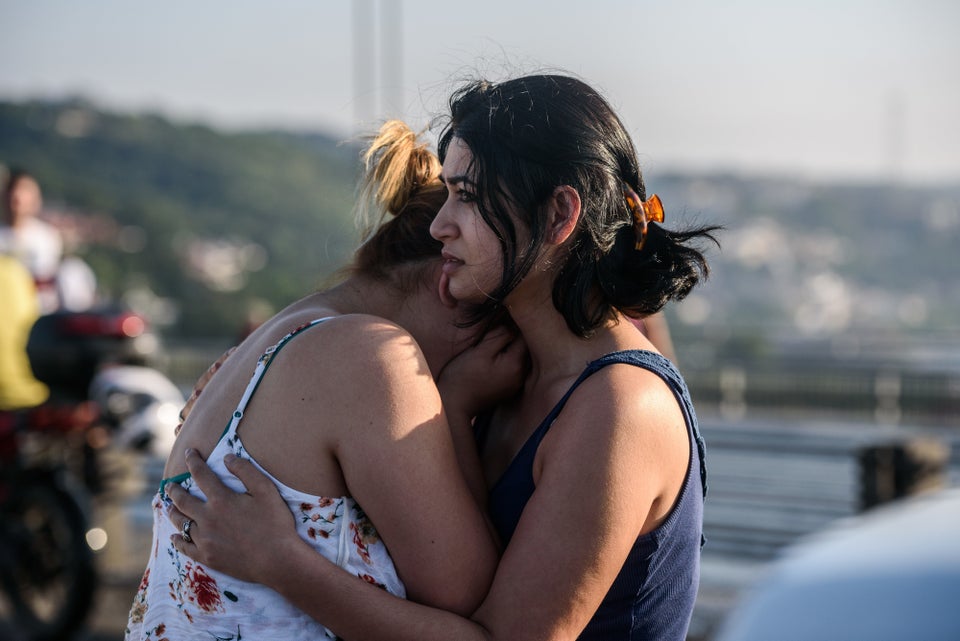 People Take To the Streets In Turkey
Popular in the Community