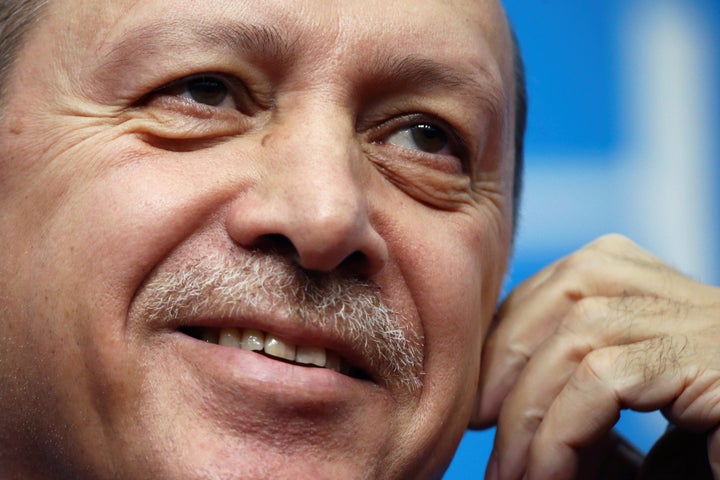 WASHINGTON ― Turkey's president attracted fresh international outrage on Monday after prominent Turkish reporter Mahir Zeynalov revealed that a court had ordered Twitter to ban his tweets within Turkey.
And within hours, Zeynalov said his Twitter handle was trending in Toronto, London, New York, San Francisco and Washington.
The controversy began to settle down later on Monday after a Motherboard story suggested that Twitter would not comply with the court's judgment ― though Zeynalov said he remained worried.
The conversation on Twitter and in the news media reflects how intimidated dissenters feel in the face of the Turkish government's actions since the failed coup in July and how wary the international community is of Erdogan's rule. The most telling aspect, however, was that one perspective was conspicuously absent: There was no clear response to the controversy from the Turkish authorities. Erdogan didn't attempt to defend the decision, which his government had sought. He didn't seem to care about the backlash.
Disregard for international uproar has long been one of Erdogan's defining characteristics. Between Turkey's power as a major economy and its key role in current crises in Europe and the Middle East, he has had the leverage to get his way regardless of how pearl-clutching outside observers feel. But since the coup attempt, Erdogan has begun signaling that he cares less than ever about the views of the rest of the world. 
The Turkish leader made this new confidence clear in a largely overlooked move days before the Zeynalov incident, during his visit to New York for the United Nations General Assembly.
On Friday morning, Erdogan was expected at an event in New York City that was billed as a definitive discussion on the failed coup.
As his first chance to give an American audience his view, it seemed a prime opportunity for him to win sympathy and to substantiate why the Obama administration should immediately repatriate Fethullah Gulen, the U.S.-based cleric the Turkish government blames for the plot ― something the United States says it is not yet prepared to do. And unlike his U.N. address earlier in the week, this speech could be focused entirely on Turkey's complicated internal politics.
So reporters, academics and observers of the U.S.-Turkey relationship gathered at the ritzy Harvard Club early that day, to have enough time to navigate Erdogan's notorious security protocol.
Then they learned that the president had already flown back to Turkey.
His substitute was Turkish Foreign Minister Mevlut Cavusoglu, a relatively minor figure whose last big moment in international news came when he misinterpreted a New York Times article following the failed coup.
The sudden change surprised many attendees. On its surface, it immediately reduced the importance of the entire event. But the bait and switch actually gave Turkey-watchers an important message: Here is the kind of approach that Erdogan will now follow in his relationships with the outside world. 
Already wary of the international community, and the West in particular, the Turkish leader has now rallied so much local support that he is betting he has even greater leeway to disregard global opinion.
Cavusoglu cheered this new reality, saying he saw an unprecedented level of unity in Turkey following the failed putsch. Attendees at the Friday gathering and at a Thursday event featuring the Turkish president's wife, Emine Erdogan, told The Huffington Post they now see defending the president as continuous with defending their country, a frequent victim of coups, rather than with supporting his party, an Islamist movement that has never received even 50 percent of the Turkish popular vote.
It's striking that this is the government's strategy at a time when it seems to be trying to persuade the world to help it target Gulen and his followers and ignore Erdogan's growing domestic repression.
But it's becoming increasingly clear that the carefully curated government materials about the dangers of Gulen are for the Turkish people at home and abroad, rather than hard-to-convince foreigners. Many Turkish citizens feel that outsiders cannot and do not want to understand their political reality. They point to examples of Western media coverage that encouraged the coup because of the broad sense in the West that Erdogan has become an undesirable leader ― a narrative that ignores how the attempted overthrow of the elected government horrified millions of Turkish people, including government critics. This helps explain why Erdogan can flippantly cancel a key U.S. event. It's not the American media or commentariat that he wants to appeal to; it's his and Turkey's base. 
Attendees close to the Turkish government were previously aware that Erdogan would ditch the expectant crowd on Friday and leave New York City on Thursday night, two of them told HuffPost. Turkish diplomats informed one source of this two days earlier, they said.
(The Turkish Embassy in Washington did not respond to multiple requests for comment. Cemil Ozyurt, a Turkish journalist involved in organizing the event, said the president had changed his program Thursday night and informed the organizers Friday morning. Asked about embassy officials informing others about the change on Wednesday, Ozyurt responded, "If I had known that, what would have been a reason not to tell you? I did not know that.")
Turkey's turn appears fine by the U.S., so long as Erdogan continues to cooperate on the Syrian civil war and the self-styled Islamic State. U.S. officials say they now treat the Turkish government with kid gloves, hoping not to spark a row and to enable President Barack Obama and Secretary of State John Kerry to achieve the resolutions they're looking for on Syria. To respond to lingering anxieties in Turkey about alleged American support for the attempted coup, the administration has even sent a team to Turkey to help analyze potential evidence of Gulen's role.
This leave-well-enough-alone attitude risks putting off conversations about tough issues that could decide Turkey's future stability, such as how the state will function with thousands of officials purged and what authoritarian impulses Erdogan might follow next. Turkey has unleashed a fierce crackdown on the Kurdish community in recent months ― a bid to thwart a militant insurgency. Kurdish activists warn that the government brutality they have experienced may soon become commonplace around the country because of the environment of intense nationalism, suspicion and anger that Erdogan is helping foment.
Some outsiders still mention such issues. Linda Robertson, a Kent State University professor, asked the foreign minister about her friends in academia who had been fired during the Friday event.
But Erdogan's government has already mapped out a narrative for responding to these concerns: The minister swiftly tied the question back to the popular Turkish idea that foreigners are not fully appreciating the trauma of the coup and may even have endorsed it. The country can't afford another such crisis, Cavusoglu told Robertson, so anyone remotely suspicious must be removed from a position of power. Human rights advocates should simply have faith that the system will recognize who is a real threat and who isn't.
It was an example of the cycle that Erdogan's government is helping create, which seems set to justify all manner of government excess in the eyes of most of the Turkish public.
Meanwhile, the alarms grow louder abroad. Hours after the event concluded, with Erdogan safely back home, the credit ratings agency Moody's took the unprecedented step of downgrading Turkey's sovereign credit to the status of "junk."
The president had already made his views clear. He told Bloomberg that he would see any such moves as a political action against his country. After Moody's announced the news, his followers promptly joined the chorus.
If even the arbiters of global finance can't penetrate Erdogan-world, complaints on Twitter stand almost no chance.
This story was updated following the news that Turkish reporter Mahir Zeynalov's tweets had been banned in Turkey.
Sign up for the HuffPost Must Reads newsletter. Each Sunday, we will bring you the best original reporting, longform writing and breaking news from The Huffington Post and around the web, plus behind-the-scenes looks at how it's all made. Click here to sign up!
REAL LIFE. REAL NEWS. REAL VOICES.
Help us tell more of the stories that matter from voices that too often remain unheard.
BEFORE YOU GO
PHOTO GALLERY
Aftermath Of Turkey's Attempted Coup