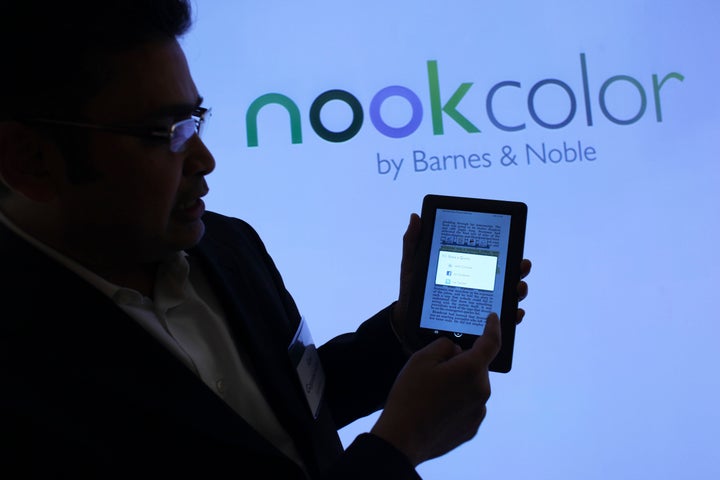 The ereader's days are numbered.
Though 6 million ereaders were sold in 2010, experts predict it is all downhill from here for these devices, which will be edged out by the growing number of increasingly affordable tablets on the market.
By 2015, twice as many people will own tablets as do ereaders. By the end of 2012, the number of people owning tablets will overtake the number of those owning ereaders, according to research by Forrester, a tech research company.
As the demise of the Flip camera suggests, consumers are increasingly trading single-purpose devices for multifunction gadgets. Especially as the price of tablet computers continues to fall, experts predict users will drop ereaders for tablet PCs that offer web-browsing and video capabilities alongside ebooks. Even Amazon, which helped make ereaders and ebooks mainstream, appears to recognize the ereader's impending demise and is rumored to be developing its own tablet device. The Barnes and Noble Nook Color has already been modified to run Android's Froyo software, taking it into tablet territory.
"We think there'll continue to be a niche for purpose-built ereaders but that niche is getting smaller and smaller as it gets less and less expensive to buy a multifunctional device," said Susan Kevorkian, a research director at IDC, a tech research firm.
While ereaders offer such advantages as long battery life, light weight, and a wallet-friendly price-tag, their utility is limited: They are built primarily to let you read. By comparison, tablets are far more powerful machines that not only offer the Kindle and Nook experience through apps, but include a wide range of other features within a similarly portable device.
Already, the iPad is cutting into the ereader market at a rapid pace. While 47 percent of ereader owners in a November 2010 ChangeWave survey were Kindle owners, the number represents a rapid plunge from August, when 62 percent were. In the meantime, the iPad saw its share increase from 16 percent to 32 percent in the same period.
"It's between [ereaders] and tablet PCs, led by the advancing charge of the iPad. It's a fight that ereaders will not win," said a report from Forrester. "The reason is simple: Tablet PCs like the iPad are a new computing form factor -- a portable, comfortable, personal media and information device with the power to run whatever app developers can and will throw at it."
Though the iPad is on the expensive end of the tablet market, tablets on the whole are getting cheaper. For some consumers, the Nook Color and the rumored Amazon tablet will represent the mid-range of the tablet market -- not quite the tricked-out tech bonanza of the iPad, but enough to get the job done. The Nook Color is priced at $249, drastically cheaper than a high-end tablet. The cheapest iPad 2 available sells for $499.
"Clearly an Amazon [tablet] and the Nook are an example of moving towards a mid-range tablet," said Shannon Denton, an analyst with Razorfish, a digital consulting firm. "iPad is the Mercedes of tablets and there'll certainly be consumers that want the high-end, but there's space for the mid-range."
Of course, for Amazon and Barnes and Noble, it's not just about the device. Both companies are heavily invested in ensuring that they sell ebooks, not just ereaders. And Amazon has a direct channel to consumers looking to buy books that even Apple can't match.
"Amazon is fundamentally a content provider," said Kevorkian. "They're approaching their app and device strategy accordingly to make their content as widely available as they can."
Fifty percent of people who purchased an ebook in the past month bought it at Amazon's Kindle store. Ebook sales, under $1 billion in 2010, are projected to more than double by 2015 to $2.8 billion, according to Forrester. As a destination to purchase books, Amazon's brand is made.
Literary content, however, is no longer just a matter of words on a (digital) page. Though Kindle devotees will tell you they love the paperlike display of the screen, which, unlike a backlit LCD screen, doesn't have glare issues in direct sunlight, all the Kindle provides is text, font size control, and a way to turn the page. Basically, it replicates the experience of the paper-bound book. But it's not just about the book versus the screen anymore: It's about reconsidering what it means to read.
"More and more, reading is taking on a bigger definition," said Allen Weiner, a VP of research at Gartner, a technology research firm. "It's expanding in terms of content-- not just books, but newspapers and magazines. It implies the need for color, graphics, other forms of media."
A new breed of digital book, designed to make reading on a computer take advantage of the computer's capabilities, has changed the way we will think about reading. Push Pop Press, a startup creating interactive digital books, incorporates video and audio into the text, as well as a wide array of playful infographics. One feature on its debut app for Al Gore's Our Choice even lets the reader blow into the iPad's accelerometer to demonstrate windpower on an animated wind turbine, whose blades turn with each breath.
The fate of the ereader comes down to whether consumers deciding on their next device will prefer to opt for the simplicity of a gadget dedicated just to reading -- a boon to those who want to eliminate distractions -- or if they'll opt to buy a multifunctional tablet that can not only supply the computerlike abilities of its compatriots, but maybe even allow new reading experiences.
"I have an 8-track recorder. It still works, if i can get blank 8-tracks it will still record" said Weiner. "It doesn't serve any meaningful purpose, but it still works."