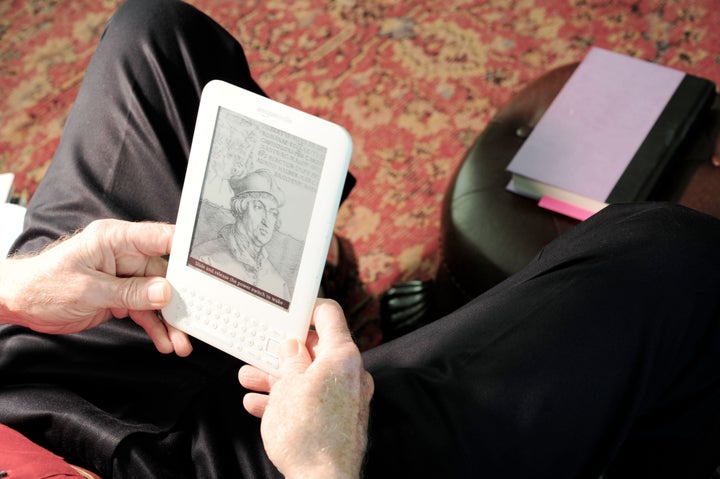 Jocelyn Kelley loves the heft of a book in her hands and the physical act of turning pages. "Flipping the pages of a book can transport me anywhere."
In the very next breath, however, Kelley—a book publicist with Kelley & Hall Book Publicity—admits that she also reads on a Kindle and an iPad, and that e-books have distinct advantages, too.
"The immediacy of being able to look at a book, read the description, and in mere moments be reading the first chapter is very attractive," says Kelley. She doesn't see the trend toward digital books stopping any time soon, if only because of the number of people who "like the ease and comfort of carrying multiple books in one device."
The national media loves to buzz, ping and tweet about how e-readers are revolutionizing the way the world reads, brazenly sounding the death knell for books in print--and, while they're at it, book stores and traditional publishers, too. Yet statistics show that the physical book is still very much in demand—and isn't going away any time soon.
Margot Sage-El, owner of Montclair Booksellers in Montclair, NJ, noticed a welcome trend this summer that is still going strong. "We sell ebooks as a service to our customers, but we've had a lot of people lately voicing frustration over not being able to finish ebooks. Part of the issue was being tired of looking at a screen all day long and, as a result, many of our customers seem to have re-discovered the art form of the printed book. As a bookstore, we are feeling more confident that we can live beside the ereaders. It seems that there are still many, many people who value not only a "real" book, but also a real solid book store, with deep backlists and personal recommendations (as opposed to algorhyths!).
Sue Little of Jabberwocky in Newburyport, Massachusetts, one of New England's longest-running indie bookstores agrees. "People who love books are feeling fiercely protective of their books and booksellers." Her customers travel from farther away than ever, she adds, because they're seeking that unique bookseller's experience. "It's like people wanting to pay farmer's market prices not only because they want fresh produce, but because they want to keep local farmers in business. They see value in bookstores."
On the other hand, Little has jumped into the e-reader market with both feet to stay afloat. Customers can now download e-books at her store or through her web site via a new IndieBound app. "If we can replace physical sales with sales of downloads, we'll be fine," she says.
"Many people think the e-book will bring about the death of the old-fashioned print book, but I don't believe it's a zero-sum game," says Susan Straight, whose most recent novel, "Take One Candle Light a Room," was named a Best Book of 2010 by The Washington Post, The Los Angeles Times, and Kirkus. "Certain readers, who have the funds for an e-reader and read a lot, will probably convert to e-readers and always prefer them. But many readers will still love both forms. They'll read certain kinds of books on their e-readers, and other books they'll buy in hardcover or paperback because they love the author or want to share the book with a mother or sister or neighbor."
Award-winning playwright and novelist Christopher Meeks, whose latest indie book is "Love at Absolute Zero," agrees with Straight. "I read a quote from an e-book publisher saying that once people fall in love with e-books, they'll never go back, and that's not true," he says. "That would be like saying newspapers obviated the need for magazines or TV stopped people from reading."
Statistics support the idea that consumers will want books in both physical and digital forms for a long time to come. A January 2012 report by the Pew Internet and American Life Project found that the number of Americans owning tablets and e-readers nearly doubled over the holidays, jumping in both cases from 10% to 19%. That math translates into about 1 in 3 Americans now owning one of those devices, according to the Pew study. However, another report released in January, Verso Digital's "2011 Survey of Book-Buying Behavior," indicates that half of all readers don't intend to buy an e-reader, and even those who do have e-readers are continuing to buy both print and digital books.
"The honest truth is that, since I bought my e-reader a year ago, I'm addicted to the instant gratification of hearing about something, downloading a sample—free! How genius is that!--and buying it if I like it," says Toby Neal, author of the "Blood Orchid," the first in her Lei Crime Series. For her, having an e-reader is also a practical decision: where she lives in Hawaii, "there's now only one bookstore on my island, and it's an hour away."
Still, as an indie author, Neal feels it's important to release all of the books in her Lei Crime Series as physical books as well as e-books, and she has been gratified, if a little surprised, to discover that the first novel has sold equal numbers in both formats. "For all of the hype about e-books, a beautiful real book still makes a great gift and has a greater sense of permanency," she says.
Nobody agrees with that sentiment more than Christopher Obert, author and owner of Pear Tree Publishing, an independent press in Massachusetts that so far has published only physical books. Yet he, too, is intrigued by the new opportunity to publish in another format. "I like the idea of e-books for travel and research," he says. "Having dozens of books at your fingertips, in a small space, can be a great benefit at times." He is currently in talks with a company that may convert all of Pear Tree's books to e-books.
What do readers say? When Barbie Larimore, founder of the book club web site BookBundlz, recently polled her members, she found that most believe e-books aren't a short-term trend, either.
"Most of our members think that e-readers will increase in popularity due to the convenience, easy technology and lower prices, especially if it becomes easy to borrow and share books on e-readers," she says. "There won't be any e-book fatigue"
Still, she adds, a majority of BookBundlz members said that they still need, and take joy in, reading printed books. "You might say that it's more like parallel universes rather than one over the other right now. Our book clubs remain great mixtures of physical book readers and e-book readers, and they are happy to have the choice between the two. So am I. E-readers widen the opportunities we have for getting great books out there and sharing them."
Many authors, both indie and traditional, feel the same way—"especially when there are opportunities to breathe new life into older work and building up their audience base through digital books," says Kelley.
Maddie Dawson, author of the bestselling novel "The Stuff that Never Happens," is convinced that she reaches many more readers through e-books. "E-books are great for authors, because they make it possible for readers to learn about your book online, then cruise right over to one of the online sites, and PRESTO, click the button, buy the book, and start reading it at that very moment without thinking twice. I think we all used to lose a lot of potential readers who might intend to go find our books in a store, or send for it, but then didn't quite get around to it."
Ironically, Dawson doesn't own an e-reader and can't imagine wanting to read a book that way. "I'm very much a cover-and-pages kind of gal. So I hope the two can coexist somehow."
Straight sees no problem with this. "It's like loving my flat-coated retriever, who requires constant tennis-ball throwing and walks, and also loving my neighbor's dog, who lies unmoving in the sun all day and moves only her eyes to greet me," she muses. "Not a zero sum game."
Calling all HuffPost superfans!
Sign up for membership to become a founding member and help shape HuffPost's next chapter
BEFORE YOU GO