Books are moving to a screen near you, says new data released today by Pew Internet Project.
According to Pew, for the month of May 2011, e-reader ownership grew to 12 percent, up from six percent six months ago.
Tablet ownership grew from five percent to eight percent in the same period.
Pew found interesting overlap among those who own both a dedicated e-reading device and a multi-function tablet. Three percent of US adults own both.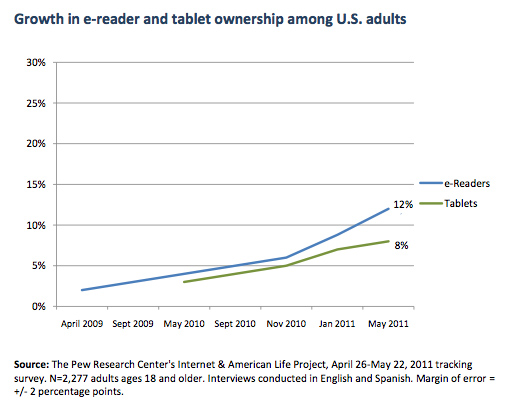 While at first glance three percent may seem insignificant, it means 25 percent of dedicated e-reading device owners also own a tablet.
Five percent of consumers own a tablet but not a dedicated e-reader. This means 37.5 percent of tablet owners also own an e-reader.
The report doesn't break out market share for the leading e-reading device makers Amazon, Barnes & Noble, Sony, Kobo, or for tablet makers Apple, Samsung and Motorola.
Although not discussed in the Pew report, the lines of distinction between tablets and e-readers will blur over the next six months as e-reading devices adopt more multi-function features.
I predict it's only a matter of time before one of the major e-reading device makers offers consumers a free e-reading device tied to a low-cost monthly subscription plan. Such a service would further accelerate the growth of dedicated e-reading devices. Would you pay $9.95 per month for a free e-reading device?
Popular in the Community