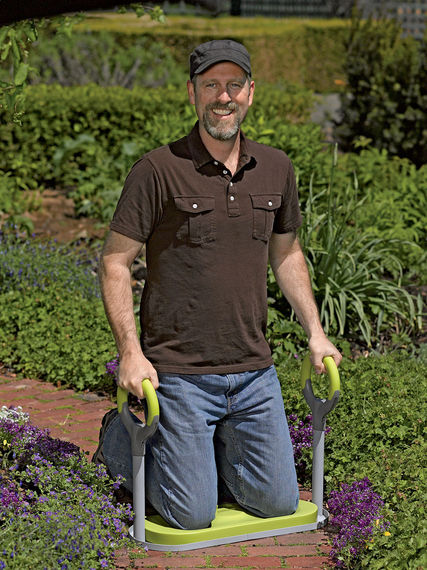 Dear Savvy Senior,
Can you recommend some good ergonomic gardening gear for seniors? My 72-year-old mother loves to work in the garden, but has been plagued by various gardening injuries this year.
Dear Looking,
There's no doubt that gardening can be tough on an aging body. Garden work often requires a lot of repetitive stooping, squatting, kneeling, gripping and lifting, which can lead to back and knee pain, carpal tunnel syndrome and various other injuries.

To help make your mom's gardening chores a little easer is a slew of new and improved gardening gear that's lightweight, comfortable to use, and ergonomically designed to help protect her body from the physical strains of gardening. Here are several that can help.
Gloves: There are a number of specially designed gloves that can improve your mom's grip and protect her hands while she works. Two of the best are the Atlas Nitrile Touch Garden Gloves ($6), which are coated with a flexible synthetic rubber. And the ReliefGrip Gardening gloves ($35), that have extra padding in the palm and finger joints that can improve grip, and cause fewer calluses and blisters.
Digging Tools: There are ergonomic tools that can help protect your mom's wrists by reducing the bending and twisting wrist movement that often comes with digging and weeding.
Some good options include Radius Garden tools, which make a variety of curved-handle hand tools (scooper, weeder, transplanter, cultivator and trowel) and shovels that run between $10 and $50. And Corona tools, which makes the ComfortGEL and eGrip hand garden tools.
Another excellent product is the "Cobrahead Weeder and Cultivator," an all-purpose digging and weeding tool that's available in a short handle version for close up work for $25; and a long handle for standing work for $60.
Knee and Back Aids: Kneepads and garden seats can also protect your mom's knees and save her back when working close to the ground. Some popular products sold today through the Gardener's Supply Company - a leading developer and manufacturer of innovative garden equipment - are the "GardenEase Kneeler" ($70), which is a kneeling pad with support handles; the "Garden Kneeler" ($35) that's a kneepad/garden bench combo; and the "Deluxe Tractor Scoot with Bucket Basket," which is a height-adjustable, swivel garden seat on wheels ($90).
Pruning Tools: Fiskars makes some of the finest ergonomic pruning tools that have also earned the Arthritis Foundation's Ease of Use Commendation, because of their patented PowerGear mechanisms that increases leverage to make cutting three times easier than traditional pruners. The Fiskars PowerGear Hand Pruners, Loppers and Hedge Shears all run between $25 and $48.
Watering: To help make your mom's watering chores a little easier, there are lightweight garden hoses; soaker or drip hoses that can be snaked throughout the garden; and hose chests that can automatically rewind themselves.
Some good companies that make these products include Water Right Inc., which makes a variety of super lightweight garden and coil hoses. The DIG Corp., which makes convenient drip irrigation kits and micro sprinkler kits. And Suncast, the leading maker of self-winding hose reels, and hose carts.
Container Gardening: Raised garden beds, trellises, and container gardening is also an easier way to grow plants and flowers because it brings the garden to you, eliminating most stooping, squatting and kneeling. The Gardener's Supply Company offers a wide range of raised beds and garden containers at prices ranging anywhere between $10 up to $350.
Send your senior questions to: Savvy Senior, P.O. Box 5443, Norman, OK 73070, or visit SavvySenior.org. Jim Miller is a contributor to the NBC Today show and author of "The Savvy Senior" book.
Popular in the Community