Brooklyn Borough President Eric Adams has clinched the Democratic nomination for New York City mayor, according to The Associated Press. Given the city's Democratic tilt, the primary win all but assures him the reins of the nation's largest city.
"While there are still some very small amounts of votes to be counted, the results are clear: a historic, diverse, five-borough coalition led by working-class New Yorkers has led us to victory in the Democratic primary for Mayor of New York City," Adams said in a statement on Tuesday evening. "Now we must focus on winning in November so that we can deliver on the promise of this great city for those who are struggling, who are underserved, and who are committed to a safe, fair, affordable future for all New Yorkers."
The AP recognizing Adams's victory follows the New York City Board of Election releasing a highly anticipated batch of election results.
The results, which reflected previously uncounted absentee ballots, showed Adams maintaining his lead in a heated contest that came to a close two weeks ago and was briefly sullied by a massive vote-counting error.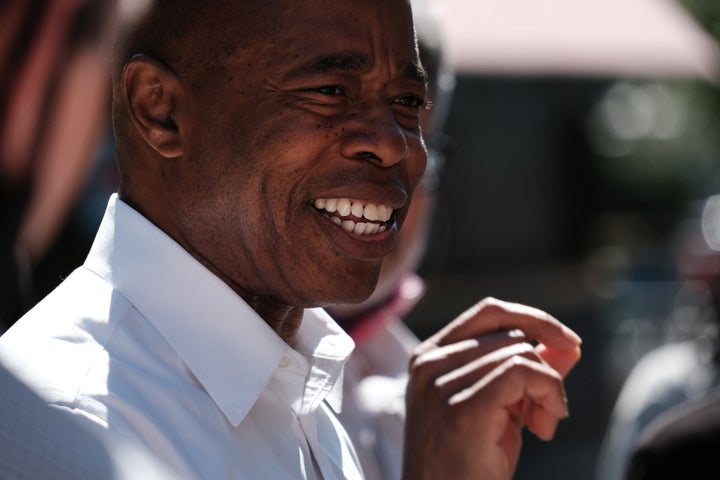 Adams would be the city's second Black mayor. The city's first Black mayor, David Dinkins, served from 1990 to 1993.
Adams led former sanitation commissioner Kathryn Garcia 50.5% to 49.5% ― a margin of 8,426 votes ― after eight rounds of elimination.
The NYC Board of Elections has identified 942 absentee voters who are still eligible to "cure" ― or correct ― minor technical errors in their mail-in ballots that would otherwise be disqualifying. Those voters have an opportunity to resubmit their ballots by July 14.
There is also an indeterminate number of affidavit ballots submitted by voters with disputed registration status.
Even if all of those ballots go toward Garcia, Adams will still prevail.
Adams is due to face Republican nominee Curtis Sliwa in a general election where the Democrat is heavily favored to win.
In the end, the ranked-choice voting system's multiple rounds of elimination ― conducted first with in-person votes, then with absentee ballots ― confirmed the outcome that was most likely when polls closed on June 22.
That night, Adams held a sizable lead in first-choice, in-person votes, putting him ahead of civil rights attorney Maya Wiley and Garcia, in that order.
Preliminary results released last Wednesday, which did not account for absentee ballots, showed Garcia jumping into second place and narrowing Adams' lead.
Garcia appears to have benefited from a last-minute alliance with former presidential candidate Andrew Yang, in which Yang advised his supporters to rank Garcia second. She picked up more of Yang's votes than Adams or Wiley after Yang was eliminated in the seventh round.
Garcia also picked up far more of Wiley's votes than did Adams after she was eliminated in the eighth and final round. But Adams won enough of Yang's and Wiley's voters to hold on to his lead against Garcia. Nearly 140,000 voters chose not to rank either of the final two candidates.
The city Board of Elections is expected to certify the result by next Tuesday, though additional court battles may be in the offing.
Following the NYC Board of Elections' release of incorrect results on June 29, all three major candidates filed lawsuits that enabled them to request judicial review of the board's actions or challenge other aspects of the results.
The NYC Board of Elections, a hub of patronage jobs perennially marred by scandal, initially included test ballots in its official tallies.
Speaking at the women's rights pioneers monument in Central Park on Wednesday morning, Garcia congratulated Adams on his primary win. She marveled at how far she had come without political experience and lamented that the city would not have its first woman mayor.
"I will continue to show up, as I always have, to serve New Yorkers in my next chapter," she said.
On Tuesday evening, Wiley lambasted the NYC Board of Elections, which she said in a statement "must be completely remade following what can only be described as a debacle."
Wiley formally congratulated Adams on his victory on Wednesday during a news conference held outside a hotel on Manhattan's Upper West Side that served as an emergency shelter for homeless people during the pandemic. She chose the location to highlight her campaign's message of building a more compassionate and equitable city.
"This is only the second time a Black New Yorker has been elected mayor of this city ― and that has tremendous meaning for so many New Yorkers," said Wiley, who is also Black.
Without explicitly revealing her plans to withdraw, Wiley thanked her supporters and promised that the campaign would "have more to say about the next steps shortly."
Adams, a former state senator and retired police captain, campaigned as a moderate equipped to restore public safety in a city where shootings have increased tremendously since 2019. He is a vocal opponent of calls to "defund the police" and has promised, among other things, to reconstitute the New York Police Department's plainclothes anti-crime unit.
Adams also ran on a host of mainstream policies that reflect both his liberal values and unique personal views. He wants to remove regulatory obstacles to building more housing stock in wealthy neighborhoods, provide an expanded tax credit to low- and middle-income families, and introduce more meditation and mindfulness programs in city schools.
But more than any one policy, his biggest selling point was his claim to be the "people's candidate." The son of a single mother who made it to the middle class thanks to a school busing program and an NYPD badge, his experiences embodied the hopes of many of his constituents.
He promised to be a "blue-collar mayor." And indeed, his core support was in the predominantly Black and Latino working-class neighborhoods in central Brooklyn, southeast Queens and the South Bronx.
Adams sometimes preyed on the resentment of older, less economically privileged New Yorkers toward the largely white cohort of young gentrifiers who have arrived in the past two decades.
Speaking at a Martin Luther King Day event in Harlem in January 2020, Adams told those newcomers to "go back to Iowa, you go back to Ohio."
He also prompted criticism from across the ideological spectrum for suggesting that Garcia and Yang's decision to campaign together was racist.
But at his election night party on June 22, amid the raucous cheering, he made sure to sound a conciliatory note, promising to be a mayor for all of his constituents.
"I am going to be your mayor. And I want you to believe again," he said at the conclusion of his 40-minute speech. "Let's bring our city back!"
Popular in the Community