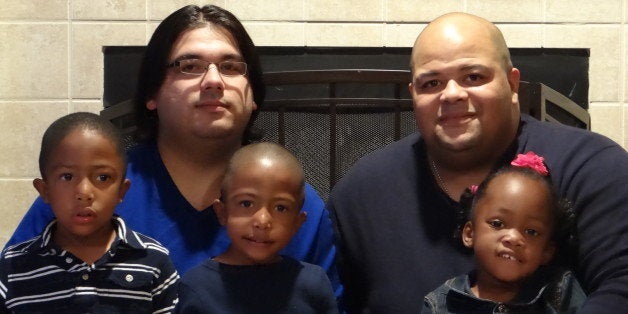 Huffington Post Gay Voices and RaiseAChild.US are collaborating in an 10-part "Let Love Define Family" series for November's National Adoption Month. Each series installment will introduce you to another aspect of fostering and adoption. Together we will meet foster youth, hear from culturally competent foster and adoption agency leaders, chat with cast members from the ABC Family television series "The Fosters," and celebrate LGBT parents and the successful and healthy families they create across the United States. -- Corinne Lightweaver, RaiseAChild.US
Eric Charles-Gallo, 37, and Louis Gallo, 32, of Kansas City, Missouri have adopted three kids and fostered 20 children. Louis runs his family's business and Eric's experience with fost-adopt led him to work as a professional in the foster adoption field. RaiseAChild.US spoke with Eric about the couple's evolving journey as foster and adoptive parents.
How did you and your husband meet?
Eric: It sounds funny that we met at a bar, but it's not as typical as you may think. Louis and I were introduced by a mutual friend at my best friend's bachelorette party. I was so over the dating thing at the time, but the very moment I met him, I knew. I know that sounds clichéd, but if you know me you would know that love at first sight is not something I believed in. We moved in together very quickly and now seven years later, here we are. He made me a believer.

How has your extended family embraced your nuclear one?
Our family is fantastic. Louis' family embraced me immediately and has always been a huge supporter of us as a couple, so when we told them that we wanted to grow our family they were elated. They have been part of the process since we started fostering. Louis' mom jokes that when he first told her he was gay, the thing that upset her the most was that she would never have grandkids from him and being Italian that was a big deal! Now we have more kids than his brother and sister combined. He jokes with his mother all the time with her to be careful what she wishes for.
My mom and dad are awesome. They too took to Louis immediately and have also been part of the process of us building our family as well. As a matter of a fact, my mom moved in with us for a year to be a live-in grandma. She said that living in Chicago she would miss too much of the kids early years and she couldn't imagine not watching these amazing little people grow. Now she is a "dual citizen" of Kansas City/Liberty, Missouri, where we live, and Chicago. She stays with our other kids when we have to go to California for our son Giovanni's heart surgeries.

Tell us about your children and your adoption experience.
We have adopted three fantastic little people: Dane and Giovanni, our 4-year-old twins, and Ava, our 3-year-old daughter. They are, honestly, the reason we do all we do. They all have huge personalities. It is awesome watching them grow into amazing little people. Dane is one of the most loving people I have ever met. He is always concerned about other people's well being, he is kind and caring, everything we could ask for in a son. Giovanni was born with a genetic heart condition that has required three open-heart surgeries. He is a trooper, one of the strongest little people I have ever met, and on top of that he is such a loving little boy who loves being with his siblings. Ava is our little princess. She has the funniest personality. She is a comedian and loves to make everyone laugh. Ava loves all things pink and is very aware of fashion—yes, we are in a lot of trouble!
When we started this process, we never realized how much we were going to love being Daddy (Louis) and Papa (Eric). We only wanted two kids. That was our plan. When these little people came to live with us as foster kids in December of 2010, we fell in love the moment we met them. They were only our second placement. We had two other foster kids at the time so it was a stretch for us to take on three more, but something told us to take the chance. As new foster parents, we had five kiddos under the age of four. Our families thought we were crazy, but we knew in our hearts we were doing the right thing. Christmas that year was awesome—I will never forget it. Later in 2011, we helped transition our first two foster kids back to their parents. Ultimately, we adopted our three kids on National Adoption Day 2011. It was the most amazing day of our lives. We both cried like babies, surrounded by our moms, dads, family, and close friends.
Inspired by our experience, we decided in that moment to continue to help as many of Missouri's abused and neglected kids as we could. In the past almost four years, we have fostered 20 kids, and helped transition them back to their families or into loving adoptive placements. We will probably not adopt again unless it is meant to be.

What do you love most about your family?
We love it all. We truly enjoy being parents. We love that our kids are so open to having other kiddos come in and out of our house and are so willing to share all they have to make them feel comfortable. Even at such a young age they get it. It's important to us that our kids learn what it means to give back. We love that our family includes people not only related by blood, and that we have such close friends with whom we get to spend lots of time. We love spending time together as a family, whether that's going to the park, the lake, or just having Friday night dance party in our living room. It has been an amazing ride and we couldn't imagine our family being any other way!

Tell us your thoughts on the importance of adoption and how accessible it is for same-sex families.
Fostering and adoption are extremely important, so important to me that I left my job of ten years in corporate America to come to work for Midwest Foster Care and Adoption Agency (MFCAA) in Kansas City, Missouri. There are over 16,000 kids in Jackson County alone who need loving and nurturing families who can care for them when their parents can't. If it's not possible for mom and dad to care for them, they need forever families to make the commitment to adopt them. Many same-sex couples don't realize that they can foster and adopt in Missouri. That is why when Lori Ross, the president and CEO of MFCAA and my boss approached me about her idea to partner with RaiseAChild.US, I was super excited and immediately got to work. We truly believe that having more gay and lesbian families will add real value to the foster-adoptive community in the state.

Tell us about your partnership with RaiseAChild.US and what hopes you have for new applicants working with your organization.
The partnership with RaiseAChild.US is a huge opportunity for us to bring further awareness to our mission at MFCAA, invite more people to get to know us as an agency, and provide support for more LGBTQ families in our state. As the Director of Training and LGBTQ Affairs for MFCAA, I work with LGBTQ families and organizations to bring awareness to the community about the foster care system and adoption. We aim to recruit and retain LGBTQ families by providing continued support and advocacy. We want our families to know they have our support in any way we can help.
We also aid child placement agencies in finding open and affirming homes for LGBTQ youth who have come into the care and custody of the children's division. I personally believe that we as an LGBTQ community have a duty to support our kids and, if we can, provide that loving support and understanding as they make their journey into adulthood by being their parents when it's a good match.
I truly hope that the new families that join MFCAA will have the experience that Louis and I have and will be able to not only grow their families through adoption, but continue to foster even beyond, because we have given them the tools and support they need to provide loving stable homes to some of our most vulnerable citizens.

Corinne Lightweaver is the Special Projects Manager / Community Advocate for RaiseAChild.US, a nonprofit organization that believes all children deserve a safe, loving and permanent home. We educate and encourage the LGBT community to build families through fostering and adoption to answer the needs of the 400,000 children in our nation's foster care system. RaiseAChild works with foster and adoption agencies that have received training in LGBT cultural competence through the Human Right's Campaign Foundation's "All Children – All Families" initiative [link: http://www.hrc.org/resources/entry/all-children-all-families-about-the-initiative] and received its Seal of Recognition. RaiseAChild's National Adoption Month campaign includes special events for prospective parents in Chicago (November 18), Los Angeles (November 20), Kansas City (November 21), New York City (December 3), and San Francisco (December 5). To RSVP, visit www.raiseachild.us or email info@raiseachild.us.
REAL LIFE. REAL NEWS. REAL VOICES.
Help us tell more of the stories that matter from voices that too often remain unheard.
BEFORE YOU GO
PHOTO GALLERY
Eric and Louis