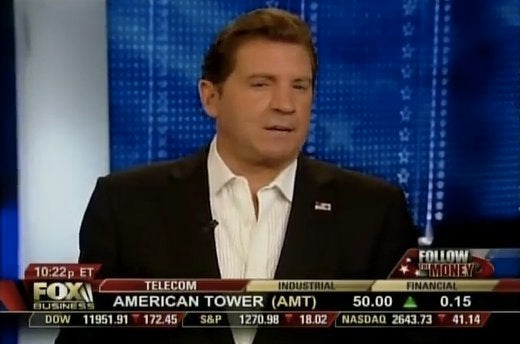 UPDATE: On his Monday show, Fox Business host Eric Bolling apologized for his comments about President Obama.
"On Friday, we did a story about the president meeting with the president of Gabon," Bolling said. "We got a little fast and loose with the language, and we know it's been interpreted as being disrespectful, and for that, I'm sorry. We did go a bit too far."
WATCH:
ORIGINAL POST: Fox Business host Eric Bolling is drawing fire for comments he made about President Obama on Friday.
On his show "Follow The Money," Bolling criticized Obama's visit with Ali Bongo, the president of Gabon, by saying, "Guess who's coming to dinner? A dictator. Mr. Obama shares a laugh with one of Africa's kleptocrats. It's not the first time he's had a hoodlum in the hizzouse."
As he said "hizzouse," a picture of rapper Common appeared on the screen. Common's appearance at a White House poetry event drew loud complaints from conservatives.
WATCH:
Later, Bolling made similar comments. "What's with all the hoods in the hizzy?" he asked, saying that Bongo has been "accused of human rights violations and plundering billions of his country's dollars."
WATCH:
The Atlantic's Jeffrey Goldberg called the comments "open, and revolting, anti-Obama racism" in a blog post on Sunday.
Bolling defended himself on Twitter and Facebook, saying that he was merely criticizing the visit and linking to other outlets that had done so as well.
Popular in the Community