The latest of those colleagues is Eric Bolling, who said Monday that O'Reilly's claims regarding the recent death of Bolling's son are "beyond inappropriate" and asked he cease discussing it.
"I urge you to think about what you put in your newspaper," O'Reilly told "The Daily," a New York Times podcast. "Eric Bolling's son is dead. He's dead because of allegations made — in my opinion and I know this to be true — against Mr. Bolling."
Monday night, O'Reilly tweeted an apology, which Bolling accepted.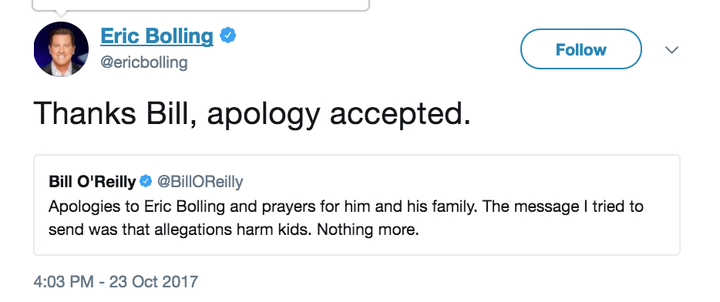 It's possible O'Reilly made the initial claim only in retribution: The New York Times published a damning story this weekend revealing that O'Reilly had settled a sexual harassment suit for $32 million before his Fox News contract renewal.
"I believe it is beyond inappropriate for anyone to bring in the tragic death of my son Eric Chase Bolling," Bolling wrote earlier Monday. "Just as Bill O'Reilly had wanted to shield his children from the allegations against him, I hope he will honor my request and avoid any future mentions of my son.
"My parting from Fox News was in no way connected to the tragic news of my son's passing. The coroner has in fact indicated to us that they believe it was an accident."
Bolling ended his statement with a not-so-subtle shot at O'Reilly, drawing a clear comparison between his own "amicable" departure from the station and O'Reilly's lengthy, more confrontational exit.
"Unlike others who left Fox News amid public allegations and extensive investigations, I parted ways with Fox News in an amicable way," Bolling wrote, adding, "any reference to a firing is flatly wrong."
Earlier Monday, former Fox News host Megyn Kelly defended The New York Times story about O'Reilly, revealing that she, too, had complained to her superiors at the network about his conduct.
Calling all HuffPost superfans!
Sign up for membership to become a founding member and help shape HuffPost's next chapter