Eric Bolling, a longtime Fox News host, sent an unsolicited photo of male genitalia via text message to at least two colleagues at Fox Business and one colleague at Fox News, a dozen sources told HuffPost.
Recipients of the photo confirmed its contents to HuffPost, which is not revealing their identities. The women, who are Bolling's current and former Fox colleagues, concluded the message was from him because they recognized his number from previous work-related and informal interactions. The messages were sent several years ago, on separate occasions.
The women did not solicit the messages, which they told colleagues were deeply upsetting and offensive. One of the recipients said that when she replied to Bolling via text, telling him never to send her such photos again, he did not respond. Four people, outside of the recipients, confirmed to HuffPost they'd seen the photo, and eight others said the recipients had spoken to them about it.
For this story, HuffPost spoke to 14 sources in and out of Fox News and Fox Business, all of whom spoke on the condition of anonymity either because they currently work at the networks and aren't allowed to speak to members of the press without prior authorization or because they have confidentiality agreements with Fox News and its parent company 21st Century Fox.
Over the past year, the network has been rocked by multiple accusations of sexual harassment and assault by Fox News and Fox Business executives and on-air talent. Last year, former Fox News Chairman Roger Ailes resigned after former Fox News host Gretchen Carlson filed a lawsuit accusing him of sexual harassment. Since Ailes was forced out, multiple former and current Fox News hosts have accused him of harassment, including CNN anchor Alisyn Camerota. Last April, after a bombshell New York Times report revealed that Bill O'Reilly had quietly settled multiple sexual harassment suits, the network forced him out.
Reached Friday by HuffPost about the accusations against Bolling, a Fox spokesperson said, "We were just informed of this and plan to investigate the matter."
When asked whether Bolling at any point had sent unsolicited lewd or inappropriate text messages or emails (including an image of a man's genitalia) to Fox News or Fox Business colleagues, his attorney Michael J. Bowe responded, "Mr. Bolling recalls no such inappropriate communications, does not believe he sent any such communications, and will vigorously pursue his legal remedies for any false and defamatory accusations that are made."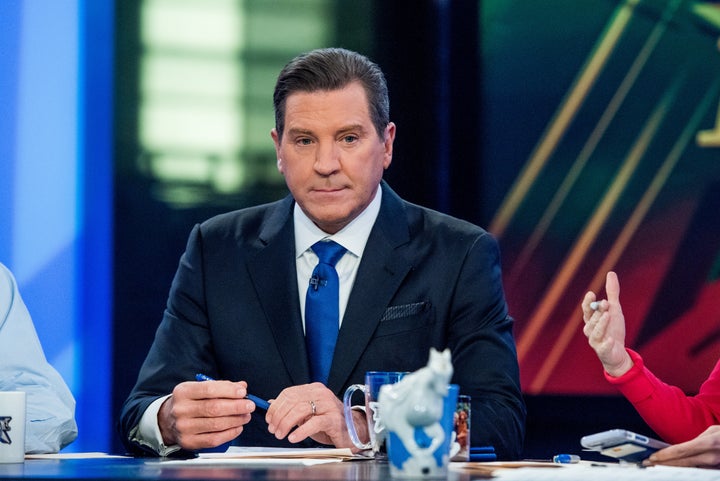 Bolling, a former commodities trader, has worked at the Fox News and Fox Business networks since 2007, when he joined after leaving CNBC. He has had a history of making misogynistic on-air remarks during his tenure at Fox News, the most notable during a September 2014 segment on the panel show "The Five" while discussing the first woman fighter pilot from the United Arab Emirates leading the bombing of the Islamic State. Bolling asked on air if instead of saying "boots on the ground" it would be more appropriate to say "boobs on the ground." He apologized the next day, citing "a look" he got from his wife when he arrived home.
The allegations against Bolling recall statements he made attacking Anthony Weiner in 2014, after the former New York congressman had been embroiled in a scandal for sexting several women. During a Twitter war with Weiner, Bolling concluded with a tweet that said: "text us if you want a fair & balanced intv **NO SEFIES PLEASE [sic]**" In May 2017, when Weiner pleaded guilty to federal charges of exchanging lewd messages with an underage girl, Bolling said, "He is a sick human being, to continue to do this time and time again, continue to get caught, saying he's not going to do it again, gets caught again."
Bolling serves as one of the co-hosts of "The Specialists," a new program on the Fox News Channel. Previously, he served as one of the hosts of "The Five" and as a fill-in host for O'Reilly and Sean Hannity. After the network fired O'Reilly last April, Fox News announced that Bolling would leave the "The Five" and host another panel program at 5 p.m. with co-hosts Eboni Williams and Katherine Timpf.
Bolling's star at the Fox Networks has risen in the past two years, in part because of his close relationship with and strong support of President Donald Trump. Bolling can often be seen aggressively defending Trump on the network, and his loyalty has been repaid. Over the past few years, Trump has tweeted praise and support for Bolling at least a dozen times, including support for his book in 2016. When "The Specialists" premiered earlier this year, Bolling was granted an exclusive interview with Trump.
Fox News recently renewed Bolling's contract. In a statement in June, Fox News co-president Suzanne Scott said that Bolling's "insight is valued, and we are pleased to have him at the network for many more years to come."
The multiyear extension ended speculation that he was going to accept a position in the Trump administration. In an interview with NJ.Com, Bolling said the Trump transition had floated the position of commerce secretary, but he said he would only consider joining as a senior adviser.
In the interview, Bolling said he believed he had a future in politics: "When the lights go down on my TV career, the next step is running for Senate."
Follow Yashar — or send him a tip — on Twitter: @yashar
Popular in the Community