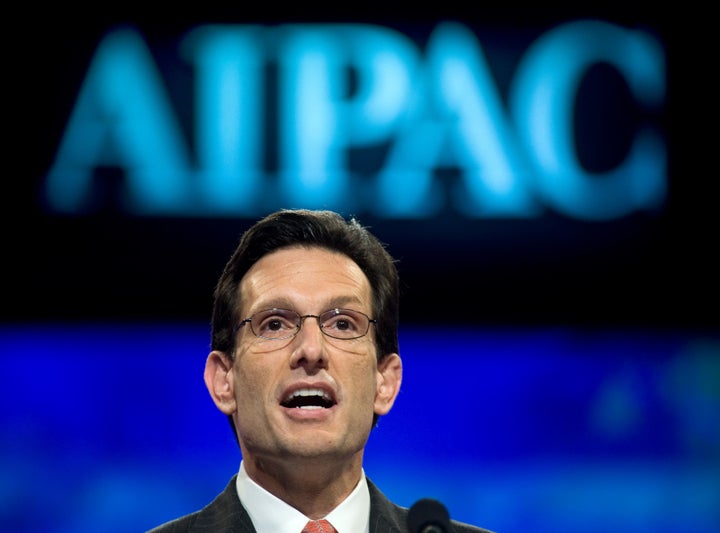 NEW YORK -- Rep. Eric Cantor (R-Va.) told Israeli Prime Minister Benjamin Netanyahu on Wednesday during a meeting in New York that the new GOP majority in the House will "serve as a check" on the Obama administration, a statement unusual for its blunt disagreement with U.S. policy delivered directly to a foreign leader.
"Eric stressed that the new Republican majority will serve as a check on the Administration and what has been, up until this point, one party rule in Washington," read a statement from Cantor's office on the one-on-one meeting. "He made clear that the Republican majority understands the special relationship between Israel and the United States, and that the security of each nation is reliant upon the other."
Cantor also took issue with Obama administration policies in other areas, including Iran, with the statement from his office saying the congressman "believes that it is time for the administration to fully and aggressively implement the Iran Sanctions Act passed by Congress earlier this year."
Ron Kampeas from the Jewish Telegraphic Agency news agency found Cantor's comments extremely surprising, writing, "I can't remember an opposition leader telling a foreign leader, in a personal meeting, that he would side, as a policy, with that leader against the president. Certainly, in statements on one specific issue or another -- building in Jerusalem, or somesuch -- lawmakers have taken the sides of other nations. But to have-a-face to face and say, in general, we will take your side against the White House -- that sounds to me extraordinary."
Cantor spokesman Brad Dayspring took issue with Kampeas' claim, writing, "The claim you make below simply isn't in there [the statement]." Kampeas also noted that the meeting itself was unusual, since foreign leaders normally meet with congressional leaders in groups. Netanyahu did, however, meet with Sen. Chuck Schumer (D-N.Y.) separately, but the senator didn't put out an "explicitly political statement" afterward.
In the past, Republicans have been sharply critical of Democratic trips abroad that could be seen as undermining the official foreign policies of the U.S. president. For example, in 2007, both the Bush White House and its Republican supporters lashed out at House Speaker Nancy Pelosi (D-Cali.) for visiting Syria, saying that she was trying to circumvent President Bush (never mind that Republican lawmakers were also in Syria and Pelosi didn't criticize the Bush administration).
"It has long been the established principle of this country that the president of the United States leads our foreign policy," said former Massachusetts governor Mitt Romney. "And if you don't like the president, then you change him. But you don't have the two parties each conducting foreign policy in the way they think it ought to be conducted."
John Bolton, the former U.S. ambassador to the United Nations, added, "I would simply hope that people would understand that, under the Constitution, the president conducts foreign policy, not the speaker of the House."
In 2006, conservatives went after former vice president Al Gore for criticizing "abuses" committed by the U.S. government against Arabs post-9/11 in a speech in Saudi Arabia, with the editorial page of Investor's Business Daily saying he demonstrated "supreme disloyalty to his country."
UPDATE, 2:47 p.m.: State Department spokesman P.J. Crowley responded to Cantor's comments in an statement to The Huffington Post: "Our pursuit of Middle East peace is rooted in the national interest and not in partisan politics. Presidents of both parties have been directly engaged in negotiations over decades and the Congress with majorities from both parties have long supported these efforts. President Obama and Secretary Clinton are determined to help the parties resume direct negotiations that produce a two-state solution. We are confident that the vast majority of members of Congress from both parties support what we are doing."
UPDATE, 4:41 p.m.: In 2007 National Review op-ed, Cantor wrote, "Presenting Assad with 'a new Democratic alternative' -- code for making President Bush look feckless -- Mrs. Pelosi usurped the executive branch's time-honored foreign-policy authority. Her message to Assad was that congressional Democrats will forbid the president from increasing pressure on Damascus to stop its murderous way. Several leading legal authorities have made the case that her recent diplomatic overtures ran afoul of the Logan Act, which makes it a felony for any American 'without authority of the United States' to communicate with a foreign government to influence that government's behavior on any disputes with the United States."
Popular in the Community