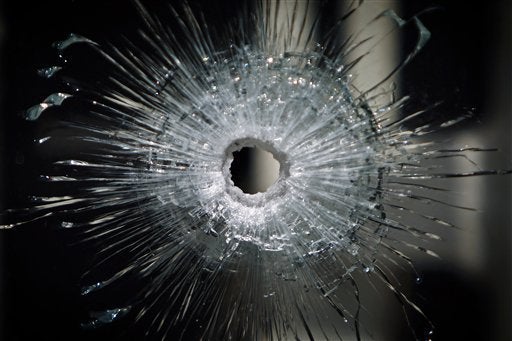 UPDATE: House Minority Whip Eric Cantor's spokesman, John Murray, has released the following statement regarding news that the bullet that struck the Congressman's office earlier this week was the result of "random gunfire":
"Given a recent spike in threats against Rep. Cantor, he, his family and his security were concerned the bullet found in his campaign office was related to a number of violent emails and phone messages, many of them anti-Semitic and some of them threatening gun violence," Murray said.
"Cantor was very happy to find out that police attributed this particular incident to random gunfire and as his statement made clear yesterday, that we need to move on."
RICHMOND, Va. - Richmond police say the bullet that hit a window of Republican Virginia Congressman Eric Cantor's office had been randomly fired skyward. Amid reports of threats and vandalism against Democrats who voted Sunday for sweeping health care reforms, Cantor said at a Washington news conference Thursday that a bullet was fired into his Richmond office.
In a news release, Richmond police said that the bullet had been fired into the air early Tuesday. It hit the front window of a building that houses Cantor's campaign office as it fell to back earth at a sharp angle.
The round landed on the floor of the office a foot inside a broken window pane. No one was in the building, and police say an investigation has yielded no suspects.
Yesterday, House Minority Whip Eric Cantor (R-Va.) held a press conference revealing that he had been a victim of threats and intimidation, saying that he had received a number of aggressive emails, as well as had a bullet shot through his Richmond, Virginia office. Cantor also blamed Democrats for "dangerously fanning the flames" by attempting to use a string of recent threats against them for political gain.
"I want to stress this, and it's very important: Legitimate threats should be treated as security issues," Cantor said at the press conference. "And they should be dealt with by the appropriate law enforcement officials. It is reckless to use these incidents as media vehicles for political gain. That is why I have deep concerns that some -- DCCC Chairman Chris Van Hollen and DNC Chairman Tim Kaine in particular -- are dangerously fanning the flames by suggesting that these incidents be used as a political weapon. Security threats against members of Congress is not a partisan issue, and they should not be treated that way. To use such threats as political weapons is reprehensible."
Read full Richmond, Va. police release:
March 25, 2010

The Richmond Police Department is investigating an act of vandalism at the Reagan Building , 25 E. Main St. , Richmond , Virginia . A first floor window was struck by a bullet at approximately 1 a.m. on Tuesday, March 23. The building, which has several tenants including an office used by Congressman Eric Cantor, was unoccupied at the time.

A Richmond Police detective was assigned to the case. A preliminary investigation shows that a bullet was fired into the air and struck the window in a downward direction, landing on the floor about a foot from the window. The round struck with enough force to break the windowpane but did not penetrate the window blinds. There was no other damage to the room, which is used occasionally for meetings by the congressman.

The Richmond Police Department is sharing information about the incident with appropriate law enforcement agencies.

At this time there are no suspects.
Watch Cantor talk about recent threats to politicians:
Calling all HuffPost superfans!
Sign up for membership to become a founding member and help shape HuffPost's next chapter