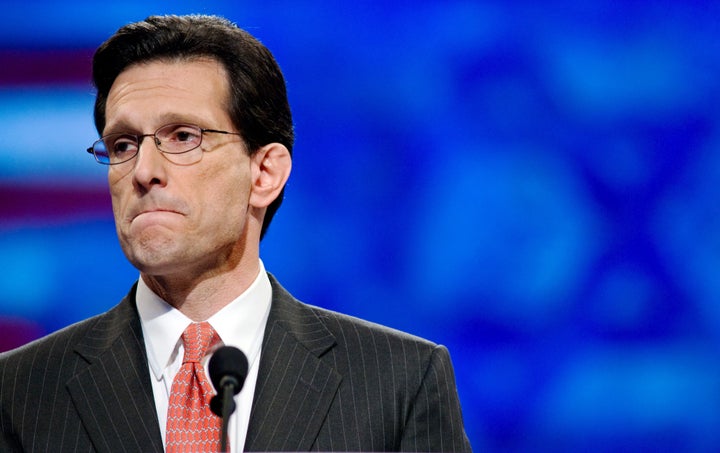 WASHINGTON -- House Majority Leader Eric Cantor pulled out of bipartisan negotiations to raise the nation's debt limit Thursday, and the Senate Republican number two is expected to follow, according to multiple reports.
The Wall Street Journal reports that Cantor indicated an impasse over taxes prompted his exit from the budget discussions for now. A GOP aide close to the talks told The Huffington Post that the disagreement could only be settled by President Barack Obama and House Speaker John Boehner.
The aide said that Cantor was open to returning to the table, but that they've come to an impasse over "not so small tax increases" that Democrats are insisting on. "We can't go there, so until Boehner and Obama resolve that, it doesn't make much sense for Eric to keep going to the meetings," the aide said. "If that issue is resolved, he's happy to go back in and start crunching numbers again." The aide said that both sides had already agreed to deep cuts.
Cantor's departure could force Boehner and Obama to get more directly involved in the talks, which have so far played out at a deputy level, with Cantor; Jon Kyl, the Senate Republican's number two; and Vice President Joe Biden hashing out cuts. "There needed to be a phase II element to kick this thing into high gear and create a greater sense of urgency," said the GOP aide, adding that "talks have been productive... they just need to get a shot in the arm."
Boehner's appointment of Cantor to serve on the bipartisan negotiating team put his deputy in a difficult spot, with Tea Party Republicans opposed to raising the debt ceiling without dramatic concessions. Cantor's decision to leave the talks returns the favor, putting the onus on Boehner to finish the job after Cantor and Kyl successfully negotiated significant cuts.
"These conversations could continue if they take the tax hikes out of the conversation," Boehner said in the wake of Cantor's decision.
Senate Budget Committee Chairman Kent Conrad (D-N.D.), a member of a separate group of Senators working on a bipartisan deficit package, blasted Republicans -- and indirectly swiped Cantor -- for being willing to risk a debt crisis by refusing to negotiate with Democrats on tax increases being in the mix.
"Republicans can block anything in this chamber, and Republicans control the House, so guess what: They're going to have to join Democrats and be responsible," Conrad said during remarks on the Senate floor. "And being responsible and being reasonable means doing some things that are tough."
Conrad challenged Republicans to "get real" and acknowledge that the deficit "is a spending problem and a revenue problem."
Just weeks ago Cantor said of Biden's role in the negotiations, "I've been very impressed with the way he conducts his meetings -- he does like to talk. ... I guess we all do, otherwise we wouldn't be here."
On Thursday, Cantor signaled his intention to leave the talks after a negotiating session, which he described as bitterly contentious, according to the Wall Street Journal. "The Vice President deserves a great deal of credit for his leadership in bringing us this far," he said.
"We have worked to find areas of commonality to meet the goal of identifying spending cuts commensurate with or exceeding the amount of the Obama Administration's request for a debt limit increase," said the GOP leader. "I believe that we have identified trillions in spending cuts, and to date, we have established a blueprint that could institute the fiscal reforms needed to start getting our fiscal house in order. That said, each side came into these talks with certain orders, and as it stands the Democrats continue to insist that any deal must include tax increases."
Cantor continued, "There is not support in the House for a tax increase, and I don't believe now is the time to raise taxes in light of our current economic situation. Regardless of the progress that has been made, the tax issue must be resolved before discussions can continue. Given this impasse, I will not be participating in today's meeting and I believe it is time for the President to speak clearly and resolve the tax issue. Once resolved, we have a blueprint to move forward to trillions of spending cuts and binding mechanisms to change the way things are done around here."
A Senate Democratic aide knocked Cantor for leaving. "When the going gets tough, Cantor gets going. Republicans haven't been getting their way on cutting Medicare, plus since the ethanol vote, there's been a growing consensus among even Republicans that revenues need to be part of the final solution. This was clearly too hot for Cantor to handle, and now he wants to kick the final dealmaking upstairs to the Speaker's office," said the aide.
"Cantor's trying to throw Boehner under the bus after Boehner threw Cantor under the bus by appointing him," said a House Democratic aide.
Senate Minority Leader Mitch McConnell (R-Ky.) echoed Cantor's call for the bosses to take the lead on deficit talks.
"He's the President. He needs to lead," McConnell said on the Senate floor. "He's acted as if it's not his problem. Well, it is. This is his problem to solve."
The president and Federal Reserve Chairman Ben Bernanke recently warned of significant economic consequences if the debt ceiling is not raised by an August 2nd deadline set by the Treasury Department.
Reuters recently reported that top lawmakers involved in the negotiations hoped to reach a deal by July 1 despite disagreement in the talks.
Boehner told reporters that he understands why Cantor did what he did, declining to comment on whether he will appoint another Republican to the talks.
"I know the frustration that he feels," Boehner said at a press conference.
He reiterated that the House GOP opposes tax increases as part of a deal. "A tax hike cannot pass the U.S. House of Representatives," he said. "It's not just a bad idea, it doesn't have the votes and it can't happen."
Boehner said he expects to hear from the president soon.
Sam Stein, Ryan Grim and Elise Foley contributed reporting
Popular in the Community