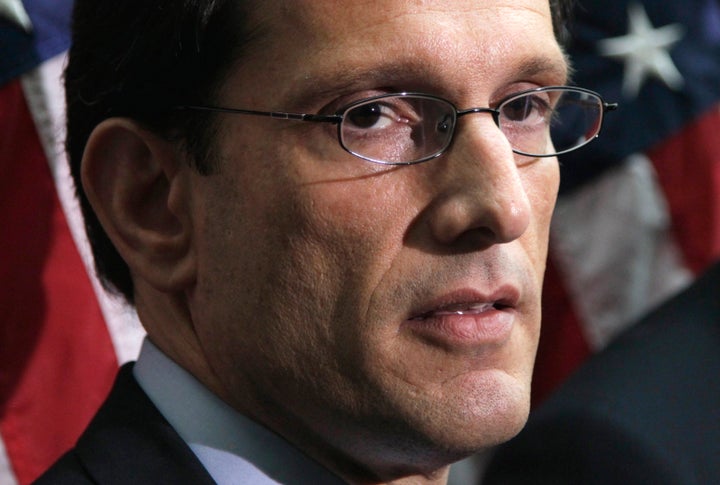 WASHINGTON -- House Republicans will demand major concessions before agreeing to raise the nation's debt ceiling, Majority Leader Eric Cantor (Va.) said on Sunday, setting the stage for another showdown over spending.
Cantor said on "Fox News Sunday" that the House GOP was emboldened by the funding deal announced on Friday, in which the Obama White House and Senate Democrats agreed to roughly $38 billion in spending cuts. Lengthy negotiations over that deal nearly left the federal government unfunded and forced to shut down, but the stakes may be even higher for the debt ceiling, which must be raised to prevent the United States from defaulting on its loans.
In exchange for raising the debt limit -- long a routine move allowing the Treasury Department to borrow more money -- House Republicans will demand further concessions to shrink the government, Cantor said.
"There comes at times leverage moments, a time when the president will capitulate to what the American people want right now," he said. "They don't want to raise taxes, they don't want borrowing to continue out of control."
The White House, meanwhile, its preparing its own long-term plan to reduce the deficit, which will be unveiled later this week, adviser David Plouffe said on "Fox News Sunday." President Barack Obama will address the matter in a speech on Wednesday, White House Communications Director Dan Pfeiffer announced on Twitter Sunday morning.
While the White House and House Republicans agree that the deficit should be reduced, their respective strategies vary widely. The House GOP plan, which was unveiled by Budget Committee Chairman Paul Ryan (R-Wis.) last week, would cut taxes and make major entitlement changes. Many of the cuts in the Ryan proposal would weigh most heavily on low-income Americans and senior citizens, including the replacement of Medicare with a voucher-like program forcing seniors to use government money to pay for private health insurance.
Obama did not address entitlements in his 2012 budget, which was unveiled earlier this year, but the president will request some changes to Medicare in the plan to be released this week, Plouffe said.
"My hope is it will be clear ... that we can achieve deficit reduction," Plouffe said. "We don't disagree that we can't continue on this fiscal path."
Plouffe urged Republicans not to hold up the debt ceiling vote, which Treasury Secretary Timothy Geithner has said must be passed before May 16. Obama himself voted against raising the debt limit when he was in the Senate -- a vote he now regrets, Plouffe said.
The White House is almost certain to face a similar battle over the debt ceiling as it did over government funding, however, as Republicans gear up to demand more cuts.
Plouffe said the negotiations over a spending deal, which was reached at the eleventh hour on Friday, showed that Obama will protect programs that are a priority, such as education and medical research. He denied that the deal showed the president, who has upped his rhetorical focus on deficit reduction in the wake of the compromise, was being pushed into cuts by Republicans.
"You can't look at any cuts as we're embracing the Republican orthodoxy," Plouffe said. "The president believes we need to reduce the deficit and cut spending, it's how you do it."
Cantor, however, said the White House and Senate Democrats "were dragged kicking and screaming to the table to cut spending."
The majority leader said that process may repeat itself in the coming debate over raising the debt ceiling, when Republicans plan to demand spending caps, entitlement reform or budget process reform in exchange for further federal borrowing.
"This spending deal that was cut this week was only the beginning," he said. "This was only the first bite of the apple. We've been saying that all along."
Popular in the Community