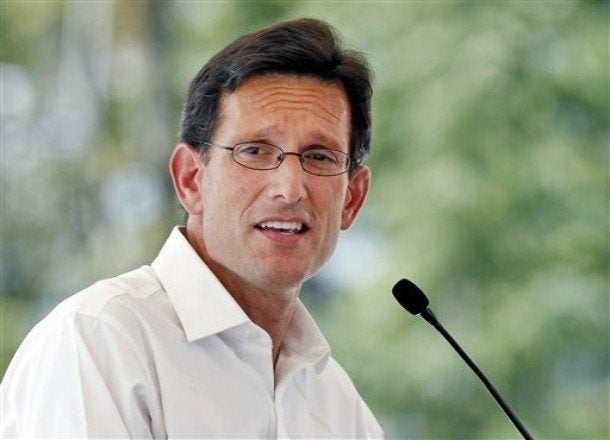 WASHINGTON -- Federal Emergency Management Agency officials have been busy convincing Congress to quickly fill its emergency aid coffers, as the agency finds its funds drained by the natural disasters that have hit the country in recent months. The insistence, led by House Majority Leader Eric Cantor (R-Va.), that Congress should cut spending elsewhere to offset disaster relief funding, led to a partisan standoff and nearly shut down the government.
On Friday, however, FEMA officials found themselves busy answering to Cantor for another reason: He had requested a conference call to get updates on the disbursement of aid requested by Virginia Gov. Bob McDonnell (R) for his district, which was affected by the Aug. 23 East Coast earthquake.
According to a read-out of the call from Cantor's office, as reported by the Richmond Times-Dispatch, "FEMA said they have received the Governor's request and sent it to the White House for a decision but could not provide any specific information on timing. Even when asked for an estimate based on past applications they were unable to do so."
A FEMA spokesperson confirmed that the call happened on Friday, and said Cantor's office had requested it on Sept. 22.
Cantor also called Department of Homeland Security Secretary Janet Napolitano, "asking for additional information and a better sense of timing," according to the Richmond Times-Dispatch.
Napolitano's office declined to comment.
Jesse Ferguson, spokesman for the Democratic Congressional Campaign Committee (DCCC), quickly criticized Cantor for looking for FEMA aid while the agency was struggling to stay afloat during the congressional funding standoff.
"The only thing worse than Republican Majority Leader Eric Cantor's outrageous plan to hold disaster relief hostage to his push for radical cuts in job creation is his brazen hypocrisy in trying to convince his constituents back home that he stood with them in the first place," said Ferguson.
"Perhaps the DCCC should be more concerned with the fact that Leader Pelosi, Chairman [Steve] Israel, and all but five House Democrats voted against $3 billion in aid for FEMA, including over $1 billion in immediate emergency aid," responded Cantor spokesman Brad Dayspring. "That is more than Leader [Harry] Reid and Senate passed last evening. The purpose of the call was solely to keep local officials informed on the timeline and process for determination by President Obama and Secretary Napolitano as to whether federal disaster aid will be granted. That is, you know, his job as a Congressman."
In July, congressional leaders from both parties agreed to spend $1.043 trillion to keep the government running while the super committee worked on plans to cut the deficit.
But that plan went off the tracks when mounting natural disasters stressed the FEMA budget; rather than simply pass a White House request for $500 million in emergency spending, Cantor said something else would have to be cut first.
Congressional leaders were eventually able to agree to a deal to keep the government running until Nov. 18. Beginning Saturday and until that date, FEMA has a remaining $2.65 billion to spend. The Senate passed the agreement in a 79-12 vote on Monday, and the House is expected to take it up next week.
CORRECTION: An earlier version of this article stated Eric Cantor is the House Minority Leader. He is the House Majority Leader.

Calling all HuffPost superfans!
Sign up for membership to become a founding member and help shape HuffPost's next chapter