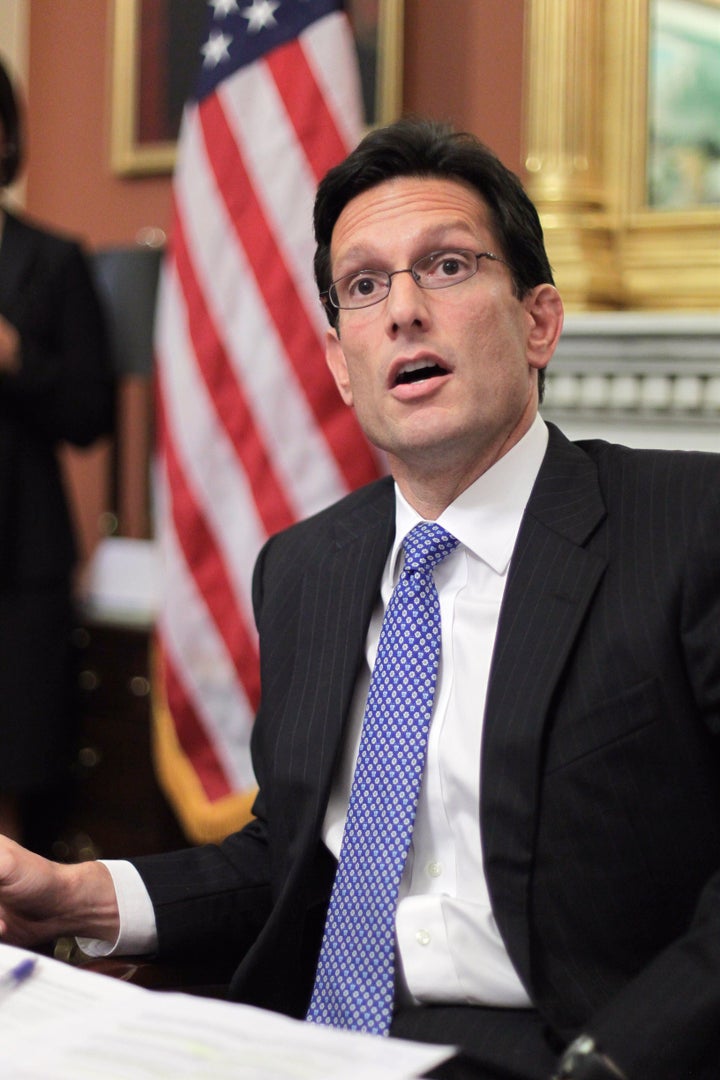 WASHINGTON -- House Majority Leader Eric Cantor (R-Va.) has been personally reaching out to GOP lawmakers to reassure them that he has their backs, despite the fact that he recently gave $25,000 to a group focused on defeating several House Republicans in their primary races, sources close to Cantor said Tuesday.
Cantor has been talking to individual Republicans in his conference -- some are allies, some are running in competitive primaries -- to appease them after what sources say was a staff error last month that resulted in Cantor inadvertently cutting a large check to the Campaign for Primary Accountability, an anti-incumbent super PAC.
As the story goes, sources close to Cantor maintain that he didn't know he was giving money to the Campaign for Primary Accountability when he kicked in $25,000, at the request of Rep. Aaron Schock (R-Ill.), to help freshman Rep. Adam Kinzinger defeat veteran Rep. Don Manzullo in the GOP primary by matching Schock's donation. The two Illinois Republicans ended up in the same district after congressional redistricting.
"On Thursday, March 15, 2012, Leader Cantor was asked by Congressman Schock to contribute to an organization that was supporting Adam Kinzinger in the Illinois election of March 20. EricPAC [the PAC supporting Cantor] subsequently made a contribution with the understanding that those funds would be used only in the effort to support Congressman Kinzinger. Leader Cantor does not support the actions of this organization in any other election," Ray Allen, a political consultant for Cantor, said in a statement.
The breakdown in communication occurred at the staff level, the sources told The Huffington Post, as people at Cantor's political action committee -- the Every Republican is Crucial (Eric) PAC -- failed to properly vet the Campaign for Primary Accountability before sending over the check. From there, the $25,000 went into a general pool of money used by the anti-incumbent super PAC for its campaign efforts.
Campaign for Primary Accountability spokesman Curtis Ellis said the group didn't get any word of Cantor's check and wasn't told it was supposed to be earmarked specifically for the Manzullo-Kinzinger race. As such, the funds were spread around and used in other primary races in which the group has been running campaigns.
"We didn't know beforehand that Eric was sending money to be used against Manzullo. Had he told us, we would have said, 'Great, send it over,'" Ellis said. "We're happy to accept donations from anyone, with the donation that they give being dedicated to specific races."
As reported by Roll Call, which first broke the story of Schock and Cantor giving money to the super PAC, their checks came in the final days of the Manzullo-Kinzinger primary. Schock's office did not return a request for comment on Tuesday about whether the Campaign for Primary Accountability told him at the time that the checks from him and Cantor would be earmarked for that race.
In the end, the Campaign for Primary Accountability spent a total of $222,000 to aid Kinzinger's race. At least $75,000 was spent on television ads and $18,000 on radio spots, Roll Call reported. At least another $104,700 was spent on direct mail attacks on Manzullo.
The anti-incumbent super PAC has a hand in a number of Democratic and Republican primaries. Funds from the group have already gone toward knocking out four-term Rep. Jean Schmidt (R-Ohio) and Rep. Dan Burton (R-Ind.), who announced his retirement in January in the face of stiff competition in the primary. The PAC also unsuccessfully tried to unseat Reps. Jo Bonner (R-Ala.), Spencer Bachus (R-Ala.) and Jesse Jackson Jr. (D-Ill.) in their primary races.
The Campaign for Primary Accountability is hoping to help defeat another batch of lawmakers in the coming weeks. Its target list includes Reps. Tim Holden (D-Pa.), Tim Murphy (R-Pa.), Ralph Hall (R-Texas), Joe Barton (R-Texas), Silvestre Reyes (D-Texas), Eddie Bernice Johnson (D-Texas), Walter Jones (R-N.C.) and Jim Moran (D-Va.), according to documents provided by the group to HuffPost.
The irony is that while Cantor may have believed his funds were being earmarked for a specific race, they may actually be hurting Republicans he does support and helping Democrats he doesn't.
In the Pennsylvania Democratic primary between Holden and attorney Matt Cartwright, for example, Cartwright spokesman Shane Seaver described his candidate as the "progressive" in the race and said "we don't appreciate" help from the Campaign for Primary Accountability.
Holden could "run an ad and say Eric Cantor has decided to donate to Matt's campaign," Seaver said, suggesting such a move would be disingenuous. "It's something that we've always been leery about."
The Huffington Post reached out to all of the Republican lawmakers targeted by CPA for a comment on Cantor giving money to the group, but none responded. Some staffers made it clear they wanted nothing to do with the matter.
"I really just can't comment at all," said a Bonner spokesman. "I don't make it a practice to talk off the record, but certainly not in this case."
House Republican leaders nearly landed in hot water with a key conservative group last month for appearing to take sides in another GOP primary race. Shortly after Manzullo lost his primary, Club for Growth President Chris Chocola warned the GOP leaders not to meddle in the Aug. 28 primary between Reps. Ben Quayle and David Schweikert in Arizona's 6th District. Chocola was miffed that House Speaker John Boehner's (R-Ohio) leadership PAC had given $10,000 to Quayle, but not to Schweikert. Boehner ultimately gave $10,000 to Schweikert as well.
Support HuffPost
The Stakes Have Never Been Higher
Popular in the Community